Described as 'a DJ controller with a difference', Novation's Twitch comes with Serato Itch software, allowing its Touchstrip controls to take control of music. It can also be Midi-mapped to other DJ software such as Traktor or Ableton Live.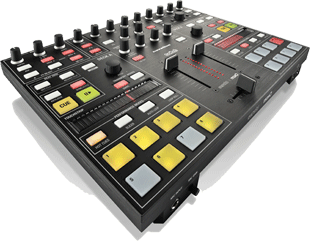 The Twitch control surface 'provides a completely new perspective on Djing' through two banks of eight Triggerpads, cross-fader and per-channel Fader FX. Two LED-backlit Touchstrips allow manipulation of tracks using gestures, as with a multi-touch trackpad or touchscreen.
Twitch has four performance modes – Hot Cues, Slicer, Auto Loop and Loop Roll – that interact with Itch on the fly. Hot Cues mode jumps to markers in a track, and re-triggers up to eight hits. Slicer mode allows tracks to be re-arranged while still playing using a step sequencer-style user interface. Twitch's Auto Loop and Loop Roll modes enable further manipulation and, in combination with the Touchstrips, change loop lengths in the mix to create glitch effects. Effects can be assigned to the channel faders at the touch of a button, to perform tricks with fader movements as well as with the knobs of the Master Effects section
Twitch is robust and compact, ready to slot into tight spaces in the DJ booth, and can be carried away from the gig in a laptop bag. It is also bus-powered – plug in the USB and audio cables and it's ready to play.
It includes a high-quality two-input/four-output USB audio interface with balanced, high-level master and booth outputs, which can be connected directly into any PA system. Quarter-inch and mini-jack headphone outputs supply a loud and clear signal to any set of headphones. There's also a Mic/Aux channel with mono jack and stereo RCA inputs so vocalists and MCs can be blended with an external audio source, such as an MP3 player, and routed through Twitch's effects and master outputs.
'It has been exciting to work with Novation; their expertise with controller design combined with our leading DJ software has made for some really incredible possibilities,' says Sam Gribben, General Manager of Serato Audio Research. 'Twitch is the result and we think it will be an instrument for the next generation of musicians and performers.'
Twitch will be available worldwide in early July 2011.
More: www.novationmusic.com