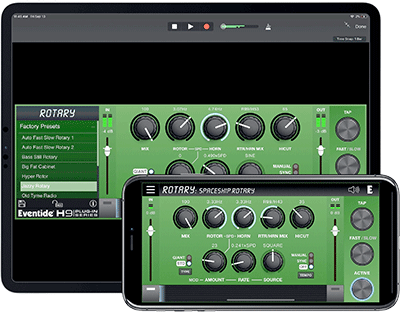 Eventide has released Rotary Mod for iOS, an authentic emulation based on the Leslie cabinet for iPhone- and iPad-based mobile music-makers as an AUv3 plug-in and Standalone app.
Rotary Mod produces a pulse-like vibrato effect depending on the speed of rotation, with control over the amount of movement available to provess guitars, bass, synths, strings, vocals and other sounces.
Key features:
Independent rotor and horn speed.
Frequency modulation from secondary LFO with selectable source.
Sectable cabinet size.
HiCut control for precise sound design.
Tap tempo to sync effect to the BPM.
Ribbon control allows change of combination of parameters simultaneously.
Mixlock control to scroll through the Factory Presets while keeping wet-dry mix constant.
Rotary Mod is now available for download as an Audio Units AUv3 plug-in, Inter-App Audio, and Standalone app for iPhone and iPad from the App Store for US$7.99.