Accompanying its flagship Radius 4V DJ mixer, boutique mixer manufacturer MasterSounds has added the compact Radius Two Valve to its range. The new two-channel DJ mixer is manufactured using high-quality components, and offers a similar feature set as its four-channel sibling in a smaller footprint.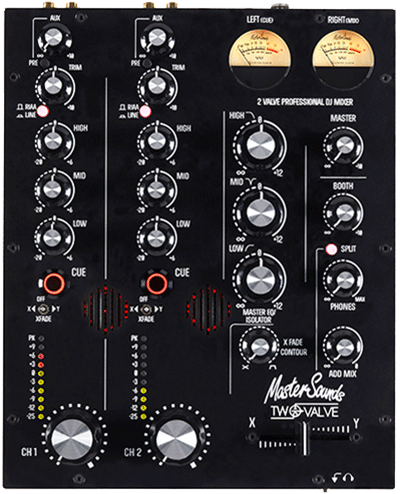 At the heart of Two Valve are two dual triode valves, which form part of the input buffer stage to the VCAs. 'The valves' high input impedance minimises loading on the preceding stages but provides low output impedance to drive the VCAs, while natural compression smooths and warms harsh transients,' explains leading DJ mixer designer, Andy Rigby-Jones, from MasterSounds' technology partner Union Audio. 'Careful circuit design around the valves minimises noise and distortion.'
Two Valve boasts two fully-featured channel strips with aux send (switchable pre or post fader), input level trim, illuminated input select switch, a super smooth three-band asymmetric EQ, large illuminated Cue switch and Alps rotary faders.
To the right of the channel strip is a three-band master EQ/isolator, along with master and booth level controls, and headphone monitor with split and cue/add mix control. Below the master section is a Penny & Giles crossfader, with contour control to adjust from smooth mix to fast cut.
Two 36mm illuminated analogue vu meters provide accurate signal level monitoring of the mix bus, which automatically switch to monitoring the cue level when a channel cue is activated. If the signal level is excessive, the vu meter illumination changes from warm white to bright red.
A split composite/passive RIAA stage featuring Vishay 2% Polypropylene capacitors, close tolerance thin film resistors and JFET preamplifiers provide fidelity from the turntable inputs. All circuit coupling is through bypassed Panasonic electrolytics to preserve this fidelity throughout the entire signal chain. The icing on the cake is a pair of MUSES operational amplifiers providing summing for the fully balanced main mix bus.
'Two Valve has been designed for clubs and DJs requiring a conventional DJ toolkit with no compromise audio fidelity,' concludes MasterSounds founder, Ryan Shaw. 'It is the ideal companion for DJ purists who only require two audio channels in a premium package. The open, dynamic and transparent sound stage, portable size for carrying between venues, and intuitive feature set gives users an optimal DJ experience, be it at home or in the club.'
MasterSounds' Two Valve is hand-built at Union Audio in Cornwall, UK, and is priced at £1,495.
More: www.mastersounds.co.uk