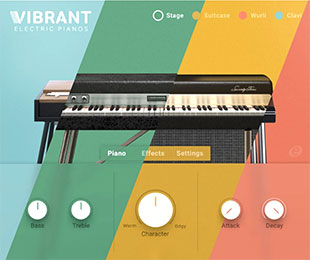 e-instruments has released Vibrant for HALion 6, HALion Sonic 3 and the free HALion Sonic SE 3, offering the sounds of Rhodes Stage Mark I, Rhodes Suitcase, Wurlitzer 200A and Hohner Clavinet D6 electric pianos in a 24GB sample package. This includes 40 presets for different genres.
Integrated with Cubase but equally usable on any other DAW, Vibrant has an intuitive interface that enables easy switching between almost every vintage electric piano sound. At the heart of Vibrant are four classic electric pianos – Rhodes Stage Mark I, unique and instantly recognisable, with its clear, bell-like character and smooth tone producing everything from mellow soundscapes to barking riffs; Rhodes Suitcase - a killer package of keyboard, amp and speakers; Wurlitzer 200 A, the sound of some of the most iconic hits of the past few decades and inseparable from fusion, disco, funk and pop; and the Hohner Clavinet, one of the most sought-after vintage keyboards, the Clavinet is an unmistakable sound on countless classic recordings from Stevie Wonder to Led Zeppelin.
Vibrant Electric Piano Suite for HALion is now available via the e-instruments online shop, priced at €129/US$129.
More: www.e-instruments.com