Waves Audio has released the Bass Fingers Plugin, an addition to its expanding line of virtual instruments and part of the Waves Inspire Virtual Instruments Collection.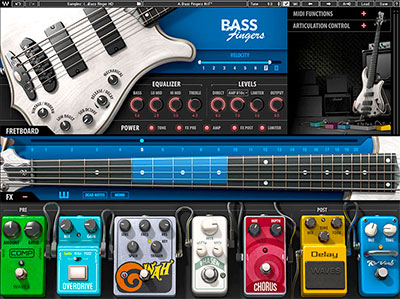 Featuring an extensive sample library that contains 14GB of handcrafted bass samples, Bass Fingers reckons to be 'the most detailed and nuanced finger-style bass virtual instrument in existence'. Able to create authentic and realistic-sounding basslines with the personality of a seasoned bass player, the plug-in is addressed via a keyboard and mimics the expressiveness, the touch of the strings hitting the frets, and all that happens in between the notes to make a bassline sound like a player and not a computer.
Waves' Bass Fingers translates a Midi input into basslines, giving the same mechanics, variations and dynamics that a seasoned bass player creates across the fretboard. Designed, recorded and edited by highly regarded bass player Or Lubianiker (Marty Friedman, Gus G, Bumblefoot), Bass Fingers is an ultra-natural-sounding, high-performance virtual instrument with an extensive range of articulation and control over sound – from open string sustain, natural legatos, release and decays, to realistic percussive playing, slides, mechanical noises, and other natural playing effects.
Key features:
The most nuanced finger-style bass sample library ever created.
Full 5-string articulation: natural legato, slides and percussive playing.
Eight velocity layers and six round robins for each sample.
Intelligent adaptive fretboard.
20 playing positions and automatic string switching.
Customisable Keyswitch Editor for modifiers and additional bass SFX samples.
Built-in studio-quality effects and multiple amp simulations.
Plug-in or standalone instrument.
NKS-ready for NI Komplete Kontrol and Maschine.
More: www.waves.com