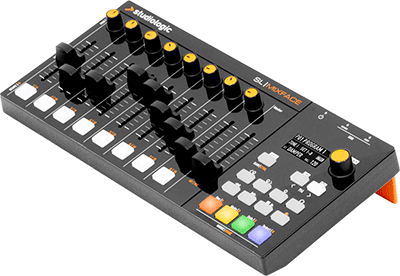 Studiologic SL MixFace is complete Midi and DAW Controller device, fully programmable for software and hardware instruments.
Designed for mobility, the unit can be battery powered or bus-powered via USB. The SL MixFace is able to host any compatible keyboard to transform it into a full four-zone Midi controller and its connectivity ports enable it to communicate with the computer and other devices by using Bluetooth and USB simultaneously.
The surface of the SL MixFace features nine faders, eight tracks and one master, with dedicated, per-track knobs and buttons. The usability of the controller is further enhanced by the DAW/CTRL button, which allows seamlessly switching of control from the DAW environment to an instrument and vice versa, all reflected on the onboard OLED screen. Transport functions are always ready to go, and any sound parameter of the instrument can be edited and tracks of a song mixed.
The SL MixFace complements the existing SL Controller line, expanding its control capability. Magnetically it is able to attach to the surface of the SL, or another system, creating a natural physical control extension. Once the MixFace is plugged into an SL keyboard it automatically takes control of all four layers instantaneously.