British audio company Audient has teamed up with leading cab simulation pioneer two notes audio engineering to present the Sono Guitar Recording Interface.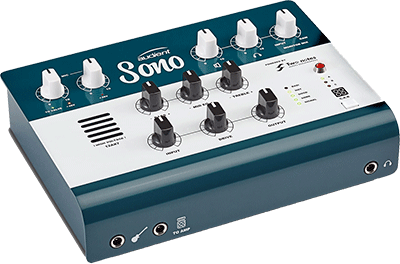 Combining Audient's analogue and digital conversion recording technology with breakthough speaker-cab simulation, Sono is billed as 'the ultimate valve guitar preamp'. Featuring an onboard 12AX7 analogue valve and three-band Tone control alongside two notes Torpedo power amp modelling and cab simulation, Sono provides tonal options for recording, practise or gigging.
'With two notes, the creative possibilities are endless and you can really start dialling in the tones your hear in your head,' says Audient Marketing Manager, Andy Allen. 'Choose from a wide range of guitar and bass cab models based on classics such as the Marshall 4x12, Fender 2x12 or Ampeg Fridge, with more tones downloadable from Torpedo Remote if needed. You can even customise everything from the room type, microphone model and placement too, and once you're happy with your sound, you can store your favourite presets on board Sono and play them in standalone mode at any time – without the need for a computer.'
With near zero latency, Sono's monitor mix allows blending of the guitar input signal and DAW playback, ensuring delay-free recording, playback and monitoring. In addition, Audient encourages Sono users to integrate their existing pedalboard.
'Plug in your favourite distortion, reverb and delay pedals directly into Sono's DI, dial up a tone and instantly start recording or jamming without the need to mic up and play through a noisy amp – or annoy your neighbours,' Allen says. 'However, if you do want to record in the more traditional sense, Sono will record a clean DI signal, so you can capture your performances as creativity strikes and reamp through your favourite hardware amps later without the need to buy a dedicated re-amp box.'
'Audient interfaces have long been in our list of benchmark products used to try out our plug-ins and hardware units,' says Guillaume Pille, two notes owner. 'Today, the whole two notes team is very excited to present what we think is the perfect interface, not only for the guitarist and bassist, but also for any musician who wants to bring colour into his recordings.'
Alongside its guitar-centric features, Sono is a powerful audio interface in its own right, with two Audient console mic preamps, expandable up to ten inputs via Adat, class-leading converters and a unique 'to valve' feature. 'Try routing vocal microphones or synths through the classic valve preamp, analogue EQ and two notes processing and start creating crazy new sounds or simply add that classic analogue warmth to your recordings,' Allen adds. 'Sono is all about developing creativity and providing an easy-to-use gateway into the world of professional audio recording. It really is a fun tool for guitarists and engineers alike. With Sono anything is possible.'
Sono is expected to ship in Q1 2019 and will retail at US$449, £419.99 (inc VAT) or €449 (inc local VAT).
More: www.audient.com