Expressive E has announced Touché SE, a USB expressive instrument controller for software applications.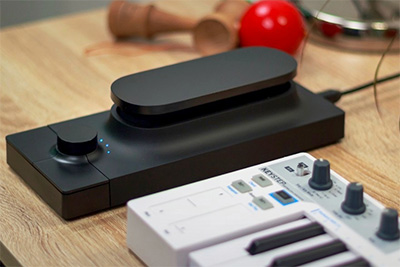 Touché SE (Software Edition) follows the French company's Touché expressive instrument, adding expression, depth and musicality to software synthesisers and plug-ins. It responds to both the lightest and the most intense gestures, giving immediate, intuitive control of sounds. Musicians, producers and sound designers have instant, real-time control of multiple parameters at once, creating complex and evolving new sounds using intuitive slides, taps and touches of the Touché SE control surface.
Touché SE shares the build quality, mechanism and sound library as the Touché, refined with USB-only connectivity for software applications, and a new polycarbonate touch-plate. Expressive-E has expanded the sound library to include more than 200 factory sounds, pre-mapped to take full advantage of Touché SE's extensive control capabilities, as well as including more than 200 presets for third-party VST instruments.
Additionally, Touché's companion software Lié allows users to host and unlock the potential of third-party VST instrument library, mapping parameters to the Touché SE interface, creating sounds and performances with extended expressive depth.
Touché SE retails at £225/US$229/€229 and is shipping worldwide.
More: www.expressivee.com