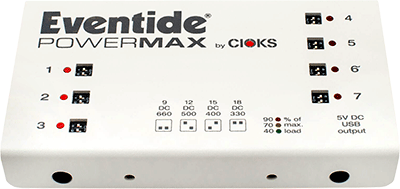 Eventide and Cioks have jointly claimed 'a revolution in ultra-low noise, compact and lightweight power solution for your pedalboard' with the release of the Eventide PowerMax.
The Eventide PowerMax delivers an unprecedented 38.4W of power capable of powering up to seven high current pedals, each switchable to 9V, 12V, 15V or 18V plus a USB output to power your smartphone or tablet. PowerMax is also expandable with the Cioks 4 to add more outlets. PowerMax is a state-of the-art Universal power supply (85-265V) which can be used worldwide.
PowerMax mounts on Pedaltrain or Templeboard pedalboards with the included screws and template. Less than half the size and weight of the PowerFactor 2, the PowerMax is less than an inch high and adds only one pound to your pedalboard and comes with a full five-year warranty.
PowerMax will be available worldwide in Q2 2018, at an MSRP of US$199.
More: www.eventideaudio.com