Avid has announced a Cloud Sharing update for the Sibelius music composition and notation software.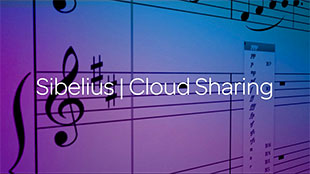 Along with other enhancements to Sibelius and Sibelius First in v8.7 software, Sibelius Cloud Sharing introduces new means of working online, as it enables users to share scores directly from Sibelius to their own personal cloud space, post them on social media sites or embed them in webpages. The update also brings the ability to invite others to view and playback compositions using any computer, laptop, or mobile device from anywhere in the world, in a studio, classroom or on a soundstage.
Scores are hosted on Avid's cloud services powered by the MediaCentral Platform. Any changes made to the score can be dynamically pushed to the cloud, automatically updating the content online, all directly from the Sibelius application.
'The new version of Sibelius is part of Avid's commitment to providing the most comprehensive tools and workflow solutions that make the entire music writing, collaboration and delivery experience easier than ever,' says Avid VP and Chief Product Officer, Dana Ruzicka. 'Sibelius Cloud Sharing gives Avid's community of composers, educators and music bloggers a revolutionary way to share their content with the world.'
Sibelius 8.7 with Sibelius Cloud Sharing is available now and is free to all Sibelius and Sibelius First customers with an active subscription or support plan. Avid offers flexible licensing options for Sibelius and Sibelius First, which are offered as subscriptions and perpetual licenses.
More: www.avid.com/sibelius