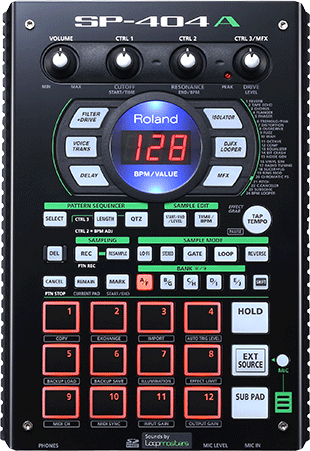 Roland has added the SP-404A Linear Wave Sampler to its AIRA instrument lineup.
Designed for live use, the SP-404A is a performance sampler that expands the sounds of the Roland AIRA TR-8 Rhythm Performer for a combination of sample and percussive synthesis. It also functions as a portable standalone sampler with a built-in mic and battery-powered operation. Offering a fast, hands-on approach, the SP-404A is a perfect fit for the rhythmic effects and step-sequencer of the TR-8.
The SP-404A is based on Roland's SP-404SX, with all functions and features contained in the SP-404A, including 16-bit linear sampling, 29 onboard DSP effects, smooth FX switching, 12 professional performance pads, and an onboard pattern sequencer. The unit can be triggered from the TR-8 Rhythm Performer via Midi for integrated beat and sample production. Users can incorporate samples from the SP-404A and use them in conjunction with drum patterns, and each of the TR-8's 11 tracks can trigger a sample on the SP-404A, play a TR-8 sound, or both.
In addition, the TR-8 can be used as an audio submixer and processor for the SP-404A. In this configuration, all samples played on the SP-404A can be effected using the TR-8's Scatter feature to reverse, glitch, gate, truncate, stutter, and perform all types of rhythmic variations in perfect sync. Samples can also be controlled by the TR-8's per-step Side Chain function for rhythmic ducking and gating effects.
The SP-404A comes with an SD card containing a library of new sounds created by leading sample developer, Loopmasters. The samples in the library have been designed specifically to complement the TR-8, but also work well in standalone applications.
More: www.roland.com