PLM+ is the new flagship touring amplifier platform from Lab.gruppen – combining the performance, flexibility and power of the 20000Q model, with twice the processing power and throughput, and additional features.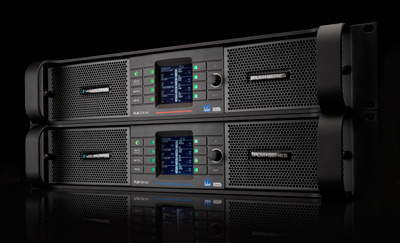 The PLM+ range presently comprises two models – PLM20k44 and PLM12k44 – each combining a true four-input/four-output configuration for audio I/O as well as Lake Processing. The company's aim is 'to deliver real-world benefits and make the life cycle of any production easier, smoother and more efficient, from the system design stage, operating, through to the final load out'.
The PLM+ platform offers four analogue inputs, rour AES inputs, four power outputs, four Lake Contour modules, 8x8 Dante I/O, two-port 1Gb network switch, dual redundancy and other features.
Up to 16 Inputs can be routed to a PLM+ device, allowing audio format conversion from one input type to another, and then delivering audio to other devices in the system. Matrixing/summing of inputs can be easily set up and controlled within the Lake environment A tablet computer can be used to tune, monitor and drive a full system.
The PLM 12k44 is presented as a successor to the PLM 10000Q, offering 'a leap forward in its power segment' with UPS, PFC, eight Dante break-in/out points, and other facilites previously unavailable in tour sound.
The 12k44 model features Lab.gruppen's Rational Power Management (RPM) technology (debuted in the company's recent D Series install platform), which allows it to offer all of the performance characteristics of the 20k44 model. RPM allows genuinely flexible power allocation across all channels to enable the most efficient and rational use of total available power output from multiple amplifiers – minimising inventory as well as optimising workflow.
RPM technology allows the 12k44 to deliver up to 5kW output on any channel, leaving the remaining available power output to be allocated freely to the other channels. This aids optimised system design, with each channel being tailored to the power requirement of the load, better managing headroom between channels and allowing the most efficient use of total amplifier inventory.
Along with the Café suite of tools, PLM+ offers system designers the ability to determine mains draw and heat output of a single amplifier, and rack or racks of amplifiers in specified zones and locations. The PLM+ ecosystem enables the end-user to specify, control, monitor, interface, network, convert and optimise a complete system.
'The addition of RPM into the PLM+ range is an extremely significant addition to this world-leading touring platform, allowing rental houses and touring companies a whole new level of flexibility,' explains Klas Dalbjorn, Project Manager for Lab.gruppen. 'When combined with the CAFÉ software suite, it means the end user has real power over every channel driving any system.'
'PLM+ is like having the ultimate racing car with all the driving aids and engine management tools at your disposal,' adds Simeon Ludwell, Project Manager for Lab.gruppen's Applications Engineering & Training Division. 'As an overall package, it is the most compelling choice on the market, a choice that makes the entire workflow smoother, smarter and more efficient, while at the same time maintaining the power and clarity users have come to know and love from the original PLM 20000Q. It's PLM, plus so much more.'