Apex Audio has released CloudPower CP716D is an evolution of the CloudPower remotely managed amplifier series, for immersive spaces and systems serving numerous separate zones.
CloudPower CP716D delivers 16 700W channels and can drive both low impedance and 70/100V loudspeakers. The amplifier has 16 networked audio input channels and four analogue inputs that can be configured as fallback signals. An internal streaming source contributes a further two channels from a device running Spotify or AirPlay. A 96kHz 16x16 Dante audio networking module is fitted as standard and multiple CP716D amplifiers can be networked to create systems of 64x64 channels and beyond.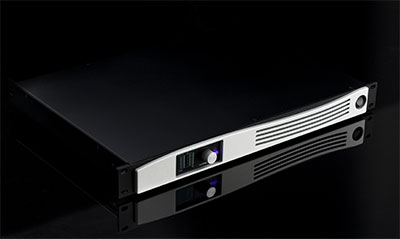 The CP716D can be remotely or locally configured and managed from any device through the companion IntelliCloud WebUI. IntelliCloud provides control over the amplifier's onboard signal processing tools, including an input matrix, signal generators for setup, gain, PEQs, HP/LP filters, crossovers, limiters and loudspeaker preset management.
'Today's immersive audiovisual experiences demand many separate amplifier channels, which means a lot of install time spent integrating racks full of amplifiers,' explains Apex R&D Director, Hendrik-Jan Gielis. 'CloudPower CP716D offers a simpler, more compact solution for these immersive environments, with each 1U amplifier delivering 700W per channel across 16 channels.
'Built-in Dante and the simplicity of our IntelliCloud WebUI make it easier and quicker to build a fully integrated solution. These same qualities also make CP716D a natural fit for environments like upscale hospitality or leisure installations where the audio is tailored to the needs of a large number of separate zones.'
Like its predecessors, CloudPower CP716D is built on Apex's proprietary GlidePath direct drive architecture, which fully integrates DSP and amplifier circuits, employing DC coupling throughout the signal path to dramatically reduce time offsets and distortion. CloudPower's ultra-precise reproduction of high transients manages speaker cone excursion, minimising distortion and prolonging speaker life by cutting mechanical wear.
The amplifier accommodates voltages of 100-240V AC, and features Active Power Factor Correction and low idle power to ensure efficient use of mains power worldwide.
More: www.apex-audio.be