The Stewart Audio RVC-RS232 interfaces with any power amplifier equipped with a Remote Volume Control (RVC) Euro block connector, such as Stewart Audio's own CVA25, CVA50, CVA100-2, and CVA50MX models, to remotely manage volume.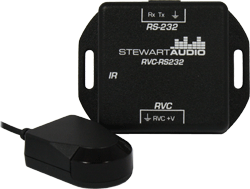 This interface brings increased accessibility and convenience to a multitude of sound reinforcement environments and enables consultants, system designers, and integrators to easily add a routinely asked for feature to both existing and forthcoming designs.
The RVC-RS232 interface enables any amplifier with a 5V/12V DC RVC connector to be remotely controlled using standard RS232 commands. The commands available are Increase, Decrease or Mute Volume and include the ability to send discrete values. By adding the IR plug-in option, the system adds the convenience of infrared remote control.
The RVC-RS232 interface requires no external power supply. Power is provided by the amplifier's RVC connector, eliminating the need for additional power sources and costly labor. Equally notable, this small affordable package enables the RVC-RS232 to reside adjacent to the amplifier or be placed some distance away.
'The RVC-RS232 interface is a highly compact and versatile accessory that conveniently adds increased functionality in a multitude of sound reinforcement applications,' says Brian McCormick, Chief Marketing Officer. 'By providing convenient RS232 or infrared remote volume access to an amplifier, the end user has greater choice in determining how to use their sound systems. System designers and integrators can easily add level change functionality to the control options of a Crestron or AMX A/V control panel and communicate with the power amp via RS232. Similarly, the optional IR plug-in adapter is a tremendous tool for educators who want fast and convenient level change or mute capability during lectures and other classroom activities. Equally important, the RVC-RS232's flexible design is ideal for retrofit upgrades of existing amplifiers or new designs. I'm confident this versatile accessory item will find a home in many installed sound environments."
The Stewart Audio RS232/Infrared Interface Adapter is expected to be available in July 2011.
More: www.stewartaudio.com