Leading European pro audio innovator Outline has announced the all-new L3000 multi-purpose amplifier.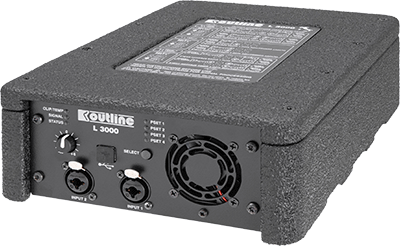 The L3000 has been created to offer a compact, powerful DSP-equipped multi-channel amplifier that can be configured to drive most loudspeaker configurations. Additionally (and uniquely) its form factor eschews the traditional 19-inch rackmount format, its mechanism being housed in a super-tough, lightweight chassis using the same materials and roadworthy polyurea external coating as Outline's tour-grade loudspeakers.
The L3000's class-D design includes two inputs and four outputs, able to operate in single channel mode (four channels; 750W/4Ω) and bridge mode (either two 1.5kW channes @ 8Ω, or a single 1.5kW channel @ 8Ω and two 750W channels at 4Ω). Onboard DSP provides a range of amplifier controls and a universal regulated switch-mode power supply allows the L3000 to operate on various input voltages and mains cycles globally.
The unit's routing and operational parameters are configured using Armonía Plus, the amplifier's management software which offers control of input/output levels and EQ, delay, polarity, crossover filters and limiter settings. Its combination of power, onboard DSP control and flexible operation make it an extremely cost-effective option for powering virtually any installed sound system.
Its modest dimensions make the amplifier useful in a wide range of audio installation applications, notably those where space constraints make it impossible or impractical to find space for traditional amplifier racks. The L3000 allows 3kW of audio power to be located out of sight, under a bar, on a shelf, in a cupboard or anywhere that's convenient to the application. It may also be put it in a rack, as Outline supplies a dedicated kit that allows one or two L3000s to be secured in standard enclosure.
The L3000 is designed and manufactured in Italy using only the highest quality components.
More: http://l3000.outline.it