Powersoft LOTO is a 1/2-input/4-output processing board designed to bring advanced DSP functions to any powered product.
Compatible with Digimod PFC2-PFC4, IpalMod, Litemod family and Minimod4 amplifier modules, LOTO can be used with any application with high processing and digital audio networking requirements and adds the built-in DSP to top-level multi-way systems and line arrays where complete control and premium performances are needed.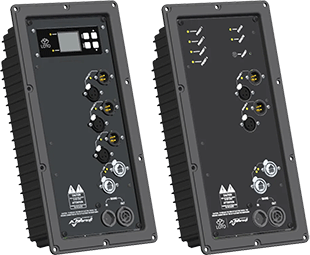 LOTO is available in Basic and Advanced configurations – both featuring the same characteristics of the high-end X-Series platform – LOTO provides parametric raised cosine filters, custom FIR and IIR equalisers, as well as TruePower, RMS and Peak limiters, Active DampingControl, and Live Impedance all completely supported and managed via ArmoníaPlus.
LOTO Advanced increases routing options by adding two AES3 digital input streams through XLR connectors, and the support of Dante digital audio networking architecture, with two inputs and two outputs.
'With the introduction of the DSP LOTO platform Powersoft is now able to offer to OEM manufacturers the same advanced processing capabilities of its top-of-the-range rack amplifier series," says Powersoft Global Sales Manager for OEM solutions, Giacomo Previ. 'This will enable to create a very powerful and flexible Powersoft ecosystem, easily controlled via ArmoníaPlus suite.'
DSP-Lite ETH is a 1/2 input/3-output processing board for LiteMod Series, MiniMod4 and DigiMod PFC2/PFC4 amp modules, integrating an extremely compact interface panel compatible with mono-in/link-out or stereo-in configurations. The built-in Ethernet port allows to access DSP-Lite ETH processing capabilities directly from the PC running ArmoníaPlus software, to easily program and store up to four presets that can be selected by the end user. Compatible with Powersoft Integration Kit platform, DSP-Lite ETH represents a powerful, easy to use yet cost-effective tool for both the designer and the end-user.
More: www.powersoft-audio.com