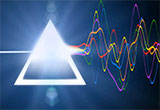 Released in March 1967, 'Arnold Layne' was the first of eight singles from the fledgling Pink Floyd that year. Fifty years on, and with an unassailable place in rock music history, Pink Floyd are the focus of an exhibition at London's V&A Museum.
Rich in memorabilia, the exhibition is prefaced by the EMI console used for the recording of The Dark Side of the Moon displayed in the museum's foyer and is littered with instruments and equipment from every stage of the band's career.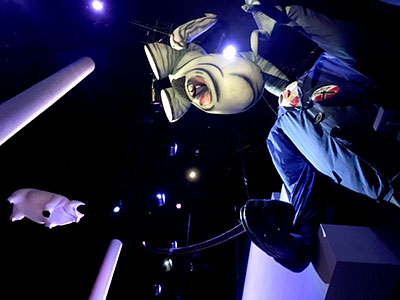 The more than 350 artefacts that comprise The Pink Floyd Exhibition: Their Mortal Remains offer an unprecedented insight into the band and its achievements – the result of the direct involvement of Roger Waters, David Gilmour, Nick Mason and the Estate of Richard Wright, with input from Hipgnosis' Po Powell, curated by Victoria Broackes' Victoria and Albert Museum team, and Paula Stainton of ArtRabbit. In addition, the show is designed by long-standing Pink Floyd stage designer, Stufish.
Hand-written lyrics, candid personal letters from a young Waters to his girlfriend, BBC broadcast contracts, stage set blueprints, and original record sleeve and poster artworks are set to a soundtrack of video interviews with band members and collaborators from across the years. A series of Giles Gilbert Scott telephone box displays give a contemporaneous feel for different cultural periods, while interactive installations include a representation of The Wall stage set with the giant inflatable schoolteacher reaching up into the museum's vaulted ceiling; a parallax of Battersea Power Station (where Giles Gilbert Scott was architect) from the cover of Animals, and a holographic image bringing to life The Dark Side Of The Moon's prism.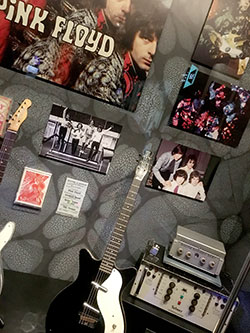 Pink Floyd's earliest performing days are represented by a letter written by Syd Barrett (which includes a sketch of their Bedford van) and Nick Mason's gig diary detailing the future stadium-filling band's beginnings, playing London's underground music club UFO and touring Britain's circuit of Top Rank ballrooms and college halls.
The exhibition's soundtrack is achieved through Sennheiser's guidePort audio tour system, which automatically tracks visitors through the exhibition's audio zones and relays the appropriate audio to their headphones – each visitor gets a personalised experience and the event is free from audio spill between different areas. And it works very well.
A total of 900 guidePort receivers and HD 2.20s headphones stream the audio to visitors as they watch any of the 40 videos being shown at the exhibition.
'The result is a fully automated yet entirely personal tour, as the exhibition can be explored in whatever order and at any pace whatsoever,' explains Sennheiser Business Director for System Design, Robert Généreux. 'The audio is always played at the right time for each visitor, and gently faded in and out when they enter or leave an area, respectively. The system also enables "classic" tours, for VIP tours for example. They can trigger any of the audio material and combine the recorded material with their own comments.'
The format of the V&A's earlier David Bowie is… and You Say You Want a Revolution? Records and Rebels 1966-1970 exhibitions is repeated for Their Mortal Remains and looks set to enjoy similar sell-out success. Certainly, the band has allowed extraordinary access to its workings and experience from pioneering psychedelic performance, through genre-defining albums and stadium gigs to the personal events and ambitions that shaped it.
Welcome to the Machines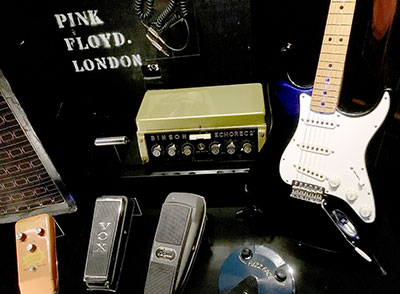 The human aspects of the exhibition are well balanced by its attention to instruments and music technologies.
There are acoustic guitars, electric guitars (including Gilmour's famous Black Strat) and lap steels, and pedals dating from Gilmour's very first Astrotone fuzz box through a Fuzz Face, a Big Muff, Coloursound Power Boost, Electric Mistress, Vox Wah-Wah and others, to a number of Pete Cornish's industry-shaping pedalboards.
Among the Binson Echorecs is the 'Baby' used by Syd Barrett to set the Floyd's psychedelia controls. Several VCS3 synths and a Minimoog join Wright's Hammond and Farfisa organs, and Fender Rhodes piano. And there is the infamous Azimuth Controller from the band's live quadraphonic sound set-up, as well as the Midas mixing desk built for the Division Bell tour.
The exhibition also offers a unique opportunity to deconstruct a mix from Dark Side of the Moon. A number of Formula Sound mixers (a nice choice) are set up to enable visitors to pull the studio mix of 'Money' apart, laying bare the intricate interplay between the two guitar tracks and electric piano as they work with the bass and drums in that famous rhythm track.
Where David Bowie is… culminated in a spatial playback of music and You Say You Want a Revolution? had a similar space dedicated to performances from the Woodstock Festival, Their Mortal Remains delivers a new mix of 'Comfortably Numb' using Sennheiser's Ambeo 3D technology and an 18.3 loudspeaker set-up. The multitrack recording is taken from the 2005 Live 8 concert – where Gilmour, Mason and Wright reunited briefly with Waters – which was made using four Merging Technologies Pyramix systems, two for recording and two for backup. The remix for Their Mortal Remains was created at Abbey Road Studios (in the studio used to record DSotM) by producers Simon Rhodes and Simon Franglen, who worked closely with Pink Floyd associate and recording engineer Andy Jackson.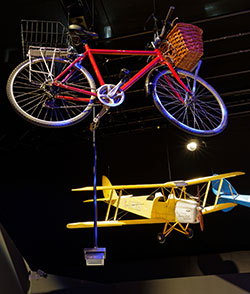 This Performance Zone is served by 18 Neumann KH 420 mid-field monitor loudspeakers and seven KH 870 subwoofers. The set-up includes six KH 420 at the front, three at a height of about 2m, and another three at 4-5m. At the rear, there are four loudspeakers, two at the lower level and two at the higher, while each side features two KH 420s at a height of approximately 2m and one at 4-5m. Two KH 420s are used as a so-called Voice of God, and placed about 6m high at the centre of the space. The seven KH 870 subwoofers are positioned three at the front, two at the back, and one on each side.
Feeding the loudspeaker is a Merging Technologies Ovation Gold media server in a similar set-up to that used for You Say You Want a Revolution? – both were devised by Sysco Productions, a company that specialises in audio installations for public attractions and museums including the Imperial War Museum. The Ovation Gold is accompanied by two Merging Hapi I/O systems in the form of a turnkey set-up using Ravenna.
Along with the audio guide programming, responsibility for the Performance Zone fell to Sennheiser's Généreux. 'We are aiming at providing an audio experience unlike anything visitors have experienced before,' he says. This is true for both the Performance Zone, where the truly spectacular Ambeo mix is played, and the overall exhibition sound.'
'The V&A is perfectly placed to exhibit the work of a band that is as recognisable for its unique visual imagery as for its music,' says V&A Director, Martin Roth. 'Pink Floyd is an impressive and enduring British design story of creative success. Alongside creating extraordinary music, they have for over five decades been pioneers in uniting sound and vision, from their earliest 1960s performances with experimental light shows, through their spectacular stadium rock shows, to their consistently iconic album covers.'
Wish you were here?
While You Say You Want a Revolution? has moved on to Canada as part of a tour that will last several years, Their Mortal Remains opened on 13 May and runs for 20 weeks. It will be heavily attended…
See also: