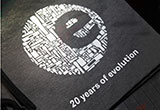 'Twenty years ago, a question was posed: should Sennheiser continue to produce dynamic microphones? Our prices had gone up and our profit had gone down because we were producing them in a very old-fashioned and expensive way.
Also, Sennheiser predominantly delivered microphones for the broadcast market, which weren't attractive to the live sound market –partly because they were too expensive…'
The 2018 anniversary of Sennheiser's evolution microphone series finds it established as a global industry standard for live microphones, and the company's most successful microphone series to date. Among a panel of people involved in evolution's development and their use, Michael Polten is offering an unprecedented insight into its inception for an invited audience in London. This, the first of two F&W features, will cover the development with a second anecdotal instalment to follow.
The last person to mix Freddie Mercury live, Jamie Gosney has toured with The Jackson Five, Dolly Parton and Donna Summer among others, owned and run recording studios, and designed audio systems for prestigious venues including Glyndebourne, the Royal Opera House and the Bristol Hippodrome.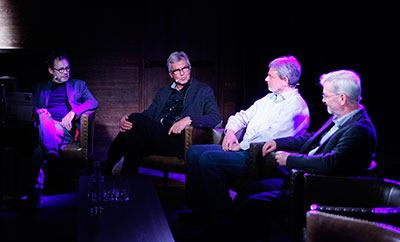 This evening, he is hosting the evolution session, which features Polten – former Director of Customer Relationship Management at Sennheiser – along with Martin Fischer, Andrew Lillywhite, Chris Denman, Pete Malandrone and Joe Campbell.
A 32-year Sennheiser veteran, Fischer is a Senior Product Manager for Sennheiser's Professional Division. Currently part of the European Customer Development and Application Engineers team at Sennheiser, Lillywhite previously headed the technical team across all professional audio applications at Sennheiser (including the broadcast, audio for video, touring, theatre and corporate installation market segments). The first evolution user on the panel, Chris Denman has been at Global Radio (formerly Capital Radio Group and GCap) for 18 years, and produces the live sessions across all of the group's radio brands – 3,000 to date, averaging 300 each year, both as prerecorded sessions, and live to air. For his part, Malandrone has been guitar tech to Queen's Brian May since 1994, while monitor engineer Joe Campbell has worked with IEM systems since the mid-1990s, touring with Chris Rea, Placebo and currently Adele since her 21 tour.
Evolving evolution
'We had a dilemma,' Polten continues, 'either go to a cheaper country, like China, to manufacture, or to build an automated line in Germany that would reduce the time taken for the manufacturing process and reduce the cost. We decided to do the latter, but to make that viable, you need volume. This was calculated, and it came out that we needed to produce 150,000 pieces a year to make an automatic production line profitable. I was asked to devise a concept for that.
'So I worked out my Ten Commandments. One of these commandments was to go the market's very core, which at the time was the US and the UK. These were the two geographical regions where all the big touring companies were based, as pretty much all international tours came out of those countries. We put together an international team, finding specialists for the new market in our international sales force. This was the so-called Tiger Team, and was founded in Los Angeles in 1996. This team then defined the new products, which were all wired mics.
'The team we set up was the first step – it was the first time that an international team of sales people had defined a product. No engineers were involved at the concept stage. People from the market were invited to define the product; the focus was on customers and what was required by them. And we wanted to differentiate ourselves completely from our competition and introduce a range that would be synonymous with the Sennheiser brand.'
Company backing for the initiative was not immediately forthcoming, however, as it represented a very bold step for a broadcast company: 'Many people did not believe that we could achieve that kind of volume in a new market,' Polten recalls.
'In the beginning, we had a lot of production problems. Even with careful planning and organisation, the delivery was still slow as we were getting used to producing high volumes. Compared to our best-selling dynamic mics before evolution – of which we sold between 3,000 and 4,000 pieces per year – this was a massive new process to get used to. But, finally, after some initial hiccups, we were able to get on the right track, and we even managed to over-achieve our target to produce 200,000 pieces per year.
'The success was down to the distribution network. For the dealer, it's all about the margin. Our competition was in a very comfortable position. For instance, they were already established in the market and could sell their mics at a very low dealer margin. To get to the dealers, Sennheiser knew it had to give a better margin than the competition. This was the first step. The second was achieving market penetration. For this, the sales team presented the microphones, and did countless comparisons and demos. When Elton John started using them, he was the first serious artist using evolution and this was one of the key turning points.
'Investment from Sennheiser was key,' Polten continues. 'We were in the lucky position that we could take longer to get into the market. Maybe after a year, other companies would have said there was no volume and would have given up, but Sennheiser invested in marketing and sales, and had the budget and the time to able to do this.
'As I mentioned before, at the beginning, no one believed that we could achieve this kind of volume. Sennheiser was a broadcast company before evolution, and my colleagues from that market were very sceptical. The process was unusual for Sennheiser – that the request came from Sales & Marketing. Until then, it was always the other way around. Before evolution, we had high prices and low volume. This new series brought us down the pyramid slightly. This was the first range that was completely focused on what the customer, the dealer, our own sales force and our marketing team wanted. These are the main points that made the evolution range so successful.'
Liberating evolution
Alongside Polten, Martin Fischer was instrumental in the development of evolution wireless.
'Michael, who joined the company in 1991, was more involved in the evolution wire-bound range and I was much more involved in the wireless line,' he confirms. 'At that time, Sennheiser wasn't present in the MI [Musical Instrumernt] market. In the early 1990s when Michael joined, there was the first discussion about how Sennheiser could join the MI market. This was Michael's task.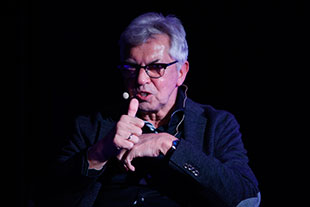 'We first looked into wired mics, which needed to cover what musicians wanted – being stage-proof and affordable. I came into play when it came to the question about wireless. We knew that if we wanted to seriously enter the MI market we needed a wireless line. Michael and I worked as the product management team. He was focussing on the acoustic side and the external communication. I was working internally focussing on the wireless technology and transmission type. This started shortly after the wire-bound development.
'There were some key features that we defined for the first generation of evolution wireless. It needed to be stage-proof, so it should have a rugged metal housing for receivers and transmitters. Transmission reliability, superior sound by exchangeable mic capsules from the evolution line, ease of use, flexibility and fulfilling our quality standards were also vital. And last but not least, it should be available for musicians – I don't mean low budget musicians, but the more advanced musicians. These were the targets for the first evolution wireless line.
'With the price point determined, we had a clear target. We said it should be a real stage-proof system and the price needed to be right. We managed in a very short development time to set up a complete line. The evolution wireless line consists of the 100, 300 and 500. They differ in features and we defined the ENG [Electronic News Gathering] line, the portable line with a portable receiver for camera use, and the wireless in ear-monitor line. We managed in a short time to bring five evolution lines in to the market with 30 models and 50 articles because we had to cover different frequency ranges due to varying country regulations.
'We fulfilled all these really ambitious features and the preview was in 1999 at London's Plasa Show. We also had a nice location where we had a special launch. This was done with prototypes, but when we showed it to customers and to the market, we generated a real hype for evolution wireless. We seriously underestimated the demand, so in a couple of months we were sold out for the whole of the year 2000. On the one hand this is a good message, that it was so loved, but on the other hand we needed a whole year to manage the back orders.
'The demand from the market was incredible. Before we launched evolution, we had a share of less than one per cent of the MI market. We succeeded in managing the back orders and in the second year the demand was increased, so we had two-digit additional demand and shares year by year.
'In the first year there were 40-50,000 links [a combination of transmitter and receiver] and in the next few years we ended up with a quarter of a million links. The growth is also reflected in the company's turnover. In recent years, almost a third of the turnover was generated by evolution/evolution wireless, so it had become a major microphone line for Sennheiser.
'We also had to extend our production facilities. We started in the German HQ and in the first years it was only produced in Germany. In 2007, when we introduced the second generation of the evolution series, we got an additional production site in the US in Albuquerque. And it has remained like that until now, and the fourth generation.
'There has been a change in the past few years,' Fischer says, turning his eye to the future. 'What was demanded by customers over the years was transmission reliability – it just has to work – ease of use and flexibility are very important, and rental companies demand compatibility, so they don't have to change everything when they move from one generation to the next. Over the past couple of years, there have been additional requirements – one is spectrum efficiency. The available spectrum is shrinking because it is being sold to other mobile services, so the microphone industry has to look for alternatives.
'The pro market sees this as they move from country to country; each country has its own regulations and take frequencies away from microphones and give them to the mobile industry, so this is a very important aspect that we have to take care of.
'What is also important is ease of use: smart workflow. We see there are more and more situations where fewer people are involved in setting up systems and it has to be done faster. The workflow is very important, taking into account that there are more and more complicated devices used in live shows, such as digital mixing consoles, and the IT infrastructure is being used more in these type of applications. There is more complexity, less time, less manpower and shrinking budgets, so the equipment that is used in these big shows has to be a reasonable price and it becomes more and more difficult to replace expensive equipment in the field.
'This is where evolution wireless and our medium sized wireless microphones are good.
'What I can say is that the next generation of wireless microphones will be digital and will address all these major future customer requirements, so we are up to date with the needs and the pains of the pro users. Also, the new products will implement less hardware but more software – the control and monitoring facilities will go into other domains such as a PC, tablet or smart phone, so we'll make sure that our next generation can take care of this.
Blinging evolution
Sharing the stage with Polten and Fischer, Andrew Lillywhite regards himself as the new boy at Sennheiser: 'I'm only in my seventeenth year,' he says, wryly. 'I was late to the evolution party, and it was a bit of a surprise because I had been working in high-end wireless. Then I had about five years doing mostly two-way radio communications and suddenly I'm back into the pro audio world properly with Sennheiser. It was a bit of a shock to suddenly discover all this stuff, but a good one.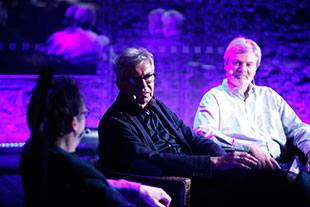 'My role, then and now, is the interface between Sennheiser and end-users, and our distributers who sell to those end-users. If engineers on the road have problems, then it's very likely they will be talking to me. In the first instance, it is my role to solve those problems and, if necessary, call in the big guns.
'I didn't know it at the time, but I had arrived at a very curious time in evolution's history. I had been at the company for around six weeks when my boss at the time, Dave Hawker who is sadly no longer with us, said, "we're doing this thing on Sunday and we need you to be there". I said, "Okay", and we went off to a dark, depressing rehearsal room in North London on the Sunday. Twenty or so practicing rock 'n' roll engineers turned up on the day – ten front of house and ten monitor engineers, some who had been using the existing evolution mics and some who had not. And, of course, we also had a contingent of people from Sennheiser in Germany. I remember Michael being there and I'm pretty sure Martin was there.
'The idea of that day was to get feedback from these engineers on what they liked and what they didn't like about the existing mics. There were samples of some new secret mics for them to try and there was a vocal coach to act as a sound source. We borrowed the monitor rig from a band called Faithless, who were already in the rehearsal room. That was the really the start of the development, as far as I understand it, of the Evolution 900 series. We had the 800 series and the idea I think was to take it to the next level. The 800 series had gone really well and the idea was to take it to the next level; to have another step in the chain.
'The whole thing with bling sparkly mics certainly has kept me busy from time-to-time,' Lillywhite says of evolution's live concert and TV visibility. 'I'm talking about wireless mics on events that include multiple artists – like an awards show. When you have multiple bands on stage and you've got to have everything in the right frequency range, [if the artist wants to use their custom mic, rather than try to persuade them to change microphone] the quickest way to achieve that is to take the shell off their microphone and put the right electronics inside for that show. 'The most of those I have ever done for one show was 14 – that's 14 different artists all turning up with their own mics, and we had to change the innards so they could actually use them. Then we had to change them all back at the end.
'The Snoop Dogg one was special, it has to be said. Snoop Dogg was hosting the 2007 Frankfurt MTV European Music Awards and his manager turned up with his mics in a little briefcase. We had already had the discussion that we would have to change the frequency range because they had come from America and they weren't going to work here.
'I was not really prepared for what I was going to see when I opened the briefcase up. He handed it to me and said, "I'm off; I'll be back in an hour". I had plenty of time to do what I had to do and so I opened the briefcase up and the mics inside were not just diamante encrusted, they had huge knuckle guards on them – and they weren't the normal Swarovski crystal glass. These were real gems stuck on, and they had also been silver-plated.
'I thought, "I have a wife and family at home. If anything happens to these… well, this bloke has seen my face, he knows who he handed them to". Half an hour into the job, the crew said that it was lunchtime, and that they were off to catering. I thought, "I'm not leaving these". I wish I could show you a photo as they were spectacular. One of them had his name on: Snoop Dogg all across the knuckles. The other one was in the shape of a huge ganja leaf, which the TV director declared would be the spare. I think they were priceless, irreplaceable, which is definitely how I felt about them at the time.'
A short interval in the evolution presentation allowed attendees to 'build' their own evolution mic – under the guidance of Sennheiser's engineering staff – before following the evolution story into the world of live performance. The second instalment of this feature can be read here.
More: www.sennheiser.com