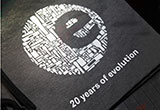 Having explored the thinking and story behind the evolution concept, Sennheiser's exclusive show-and-tell session in London gave the floor to the a handful of the mic systems' users: Brian May guitar tech Pete Malandrone, monitor engineer Joe Campbell and Global Radio's Chris Denham.
Between their contrasting viewpoints, they paint a first-hand picture of a defining microphone in Sennheiser's remarkable history.
The second part of a candid account of the inside story of evolution begins with session host Jamie Gosney inviting Malandrone to recall his first encounter...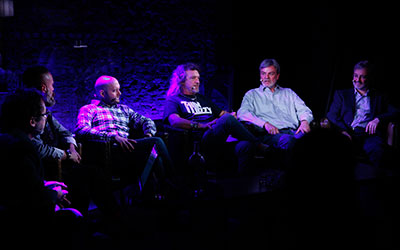 Pete Malandrone's evolution
'If I go right back to the beginning, I met a lovely guy who worked with Sennheiser, who is sadly no longer with us, named Dave Hawker. It was back in 2003, or around then, a time when Brian [May, Queen guitarist] wasn't particularly active in a performing sense. He had finished working with his solo band around 1998, and at the time was using an absolutely terrible radio system from Samson. It never worked.
'I met Dave in South Africa at a Nelson Mandela concert he was doing. We instantly got on very well and ended up discussing radio systems, as well as a handful of other things. It then transpired, in 2005, that Paul Rogers would start to perform with Queen. I got back in contact with Dave, as I was going to need a reliable radio system because I wasn't going to be able to produce the results I needed on a guitar lead. The stage was just too big to do it that way. Dave sorted me out with a Sennheiser 5012 system. It worked very well, and we were very happy.
That is until we reached the sixteenth show of the tour…
'For some reason, unknown at the time, it started getting noisy. We didn't understand why. Dave and I tried fixing it over the phone together, and he sent me a few different leads to try to get it working correctly. It finally got to the sixteenth show of the tour, a show that happened to be in Budapest. Things got worse and the show turned out to be a disaster. Nothing was working, and everything was noisy with lots of interference. I ended up having to connect Brian back up using a guitar lead as I couldn't get the radio system to work properly. It was possibly the worst night of my professional career.
'It was extremely disheartening, and Brian was very annoyed and upset. I didn't know what was wrong, or why the system wasn't working as it was supposed to. I phoned Dave again, who sent me out some more leads and for about four shows everything was fine, but then it started to happen again. By this time we were back in England. I called Dave and he came to Birmingham.
'On tour, we were using a Perspex stage. Using the original Sennheiser system we had, there were components in the guitar jack that would blow. We found out that Brian was charging himself with static electricity from the stage and when he touched the guitar, it would blow the components in the guitar jack, which resulted in noise and interference through the radio receiver. Some venues had more static than others, and Budapest turned out to be the worst for static electricity with the stage we were using.
'Once we discovered this through various experiments and accidentally blowing out the components during a soundcheck, Dave suggested we try a new system; the G2 evolution system. This was back in 2005, and we have been using it ever since.'
And it has worked – although not in any way that the Sennhiser tech teams might have imagined.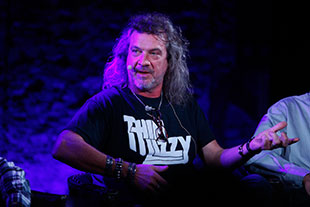 'Brian is a unique guitar player in a lot of ways, especially in the way he wants his sound,' Malandrone begins. 'He uses a home-made guitar for a start, his Red Special, and also plays with a coin. Something no one else really does. He's also unique in that he uses a treble booster in his equipment rig, and the signal from his guitar goes to this before it goes to the amps. Using a radio system, through trial and error, we found the treble booster has to come first. Consequentially, the guitar goes into the treble booster, which is like a 20db gain stage and then that goes into the radio pack.
'The pack and receiver are overloading the entire time he is on stage playing unless he decides to turn his guitar down. But that is part of the sound Brian really likes on that wireless system. So much so, we did an A/B test around four or five years ago to try and get him to use a newer digital system, because the G2 evolution equipment that I use is more difficult to get parts for now as Sennheiser doesn't make it anymore.
'When we tried to get him to use a digital system, he didn't want to. His comment was, "it sounds too much like a guitar lead". For most guitarists, that would probably be a good thing, but Brian is so accustomed to the sound of the Sennheiser radio and the way it compresses the signal in a way he likes, he just doesn't want to use anything else. Even in a studio, he could be using a guitar lead but will request I get hold of a radio system for him to record on because he wants that sound.
'The only problem we have had with it was during the last year. We did a run of gigs in Vegas and the range I had, Range B, couldn't be used there. I had to get a Range A system. Unfortunately that system is no longer made, so I had to scour eBay. Andrew Lillywhite contacted every Sennheiser distributor and parts stockists and managed to find me some Range A boards. He has now essentially made me a system of G2 Range A stuff that we can use in America.'
Given May's profile and reputation within elite guitarists' circles, it seems inevitable that other manufacturers would target him with offers of alternative systems.
'Lots of companies are continually offering Brian and myself free stuff to try,' Malandrone confirms. 'If it is anything radio related, then we just don't want it. I guess it could be better, though I very much doubt it. I also doubt it could deliver the sound Brian loves and wants. Also, part of the reason we stick with Sennheiser is because of people like Andrew. If we get in trouble in Australia, middle of the night, I can phone Andrew, and he would help me. Dave was the same back in the day. That is worth more than anything else, far more than getting something for free.'
Even Sennheiser's own, and more modern, G4 Evolution system gets the cold shoulder: 'Brian and I are both of the same mentality – if it ain't broke, don't fix it – especially as Brian is so happy with the sound of the G2.
'Ideally, I would love to get Brian on a modern system. It would make it easier for me to sync everything up, and I could use it anywhere in the world without worrying which range we were using. But to test it, and get it right, we would need battle conditions. A soundcheck or gig. We could try and get it close, we could put it on scopes and work out the sound, but part of it is how he feels when he plays. The compander in the G2 is a big part of this. It's too good.
'When Brian last tried a newer system, he found it too clean. It sounds like a guitar lead, which is a very clean sound. He has got so used to the system he is using. If you are a guitarist, with the treble booster hitting the transmitter that hard, and then hitting the receiver, it's peaking the entire time. Red lights are on as it's pushing both the transmitter and receiver over their limits. But it works for him. We wouldn't change things now. Brian is no spring chicken anymore, but as long as it lasts another 20 years, and Andrew still has spare parts, it will be fine.'
Joe Campbell's evolution
Passing the spotlight on to monitor engineer Joe Campbell – who has used every evolution series up to 9000 Digital on the Adele tour – we begin with a story: 'This is a story from the early days of evolution wireless, when the products first came out,' he opens. 'In those days, multichannel in-ear monitors and multichannel radio mics working at the same time (many channels of each) was a new thing and quite difficult to do. It was in the days before wireless systems manager. No one had much experience using multichannel radio systems and it was a bit of a free for all. It didn't seem like there were many licences kicking about for frequencies and it was difficult to get lots of reliable frequencies in one venue, just because it was really early days for this sort of thing.
'I worked quite closely with Sennheiser's Dave Hawker [former Sennheiser UK director of engineering] and he was influential in the setting up and running of systems.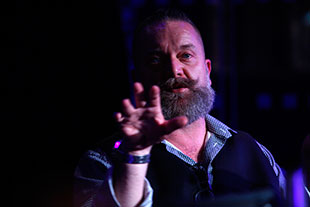 'I was having terrible trouble getting all the Sennheiser equipment to work at the same time on a tour with the boy band Five [1999 was the launch of evolution wireless and also the year of the 5ive tour]. It wasn't the equipment that was the problem, it was intermittent radio frequency interference and I couldn't fix it. I needed assistance to overcome this. It was Dave Hawker that reassured me that everything I was doing was right, but something external was ruining what we were trying to do.
'He showed up at the show in Wales with a lot of test equipment, including the Vulcan in-ear monitor amplifier [Vulcan was the brainchild of Dave Hawker and was a dual-amplifier configuration designed to allow large multichannel IEM systems to operate faultlessly in RF-hostile live touring environments], which was a very new thing used to up the transmission power on my in-ear system. But it still didn't fix it. He discovered that the radio frequency interference was actually coming from a building nearby. It was a Laser Quest place in the vicinity of the concert we were doing. This is an indoor laser tag game using infrared (IR) hand-held units and vests. They had a broken BNC connector and it was spurting out spurious high power signals all over the place.
'Dave found the fault and managed to get Laser Quest closed for the day. They then had to fix their equipment so that they could carry on trading. That was, perhaps, 20 years ago.
'He was a very hands-on engineer, and inspirational. Because he'd fix the seemingly impossible, he gave me the confidence to take on jobs that I probably wouldn't have been confident to do without his support. Over the past 20 years Sennheiser has been brilliant with its support and has set the standard for RF. Without Sennheiser's support it would never have happened.
'Dave Hawker was heroic and absolutely fearless. I think he liked finding the solution, even though sometimes the solution wasn't obvious. He knew the law and the rules and it was very difficult for anyone to argue with him. He got me going on many occasions when I didn't think it was possible.
'There was one time when he and Andrew Lillywhite got some of the Sennheiser engineers together and had an event with a band and in the break in proceedings, Dave and Andrew broke all the equipment and then got the engineers to fix it all before the band went back on. Some of the things were quite sneaky, but the engineers from Sennheiser fixed it all. The people that you rely on were put in a situation that working engineers are put in. Knowing they could do that prepped the engineers for touring life.
'In the early days, there was a lot of mystery about RF and it was seen to be unreliable. But Sennheiser said it does work. Things like antenna placement, cable lengths and what kind of connectors you're using, all those have an effect and Sennheiser would dispel the mysteries. You got Sennheiser and it worked.'
Chris Denham's evolution
Moving the focus from live performance to broadcasting, Chris Denham takes the reins.
'When Global took over in 2014 it became obvious that I would be moving to a group role, doing sessions for Classic FM, Capital FM, Capital Extra, Smooth and Heart. That's a lot of different artists and bands. I've always had a mic set that was very flexible in getting the right colours and tones to match that production. And the funny thing is, all I've ever used is the e-series, with maybe a sprinkling of one or two other bits here and there.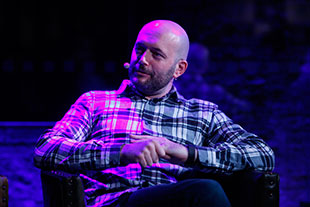 'The live sessions are very much a recreation of the album sound. I'm recreating class-A preamps; a bunch of e-series mics are the main contributor to that. I recreate the album sound with less hassle.
'The reason for reaching out to Sennheiser in the first place was because in the XFM studio, the drum room was so small it was always a fight for stands and someone said I should get in touch with Sennheiser because they had some great clip mics. So I reached out to you guys and they came to the rescue and said 'here are some drum mics'. I've never looked back.
'I still have a Mk.I 602 kick mic. It still sounds amazing and has the ability to sound like a double miked kick with that one kick mic. I never use anything else with it. There are no phasing issues. It sounds really good. I call them FOH mics. When I've heard them on various things, especially in isolation, they really do cut the mustard, especially the evolution series. I love my 602 Mk I. I've got it on all the albums. I've recorded all the UPs and albums that I've done using those mics, because I know how to use them, they're very reliable and I know how to get the sound I need, which sounds like a classically miked kick.
'I use a 903 on snare top, which Sennheiser doesn't make anymore, and it's rugged as hell. It can take a battering. I record 250 to 300 bands a year and that mic has been with me on every snare. It has everything in it to survive way more than the equivalent from another manufacturer. I use an 865 on snare bottom. It's nice and harsh and works really well with the 903. I use a 604 on tom mics with a tiny bit of EQ on the curve and they sound like MD 421s. I always have a massive tom sound and that's because of those mics.
'I'm pretty much a one-man outfit here and as soon as we start breaking down to load out, there's always an issue as I can't get around to pick up my mics quickly enough. The 604 tom mics can get thrown on the floor, trodden on and they survive.
'I still have a bunch of 421s in the studio and I use them as a bass mic. On guitars I use 609s because of the constraints I have on time, but the result comes out sounding like an album. I can stick a 609 directly on axis without having to think – I've never had an assistant – and I'm set up and ready to go.
'On a recording session, we load in at around 10.30am. We're up and running and recording by 12, out on the street by about 1.30pm and get four tracks done and sounding like the album. I'm very proud of that and it's the Sennheiser mics that make it possible. With the 609s you can whack them on and listen to a guitarist to see what they're doing. You might need a touch of EQ, but that's just to push it through the headphone monitors a bit.
'I've had Billy Bragg, Manic Street Preachers, Vampire Weekend, Interpol, Keane, Mastodon, Lady Gaga, Taylor Swift, Bruno Mars… I'm very lucky. Anyone that's dropping anything album- or single-wise they like to come through.'
From tentative business proposal to ubiquity, Sennheiser's evolution series of mic systems has shaped both the company's destiny and the way music is heard and recorded. The first part of this session can be found here on Fast-and-Wide. If you haven't already, you should probably take a look – it's not often a company lifts the lid on its secrets like this…
More: www.sennheiser.com