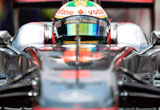 Launching a dedicated HD TV channel for its 2012 coverage of the Formula One Grand Prix, Sky dedicated a two-hour special of The F1 Show to preview the forthcoming season – and implicitly celebrated winning the television rights over other broadcasters, including the BBC.
Now, with the 2013 F1 season past its half-way point, Sky has raised the broadcast stakes still higher.
Along with HD pictures and 5.1 Dolby E audio, the broadcaster has extended availability of its programming to PCs, tablets and smartphones. As well as 'second screen' viewing, this adds 'mosaic' viewing – a choice of nine video options and other features – as part of its Sky Race Control (red button) interactive service. In addition, Sky has moved its broadcast infrastructure away from 2012's satellite network to 50Gb fibre-optic links (although it retains a satellite backup). Key to this move was the appointment of Italian broadcast and satellite transmission specialist Videe as main broadcast contractor to Sky Italia for the full 2013 and 2015 race seasons.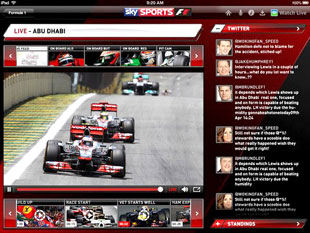 Videe's appointment follows previous work on the F1 broadcast for Italian national broadcaster, RAI in 2008, 2009 and 2010: 'Back then, we were involved in the satellite transmissions,' says Videe CEO/founder, Bruno Mercuri.
Although this new contract takes the Italian broadcast company further into F1 than before, the company is no stranger to major sport broadcasting. Having handled the FIFA World Cup, Olympic Games, UEFA Champions League and Five Nations international rugby championship, Videe won the tender issued by Sky Italia, detailing the equipment requirements for the fibre-optic broadcast set-up, and requiring a costing forecast.
'The system needs to operate around the world in different locations and situations, including some of the world's most demanding broadcast environments,' Mercuri says. 'This cutting-edge project was planned and tested with Sky Italia management – particular thanks here to Riccardo Botta and Tiziano Mantovani – is special because we need to keep weight and volume as low as possible for international shipping, as more weight equals greater cost.'
'We started to work on the F1 project on September 2012 when we first received the relevant bid information from Sky,' he continues. 'We won the bid in December 2012 and had a very short time to complete the integration. We have one control room, the MCR, to receive the main signals from FOM [Formula One Management Limited] to integrate with signals from our cameras, and EVS/Avid and graphics video systems, and to send it via fibre-optic link to Sky Italia headquarters.'
To date, the 2013 season has taken in the desert location of the Bahrain International Circuit and the 40°C working environment of the Hungaroring, with visits to Singapore, India, the UAE and Brazil among those that are yet to come. While the race teams worried about the effects of the 50°C track temperature on the cars' tyres in Hungary, some of the broadcasters found themselves turning off equipment that was not in use in order to allow it to cool. Videe's air conditioning set-up for the MCR kept the air temperature down, and its robust equipment selection has ensured that there have been no technical issues.
New Sky thinking
Along with the flyaway technical set-up, Videe takes a team of 19 people to each race meet (outnumbering Sky's own ten-strong team), including a sound mixer and an audio assistant who is stationed in the commentary position. The set-up is flown in and accommodated in a dry-hire cabin at the race site. It takes just a few hours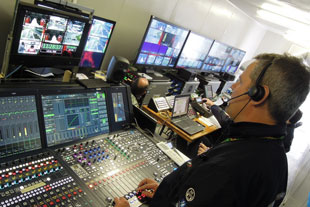 to configure, and provides Sky Italia with the MCR needed for all of its live F1 coverage – 95 per cent of each Grand Prix's broadcast content is created live from the venue.
To manage the audio, Videe has a 32-fader Lawo mc²56 MkII 16-16c-0 mixing console equipped with three DSP boards (144 audio channels), with Virtual Studio Manager (VSM) from sister company L-S-B Broadcast Technology as its super-ordinate control system. This set-up is accompanied by a Lawo V__pro8 Video Processor for embedding and de-embedding the 5.1-channel surround audio in the video stream.
'It is a very compact installation with an extremely small footprint,' Mercuri says. 'The audio requires just a single rack and a single Lawo console, and the V__pro8 saves us a lot of additional video gear. Together, the audio/video combination results in a comparably low weight. This reduces our operational costs significantly.
'The Lawo/VSM/L-S-B solutions keep us a step ahead in configuring and managing our systems,' he adds.
HD recording is handled by an AVC Intra 100 system with an EVS XT3 video server system for recording and slow-motion replay. In addition, there are two Avid Adrenaline/Media Composer suites for video editing during the broadcast. A Riedel MedorNet fibre-optic network supporting four Compact Pro frames is used to distribute a total of 19 SDI and HD SNG 'world feed' signal streams from the MCR to the various national broadcasters.
The MCR is also linked via a further four MediorNet Compact Pro frames to the Sky commentary box. 'The MediorNet system is of key importance, as it allows us to carry out signal transport and processing without any outboard hardware,' comments Videe R&D's Luigi Nespolo.
Riedel is also responsible for the extensive comms systems that hold the whole broadcast infrastructure and race teams together, using its Artist platform.
Videe's contract will allow it to build on what it has learned during this race season in preparation for next. The project will close with the Brazil Grand Prix in San Paolo, before the 2014 opens – presently scheduled for Australia. According to a provisional calendar, new events will be staged in Austria, Russia and Mexico, although the latter two are subject to confirmation. Korea is also a provisional inclusion at the time of writing.
But however the 2014 schedule is finalised, Videe will be well placed on the grid to see its contract extended into the 2016-2017 season.
See also:
Second Coming: The App, the TV and the Tablet
The Sound of Sport: What is Real?