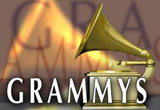 The evening's telecast was one of the year's largest, drawing 28.1m viewers worldwide – its second-largest audience since 1993. In the US it was broadcast live in HDTV and 5.1 surround on the CBS Television Network, and showcased more than 25 performances from some of the hottest international recording artists.
The occasion was the 55th annual Grammy Awards, held at the Staples Center in Downtown Los Angeles.
As with previous years' Grammys, the artists' dedications were among the most memorable moments of the evening, and this year included tributes to Bob Marley, Levon Helm, Dave Brubeck and others. In plain view but unnoticed by the vast majority of viewers, the microphones used for these and the musical performances played a critial part in the event's success.
While LL Cool J hosted the ceremony for a second time, Bruno Mars led the tribute to Bob Marley before making way for Sting, Rihanna, Damian Marley and Ziggy Marley for performances of 'Locked Out of Heaven', 'Walking on the Moon' and 'Could You Be Loved'. Mars sang through a Sennheiser SKM 2000 transmitter with MMD 945-1 super-cardioid capsule, while Sting used an SKM 5200-II with Neumann KK 105 S super-cardioid capsule.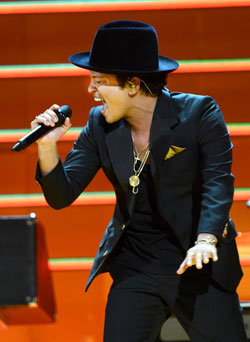 'Putting Bruno on the SKM 2000 and MMD 945-1 combination was a choice between me and FOH,' explains Mars' monitor engineer , James Berry. 'We did a shootout with a ton of mics and this was definitely the best choice – it really made his vocal sound fantastic both for his own IEMs and FOH.'
Berry is running around 30 channels of Sennheiser wireless, for microphones as well as IEMs: 'The 2000 series IEMs are rock solid and they sound great,' he says. 'I've been using them for many years now, and it's my go-to.'
One of the evening's highlights was a tribute to Levon Helm, who passed away in April 2012. An all-star cast consisting of Zac Brown, T Bone Burnett, Elton John, Mavis Staples, Mumford & Sons and Brittany Howard of Alabama Shakes gave an emotional rendition of 'The Weight' with Brown leading off, singing through a Sennheiser SKM 5200-II transmitter and MD 5235 capsule.
Earlier in the evening, audiences were treated to duets of 'Over You' and 'Home' by Miranda Lambert and Dierks Bentley, with Lambert singing through her signature custom Sennheiser SKM 2000 handheld and MMD 935-1 capsule.
'Microphone choice is a team call between Jason [Macalik, FOH for Miranda Lambert] and me,' says her monitor engineer, Chris Newsom. 'You choose whatever microphone best complements the artist's voice, and the combination of the SKM 2000 and MMD 935-1 works for us. Miranda's voice sounds really smooth, and that's exactly what we are looking for.'
Newsom adds that his team relies on Sennheiser for both handheld transmitters and IEMs, with 12 stereo mixes of ew300 G3 IEMs for in-ear monitoring alongside EM 2050 receivers and six channels of SKM 2000 transmitters – each with MMD 935-1 capsules.
'This is the only show where all my clients are music professionals, so there is nothing more important than the sound,' says John Harris, who has been music mixer at the Grammys for 20 years. 'For both Bruno's and Miranda's performances, the sound of the mic jumped out at me and made me look up. In both cases, the mics [Sennheiser SKM 2000 with MMD 945-1 capsules] were well matched to the performers and were ideal for the circumstances.'
Throughout the performance, Dave Bellamy of Soundtronics served as RF Coordinator. With 15 Grammy events under his belt, he relied on Sennheiser for 2013's wireless systems: 'We used 18 channels of Sennheiser RF for the show, all top-of-the-line EM 3732-II receivers,' he says. 'It has been a solid and reliable system – especially as we have less spectrum and more RF devices to work with than ever before.' Bellamy's firm was responsible for the antenna system and coordination of RF frequencies for the show.
Sennheiser microphones were also used on instruments and backline amplification throughout the show. Among them, 20 e935s were used for background vocals, 30 e602 microphones for floor toms and kick drums, 20 e904s for rack toms and ten e906s on guitar cabinets.'The e 602 design is fantastic,' says music mixer John Harris. 'You can put it on a drum and it already does what I was going to do to it – it is great at impact, especially at the bottom and top end.'
Loudspeaker systems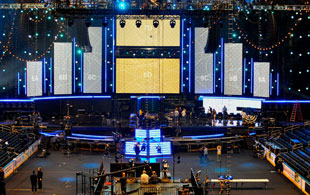 Delivering the mics' magic to the Staples Center's live audience, ATK Audiotek provided LR hangs of 12 JBL VTX V25 line array elements per side for the main PA, with additional LR hangs of 12 V25 per side for out fill, with a centre cluster of 18 VTX S28 subwoofers in cardioid mode (two arrays of nine S28 subs), for a total of 66 VTX loudspeakers.
In addition, six VRX932 Constant Curvature loudspeakers served as front fill, with LR rear delay arrays of eight VerTec VT4889 line array elements each. Powering the loudspeakers were 16 Crown Audio VRack 2000 and four VRack 4x3500 and the system was configured using JBL HiQnet Performance Manager software.
The house sound system at the Staples Center – itself using JBL VerTec VT4888ADP-DA powered line array elements – was used to supplement the live system with five enclosures from the centre end array used for rear upper deck and VIP box coverage.
'This year we used the newest evolution of the JBL line array,' says ATK's Jeff Peterson. 'The V25 had a very clear and smooth high end, which didn't distract our attention. All of the low-end power we're accustomed to with the VT4889's was there and then some. The S28 sub is so efficient, we never came close to using all of the available power. Tying it all together, Performance Manager gave me all the control and monitoring I needed.'
Meanwhile, in the Television Committee Room, Audio Director Michael Abbott and Recording Academy executives used a 5.1 surround-sound system comprising JBL LSR6300 Series studio monitors to listen to the mix of the show in real time. 'We were able to take advantage of the LSR6300 Series' RMC Room Mode Correction technology to ensure that we were accurately hearing the subtleties in the mix,' Abbott said. 'As has been the case for several years, the LSR6300 Series performed flawlessly at the Grammy Awards.'
Going mobile
Commissioned to capture and mix the evening's music' Music Mix Mobile (M3) rolled in its dual Eclipse'and Horizon trucks with engineers John Harris and Eric Schilling, and M3 Engineer-in-Charge Joel Singer in the hot seats.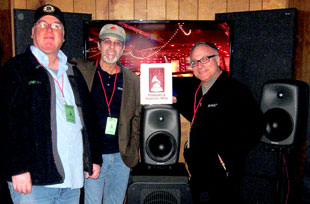 Inside the trucks, the monitoring took place on Genelec 8200 Series Active DSP systems.
Genelec 8250A (in an LCR array) and 8240A Bi-Amplified Active DSP Monitors (LR rear), along with 7260A Active DSP Subwoofers, were used in the Eclipse truck for the live music mix, with a mirrored system in the Horizon offline remix truck. Additionally, the same Genelec 5.1 surround system was at work in the newly added Recording Academy Producers & Engineers Wing listening trailer, which was located upstairs and adjacent to the M3 trucks outside the Staples Center.
The audio team at this year's Grammys saw the broadcast music mix handled by Harris and Schilling, and supervised by Hank Neuberger, a prominent member of The Recording Academy Producers & Engineers Wing, while Tom Holmes was responsible for the overall broadcast mix. Michael Abbott returned as Audio Coordinator, and M3's Joel Singer served as Engineer-in-Charge for the Eclipse broadcast mix truck, while M3's Mark Linett served as Engineer-in-Charge in the Horizon truck. ATK/Audiotek provided the sound system with FOH Engineers Ron Reaves and Mikael Stewart.
Running up to the ceremony and broadcast, the night's performers rehearsed their segments live on the stage, with Schilling and Harris developing the mixes in real time in the Eclipse truck, and then going over those performances offline while playing them back for artist managers and the artists themselves in the Horizon truck.
'M3 has long been a loyal Genelec user and supporter, and it is an honour to see Genelecs as the monitors of choice for consistent playback for this year's broadcast,' says Genelec Inc Marketing Director, Will Eggleston. 'Additionally, it was great for me to be on-site during rehearsals and the show and to spend time in the P&E Wing playback trailer, where our monitors mirrored the listening environment in Eclipse and Horizon.'
The 2013 Grammys saw rock band fun earn Best New Artist and Song of the Year for 'We Are Young,' while Gotye won Record of the Year for 'Somebody That I Used to Know,' along with two other awards. Mumford & Sons secured Album of the Year for Babel, ahead of landing the Best British Group award at the BRITs in London.
Sennheiser endorsee The Zac Brown Band and Adele, also a Sennheiser user, also took awards home –Brown for Best Country Album Uncaged, and Adele for Best Pop Solo Performance on 'Set Fire to the Rain'.
See also: