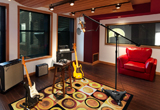 Taking in musical ranging from R&B to rap and pop, and providing marketing, publishing, TV, film and concert promotion, US-based MBK Entertainment is the culination of 20 years' ambition and dedication on the part of founders Jeff Robinson and partners Jeanine Mclean, Misha Hedman and Suzette Williams.
Their most recent venture is the opening of a new a world-class recording studio in New York City – OZ.
The spectacular career of multi-Grammy-winner Alicia Keys and newcomer Elle Varner (signed to RCA) are one measure of both the breadth of MBK Entertainment's operation and the scale of its success. Expansive new offices and the new studio are another.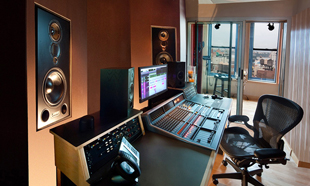 'We always dreamed of owning an in-house studio but our previous offices were too small to build something that would meet our needs,' says MBK VP/Managing Partner Jeanine Mclean. 'Two years ago a flood prompted a search for larger space. The 19th floor at 519 8th Avenue not only gave us the space we needed, it included terrific views of the Hudson River and beautiful sunsets.'
The MBK team were quick to call on the Walters-Storyk Design Group consultancy as soon as the lease on the 7,800-sq-ft space was signed: 'We knew we were in good hands from our very first meeting,' Mclean says.
With offices in NY, San Francisco, Miami, Argentina, Brazil, Beijing, Germany, Mexico City, Spain and Switzerlandm and projects that range fromthe original Jimi Hendrix Electric Lady Studio in Greenwich Village to NYC's Jazz At Lincoln Center performance complex, it was a safe bet. Indeed, WSDG was also behind a recent studio build for Alicia Keys.
'WSDG's design accommodated our ergonomic and aesthetic requirements and enabled us to carve a second control room and spacious sound booth out of a space we originally envisioned as a single studio,' McLean continues. 'Contractors, Kevin Carrol and Mark Jakubek of Sonic Construction were total pros – working hand-in-glove with WSDG project manager Matt Ballos, they were pro-active in suggesting efficient, cost-effective ways to execute and enhance our ideas. Plus they were extremely conscientious in terms of noise and refuse control, which enabled us to run our business throughout the construction period.'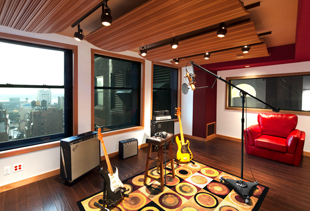 The completed studio complex incorparates a 230-sq-ft live room and two control rooms. The 190-sq-ft Control Room A is equipped with an SSL Duality SE 24-input analogue mixing console, Apple Logic Pro Studio, Avid Digidesign HD3, Augspurger custom main monitors and a wide range of outboard gear. The 150-sq-ft Studio B Control Room features an SSL Matrix console, Adam Audio S5X-V monitor loudspeakers and a 60-sq-ft sound booth. Both studios adjoin a 600-sq-ft lounge area, which can be used by artists and clients for relaxation of meetings.
The gear package was coordinated and integrated by GC Pro Boston, principal/ founder, PK Pandey, who project managed this phase to insure a timely and on-budget delivery of the facility. Pandey comments, 'I based the hand-picked outboard selection, advanced DAW systems and custom Augspurger Monitoring on previous studios we have done. Jungle City for Ann Mincieli, and Oven NYC for Alicia Keys, to insure compatibility with OZ. It was a pleasure to work with the MBK, Sonic, and WSDG teams.'
'OZ Studios was an extremely positive experience,' John Storyk offers. 'Matt Ballos made certain that every element of the design and construction was addressed. John Geraghty and David Kotch, did an exemplary job of system calibration and fine tuning the rooms. Our programme of surface applied acoustic treatments, fabric wrapped panels, and custom, Flutterfree diffusers and low frequency absorbers enabled us to tune the rooms to act and sound like much larger studios.'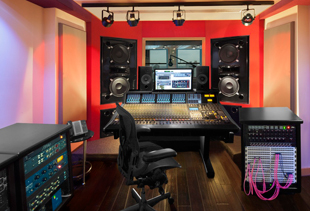 Ballos regards the use of glass and acoustic treatments as particular design highlights: 'We developed a plan that provided a line of sight from both studios through the live rooms and out the building windows all the way to the river and New Jersey,' he says. 'While we had a relatively tight footprint for both Control Room A and B, the machine closets and related areas, every square inch of space was optimised.'
'Sufficient ceiling height permitted us to incorporate floating floors and full room-within- room construction to insure their ability to crank up the volume without imposing on their neighbours,' Storyk continues. 'NYC construction projects can be dicey, but the building was cooperative. The Sonic Construction team was totally buttoned down. They've done a number of studio projects and we look forward to working with them again soon. The river views and extraordinary sunsets are another decided plus for this studio,' Storyk concludes. 'The outlook for OZ Studios is bright and colourful.'
In addition to Alicia Keys, the MBK production roster boasts rising star, RCA recording artist Gabi Wilson, Daisha and blue-eyed soul artists Allen Stone and Anthony Hall. The completion of the pivotal studio addition to the expanding company's creative arsenal opens up a brand new option for MBK clients and independent artists.
'We are developing a programme to maximise the potential of our new studio,' says MBK founder/CEO Jeff Robinson. 'While our artists will have first dibs on studio time for their projects, we plan to make this outstanding studio available to outside artists, producers engineers as well as for film/TV production. In the years to come, we hope to see a return on our investment, not just in monetary terms, but also as a source for meaningful, lasting music. These studios are finely tuned instruments. We are developing a number of highly talented artists, and we anticipate a steady flow of hits from this beautiful facility.'
See also:
Case Study: Village Studios, Guangzhou
Case Study: Thompson Studios, New York
Case Study: Jungle City Studios
Case Study: Green Road Studio
Sound Temple joins Big Room Revival
nhow Brings New Recording Experience to Berlin
Studio 85 Opens Its Doors In Paris