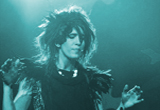 Grammy winner Imogen Heap recently staged a live show that was as close to completely 'green' as possible.
Timed to coincide with Earth Day – an annual event intended to raise environmental awareness – the performance took place in the garden of Heap's home in the UK, in front of 80 specially invited guests – plus an audience of 500,000 who watched a live relay via Facebook and the artist's website.
The central part of the show was a 'silent gig', which found the assembled guests wearing Sennheiser UK RS 120 headsets to listen to the performance.
Following the company's involvement with the December Sessions at London's O2 Arena, which included a 'silent gig' by The Feeling, FOH engineer Jon Sword recommended Sennheiser to Kumar Kamalagharan of Fruit Pie, the production company for the event.
Kamalagharan, who is also Imogen Heap's tour and production manager, brought in Falkirk-based Silentgig to supply the audio infrastructure. Silentgig also worked on the December Sessions event and, as the company name implies, probably has more experience of 'silent gigs' than any other company.
Among other green considerations, the performance used electricity generated entirely from renewable sources on site and with zero noise pollution.
'Kumar had plenty of obstacles to overcome on the event, which was to be powered by batteries charged by a combination of a bio-diesel generator, solar panels and 15 riders peddling fixed bicycles,' says Silentgig Director, Chris McCarron. 'The aim was to draw no power at all from the national grid, so the main focus for us was to ensure that we drew as little power as possible.
'Parallel with this was reducing the environmental noise to almost zero. We aimed to achieve maximum audio quality, but in a non-intrusive way.'
A meeting between McCarron, Kamalagharan, Heap and her manager Mark Woods determined that regular FOH engineer Mike Benson would mix the performance, with monitoring done via Heap's Sennheiser G3 IEM system. The live audience was provided with Sennheiser RS 120 wireless headsets, complete with solar-charged batteries, which received the audio via a custom transmitter module with a boosted output.
As well as the 15 cyclists providing pedal power, eight 'torch wavers' were used to light the show.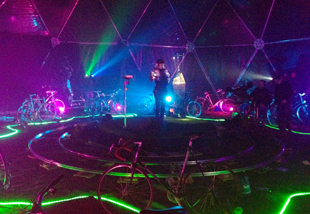 'The cyclists, torch wavers, camera operators and production crew wore Sennheiser RS 110 wireless headsets, using the same batteries as the RS 120s, with the audio feed sent out on a separate G3 IEM system which included the director microphone to co-ordinate the production and power requirements,' McCarron says.
'The show was mixed via a Dante Network card, which handled all the inputs and outputs for microphones, VT feeds, broadcast and 'The Gloves' – Imogen's unique, high-tech system that involves sensors, synths and microphones that free her from her keyboards and laptops, using her movements to shape the sounds.'
'In terms of the sound, we did everything as we normally would,' Kamalagharan adds. "The change was primarily in our mental approach - we opted wherever possible for low-power equipment, we were very diligent in only using power when it was necessary and turning things off when they weren't needed.
'The biggest issue was making sure that we had enough power at any given time. It was mainly a case of keeping the solar batteries topped up for the monitoring, headsets and comms. We achieved this by having a huge array of solar panels in the field that generated a significant amount of power, despite dreadful weather.'
Running a bio diesel generator for ten hours overnight before the show – and burning 100 litres of recycled chip fat – satisfied the rest of the power requirements and everyone involved was very pleased at the event's unqualified success.
'The benefits of "silent" delivery are really highlighted by an event that has this type of environmental ethos,' says McCarron. 'Reducing the noise impact is an obvious positive, but there are other benefits in terms of audio quality.
'The stereo image and instrument placement becomes more recognisable than with a conventional speaker system, vocals are clearer and there's no noisy punters chatting over the performance to annoy those who want to listen attentively. And we don't intend to stop at that - we're constantly searching for the best way to make a personal emotional attachment to each listener.
'We are enjoying a blossoming relationship with Fruit Pie and Imogen and we also have a great relationship with Sennheiser,a with whom we're working on a few ideas. The support we have had since last year has been amazing and it's been refreshing to see a big company open up to new and seemingly crazy ideas.
'Sennheiser provided fantastic support to us to help the event achieve its aims and a big thanks goes to Phil Cummings, who has looked after us for the past year. It's clear that, by working together, Silentgig and Sennheiser can help promoters and artists reduce the social and environmental impact of events, but only if they consider us an alternative to convention.'
'It was an extremely interesting challenge,' Kamalagharan adds. 'With hindsight, we used less of the solar batteries than anticipated and, with another one or two solar generators and a bit better weather, we would not have had to use the bio-diesel generator at all.
'We pulled off a spectacular event with the lowest powered gear available and there was no obvious difference in quality. It was a huge team effort and everyone did their bit to make it a success.'
With Imogen Heap keen to tour the green touring and 'silent gig' concepts in 2013, this could be the beginning of a revolution in concert touring.
See also:
London band showcase a silent success for iLive
More: www.imogenheap.com
More: www.silentgig.co.uk
More: www.sennheiser.co.uk