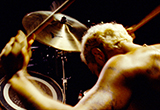 In its opening moments, Sound of Metal feels like a 'rockumentary' with the band performing on stage, moving on to the next gig in their motor home and working in the recording studio. But music quickly takes a back seat in the story, as the drummer's hearing fails.
He begins a punishing journey of self-discovery – told with major use of Nicolas Becker's sound design skills.
The story begins on the road, with drummer Ruben and singer/guitarist Lou's punk-metal band Blackgammon. The opening scenes establish their relationship with each other and their shared drug recovery. Dedicated to recording and performing high-volume music, they are constantly on the move, living from day-to-day in an Airstream trailer. The onset of Ruben's hearing loss derails the couple's lifestyle, pushing him into a sober house for the deaf while Lou returns to a privileged lifestyle with her father in France. He raises money for medical hearing implants in an attempt to recover his former life, but their effect is far removed from what he had hoped.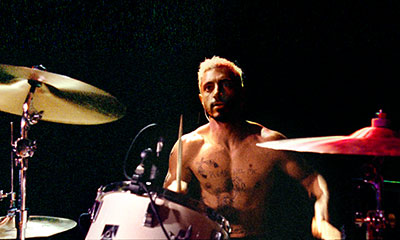 The film focuses on Ruben's initial refusal to accept his situation or a place in the deaf community – in which all of the actors are deaf, and many are former addicts – that offers him a way forward.
Notwithstanding the strong performances of the story's three central characters – Riz Ahmed as Ruben, Olivia Cooke as Lou and Paul Raci as deaf Vietnam vet and recovering alcoholic Joe, who heads the deaf retreat – there is no escaping the prominence of sound in the working of the movie. Principal duties are carried by Abraham Marder, the film's co-writer with brother and director Darius Marder, and composer and supervising sound editor Nicolas Becker, who received his second Golden Reel award for his work on Gravity.
The inspiration for Sound of Metal came from a film by Derek Cianfrance, with whom Darius Marder co-wrote The Place Beyond the Pines. Metalhead is a documentary/narrative hybrid centred on and starring Jucifer, a real-life husband-and-wife American metal duo known for their extreme volume, nomadic existence and gruelling tour schedule. In Metalhead's fictional storyline, the drummer suffers sudden hearing loss…
Marder spent ten years building the team of musicians, actors, sound designers and other artists that were to make Sound of Metal. With the film in the can, it is easy to see why.
Shaping Metal
Alongside Olivia Cooke (who appeared in Bates Motel, as well as the films Life Itself and Me and Earl and the Dying Girl), and Riz Ahmed (who earned a 2017 Primetime Emmy for his role in the HBO miniseries The Night Of), Paul Raci is the child of two deaf adults who served two tours in Vietnam as a medic, and has struggled with addiction and led recovery groups for the deaf.
'It felt like a miracle that we found him,' Marder says of Raci. 'Like Joe, he has lived as the protector of deaf souls and specifically deaf addicts trying to rewrite their lives. I don't think there is anyone else who could have mastered this role the way he did. My hope is that the world will see something very special in him and this performance.'
Sound is a quintessential part of Sound of Metal, through the live footage of Ruben and Lou's band and the film's score, which are tightly interwoven, and Ruben's experience of his condition. 'I didn't want to be able to hear where the band's sound ended and the score began, and I wanted the sounds in Ruben's head to be heard in the music,' says Darius Marder.
Becker's introduction to the project came through Thomas Bartlett ('a common friend from New York – a great pianist and composer'). 'Nicolas is a master sound scientist and artist,' Abraham Marder says.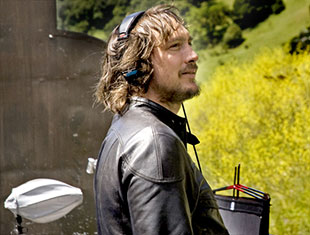 'Darius came to see me because he liked the naturalistic treatment I had created on Wuthering Heights and American Honey by Andrea Arnold, and also the world of perception by the body I developed via sound for films like 127 Hours and Gravity,' Becker recalls.
'After we met, a year before the shooting, we spent a week together in my studio in Paris talking about the film, listening to sound, watching sequences of films, listening to music, cooking etc… It is rare to be able to work on a film dealing with listening and sound – there are very few films like that, apart from classics like The Conversation and Blow Out.
'Darius is passionate about filmmaking and he is a great screenwriter too, so when he came to see me he had already talked to many audiologists and spent a lot of time with members of the hearing impaired community. My part was first to share the sound techniques, ideas and experiences that I've developed on the idea of listening through the body, by contact, through the skin, through bone cavities.
'He gave me all of his knowledge, thoughts and intuitions, and I shared mine. I took him to a deep-listening journey in the anechoic chamber at IRCAM [the Paris Institut de Recherche et Coordination Acoustique/Musique created by Pierre Boulez] to feel the boundaries of physiological hearing and start to feel the inner world of body sensations like blood pressure, sounds of the tendons and heartbeat.
'IRCAM is an amazing place where I have done some projects. It's very advanced in many areas of music and audio in general; a place where you have a crossover between research and music composition.'
Beating Metal
Shot in just four weeks, it is on drummer Ruben that Sound of Metal stands or falls – and Ahmed was determined that it should stand: 'He really engaged in a process of deep vulnerability,' Darius Marder says. 'That included wearing devices in his ears that emitted white noise so that he couldn't even hear his own voice.'
The part saw Ahmed taking daily two-hour lessons in American Sign Language with instructor Jeremy Stone to 'embed' himself in the deaf community (Marder also chose to subtitle the entire movie in English, making it accessible to both hearing and hearing impaired audiences). Ahmed spent an equal amount of time with drummer Guy Licata, learning to play from scratch. 'He had never held a drumstick before,' notes Marder. 'It's difficult for me to explain how hard that is. You can't rush the process; you have to wait for the moment when your right and left brain kind of unite.'
'What you hear is what he did,' Becker adds.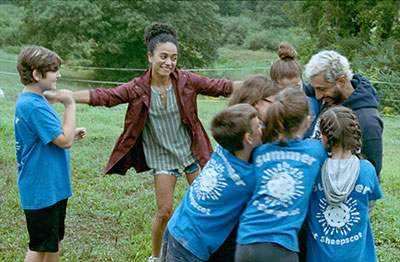 'Darius and I knew that the scene of the opening concert of the film had to be both very impressive and very real,' he continues. 'It was necessary that we were between a concert caption and a documentary film – like Stop Making Sense directed by Jonathan Demme or A Spell to Ward off the Darkness directed by Ben Rivers and Ben Russell. For this reason, Darius asked Riz and Olivia to rehearse for six months to be able to play the music live during filming.
'The first thing I said to Darius when he came to propose me to work on his film was to explain to him that I had no idea how we would do it but that we would do it together,' Becker says. 'I'm like [film director Jean-Luc] Godard on that – I'm always afraid of becoming a professional of the profession. I'm always afraid of making bad habits. And I think it's very important to be aware of that.'
There is a precedent for Ruben's deafness in Becker's work on Alfonso Cuarón's 2013 movie Gravity, where the silence of space is the bed of the sound design upon which the sound must be built.
'On Gravity I had a lot of fun with hydrophones and geophones; for Sound of Metal, I found very funny new toys – an accelerometer, a stereo stethoscopic mic made with two microphones, Usi Pro mics from Slovakian company LOM, a waterproof capsule that could be put in his mouth,' Becker says.
'On Sound of Metal, I was able to make wild tracks with Riz during the filming. I made other inner recordings of myself, then I passed this to the wonderful Foley artist Heikki Kossi to record the subjective sequences of Ruben. The sound is not processed; the specific aspect was produced during the recording.
'Darius had asked the film crew to be able to simulate the deterioration of Ruben listening. The sound of the boom mic went to a bit crusher pedal to simulate the alteration. Riz could therefore have the real experience of the deterioration of his listening.'
Scoring Metal
The overall sound team included Becker's assistant Carolina, who took care of the dialogue and music editing of the music; Abraham Marder worked on additional music and oversaw the editing of concert music with Darius ('who spent a third of his days with each of us'). Becker, himself, took care of atmospheres, effects and additional music.
'I worked closely with Mikkel [Nielsen, picture editor] to find the right language to create the subjective point of view/hearing for Ruben,' Becker says. 'It meant that we were experimenting with a lot of different options in the key sequences, but also to build a consistent arc throughout the film. I think we found the right balance between the visual and sonic subjective perspectives.'
In the course of exploring sound perspectives, Becker introduced the Marder brothers to the Cristal Baschet – a contemporary musical instrument developed by another pair of brothers – Bernard and François Baschet. It became a signature sound in the score. Invented in the 1950s, the Cristal Baschet is constructed of metal and glass rods embedded in a heavy plate and played by running a wet finger along the rods. 'So it's literally the sound of metal,' says Darius Marder. 'A lot of the score grew out of that, with the Baschet representing Ruben's psyche and the sounds in his head.'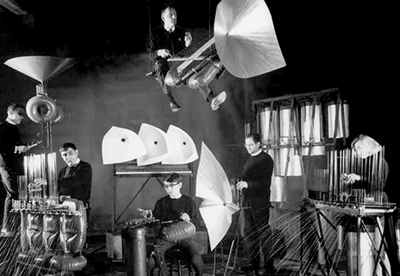 'Nicolas specialises in recorded sounds and complex mic techniques,' Abraham Marder says. 'The Baschet is a unique instrument that makes a very low and discordant sound that not everyone is familiar with. It is eerie and beautiful.'
'The goal was to make the additional music very discreet and subtle, always like ghost music, like resonances, without clearly apparent melody,' Becker explains. 'The music is a mix of concert bits and recordings of Baschet structures – strange instruments with which I work a lot, kind of acoustic synthesisers.'
Abraham Marder added a steel resonator guitar, which has spun metal cones inside the body that give it a deep, rich sound often used in acoustic blues and bluegrass. 'I used an E-bow as well,' he says. 'We were trying to create new sounds from conventional and found instruments. I was constantly doing things I'd never done before.'
In an earlier interview for Fast-and-Wide that largely centred on Becker's work as a Foley artist, he said his aim was 'not to recreate a reality, but trying to create a new world – the movie's world.'
'Reality is much more amazing than the classical vocabulary developed for movies. My job is to create fiction, create new forms, but it always starts from a personal experience or simulation of real experiences. When I edit sounds that I have recorded, I have a much more complex relationship with this sound material, much more complex than if I took it from a commercial sound library. These recordings happened at a certain time of my life, on a certain project, with those people in that location, it was beautiful... So when I edit my sounds, it's a story in history linked to a physical and cognitive memory, a memory of varying emotions.'
Metal on Metal
Becker also described a movie having a 'vocabulary'. Did Sound of Metal have its own sound vocabulary?
'First of all, it's not a sound vocabulary, it's actually a sum of associative vocabularies – we look at how the sounds mix with the images, the colours, the frames, the voices of the actors, the camera movements, the editing, the storytelling etc, and then we add our personal cuisine. The idea is to weave all the different layers of perception together.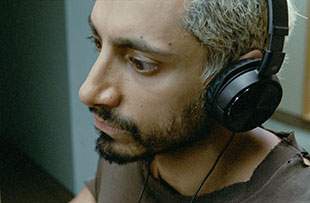 'I've been a Foley artist for 30 years, so I've been used to recording or producing my own sound material – for me, field recording is an extension of my Foley practice. Field recording has also changed my practice of Foley, I don't do a lot of Foley anymore, but when I do it I always do it on location. I was there during the shooting [of Sound of Metal] to do wild tracks, field recording around the different areas where the film was shot.'
After a harrowing journey, Ruben is guided by a comment made by Joe during his time at the refuge, and finally finds his own peace…
'It is a very brave choice on the part of Darius, in general the convention of silence in the films is to always put a little something – a hiss, very often – because silence is not emptiness,' Becker says. 'In choosing this strong gesture, there was the idea of the acceptance of the void for Ruben but also a strong experience for the viewer – to find themselves in the reality of the sound of the projection room, a bit like when cage plays 4'33". It is agreed that the film fiction is an intrusion in the reel.'
In his wider film work, Becker is co-creator of the music collective, The Visiting, which is presently working on a number of different films or art projects. He is also music and sound supervisor for French avant-garde artist Philippe Parreno's exhibitions, including Anywhen, (2016-17) at the Tate Modern Turbine Hall. Away from film, Becker is a member of the band Manasonics. And for the past two years, he has been a frequent collaborator with Sound Collective, working on two albums with Patti Smith. They also composed the music for the Sasha Waltz dance-theatre work .
Working in collaboration with Brian Eno, Rob Walker and Stefan Smith, Becker was part of the team behind the sound installation for Russian filmmaker Ilya Khrzhanovsky's Dau – a multichannel accompaniment for a work that has been described as 'a Stalinist Truman Show', which first opened in two theatres in Paris, and has future presentations planned.
Sound of Metal received its world premiere at the 2019 Toronto International Film Festival and will be released theatrically on 20 November 2020, streaming on Prime Video on 4 December through Amazon Studios.
See also:
Interview: Nicolas Becker (Foley artist)