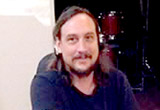 Nicolas Becker is a leading French Foley artist and sound designer, with credits on hundreds of top-flight movies. Highlights such as Batman Begins, Gravity, Harry Potter and the Goblet of Fire, The Impossible, Hellboy II: The Golden Army and a string of collaborations with Roman Polanski stand out on an extensive CV.

Now well-known and sought-after in Foley and sound design, Becker flaunts a willingness to engage with the creative brief of a project.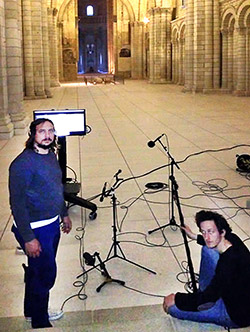 Becker says he'd decided he wanted to be a Foley artist from the age of 15, after he'd been to see a Foley session with an aunt who was also a picture editor. He started as an assistant working on international versioning and it was through this work he met a number of Directors and started to do Foley on feature films.
He recounts clearly his two most important career turning points. The first was his work as Foley Artist on La Haine, which won Mathieu Kassovitz, Best Director at Cannes in 1995 and also won best sound at the César Awards, France in 1996. The second was his work with acclaimed director Roman Polanski, which began with The Ninth Gate (Foley Artist, 1999) and went on to include The Pianist (2002), Oliver Twist (2005), The Ghost (2010), and Venus In Fur (2013).
It was the early Polanski work that really cemented Becker's reputation and brought the high-end work in: 'Polanski is known as a fantastic technician,' he says. 'So when you work for him people think, this guy must be good.'
My introduction to Nicolas Becker was through David Bell at acoustic consultant White Mark Limited, which has recently put the finishing touches to the 'ideal Foley studio', located in the impressive CineLab SoundMix audio postproduction facility in Moscow. Bell briefed Becker on the early design brief, exploring both practical and creative requirements of the modern Foley artist and Foley Editor/Sound Designer.
One of Bell's favourite anecdotes from those meetings is an example of Foley that serves to illustrate the performance element of the discipline. Namely an instance where Becker had to perform footsteps, ascending a staircase, yet in ascending that staircase the character had to reach an emotional epiphany, change his mind, and continue up with new purpose: No visual, no dialogue, no music, just footsteps. If you ever doubted the 'artist' in Foley Artist, then consider that for a moment.
In creating the CineLab Foley studio, White Mark incorporated much of what Becker sees has crucial to creative Foley. This includes a variety of acoustic treatments to create convenient yet disparate environments for performance.
Working In Space
Becker is adamant that he cannot get the real location acoustic, to his satisfaction, from a traditional 'dead' studio recording and post-processing. 'If you compare a sound that is recorded in the real acoustic with a sound you've recorded in a dead room and treated with a model of a church, it's very different. Convolution reverbs are amazing tools, but they are not a full and complete model of what is happening.'
So rather than being chained to the studio, he is getting out and about and recording Foley in the real world. One example is a recent project – a new adaptation of Beauty and the Beast by director Christophe Gans – that is based around two main locations: a castle and a church.
'We will rent a castle – a 19th century one with wood and stone,' says Becker. 'And we will also rent a church – a nice church in quiet area because we are going to do all the main sounds on location, in the real acoustic.' These 'main sounds' include the majority of the footsteps – anything, in fact, that isn't too 'delicate': 'We are going to combine this with the classic Foley studio sounds – all the little details where you really need to have very low noise levels – the fabric, the close ups... Anything that is very delicate with a very low level.'
Foley... Live!
To make the most of an acoustic, Becker uses multiple microphones – something that many Foley recordists would baulk at, mostly because some conventional wisdoms say that more microphones equals more work and more time. And more money. However, Becker says he actually saves time and effort, and gets a better result, by effectively mixing the Foley live.
'I put four of five different mics in the room. I use a boom, and I use the DPA 4041 [large diaphragm omni] as an "air" mic, then an AKG 414 very close to capture presence and detail, or maybe a ribbon mic to avoid the transients; and maybe another DPA measurement mic for the mid-field – to create a different colour and feeling of distance.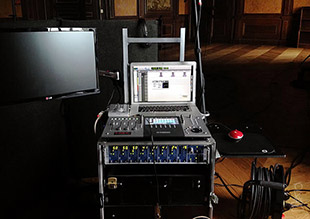 'In this set-up, the recordist is very important. He is looking to the picture and in real time is summing the microphones to recreate something dynamic. Everything is mono, but you have five or six microphones. If the subject is coming closer I balance it closer and reduce the air microphone. The idea is that 90 per cent of the work is done. You just need to precise sync after – to readjust.
Becker maintains that Foley is most difficult when the dynamics of a situation have to be recreated after the fact, and that by mixing a dynamic mono Foley feed from several sources he saves work down the line. He also ensures the most natural environment possible.
He likens this approach to great rock or jazz albums that have been started and finished in extraordinarily short times. The act of recording and balancing is as much a part of the creative process as the Foley itself and when both work together in harmony, then magic happens.
This location Foley approach has practical limitations. Becker acknowledges that it is best suited to productions where there are a limited number of prime locations, each with it's own interesting acoustic character. It is also especially important to define the creative brief before any such 'performance'.
'Try to think a lot about the concept,' says Becker. 'Think a lot about the movie, what it means, what you are looking for. Work a lot with the Director, trying to understand what he wants. Then you define a set-up that means something for the project. Yes, you are taking some risk, but it's controlled risk because you're doing something that means something.'
It's this risk factor that Becker believes is a core solution for the main two opposing factions in film production: budget and quality. The argument runs that embracing this approach should be cheaper, and creatively more rewarding: There should be far less work to do back in the studio or in the theatre; and 'You can't have something interesting without taking a risk.'
Vive la différence
Becker also notes that this approach is more in line with a French 'naturalistic' approach to cinema and film, as opposed to, for example, the UK approach which he sees as more of a 'created environment' approach: 'My culture of sound is a very naturalistic culture of sound.
'In England they don't have big studios because everybody wants to be in Soho. They don't have a big rooms because the structure of the buildings makes it impossible to create large rooms.
'In a way they have created and invented a way of doing Foley a bit like you record rock and roll music. When you record rock and roll music or electronic music, it's not like an acoustic... You create something else. Distortion, effects, EQing, compression... It uses a lot of close-mic recordings, then the Foley Editor works for a long time to re-shape everything and give it flavour.
It's not trying to recreate a reality, but it's trying to create a new world – the movie's world. It's interesting, artistically.
'The way I started to record and think about how to record was more like how you record classical music – how you can recreate the feeling of space, how you can recreate the real feeling – the texture of the acoustic instruments. It's more Abbey Road or Air.'
Artistic Priority
Becker also has the advantage of experience, which comes with a fluency beyond mere technical proficiency. 'The technique – I have it. I've done 20 years of Foley, so now i can say that it's not a technical exercise and problem are no longer technical. I now have more artistic or psychological challenges in my collaborations with the director – how to create an interesting way of working with, and for, the director; how to match the sound he has in mind.'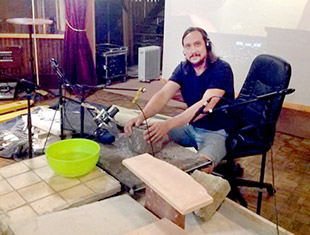 For Becker, sometimes simply talking about Foley and sound effects to those who aren't necessarily fluent can be a challenge: 'People have a useful knowledge of picture, music, and dialogue... They know how to speak about it. There is a lot of vocabulary to speak about these three things. But when you speak about "sounds"... People are a bit like "ah, sounds... You mean what?"
'It's a very particular job. You have to speak with people about atmospheres, about the texture of the shoes, about how you want people to move. Do you want to create a continuity in the editing, or do you want to reinforce the cut? There are a lot of details that people don't really think about it.
On the other hand, Becker is speaking from the position of one who has been fortunate enough to land some of the best jobs in his chosen field – jobs that demand this kind of creative outlook. There are plenty of other jobs that require a little more in the way of basic efficiency, logistics, and haste and have little room for creative contemplation. 'Of course, I started out working like that on such projects.... Three days to do a whole feature film. Afterwards though it's very hard to some back to that, when you've increased the level of the quality of work... It's very hard.
'Sometimes it's interesting when you doing a small film with no money and you need to get it right on the first take... A little film with no money, but one that means something... It's not like a TV program where there's no money and you have to do everything, and quality suffers. It's a movie... You understand the difference?'
Sticking To Creation
Becker is 'not just' a Foley Artist or a Foley Recordist or a Sound Designer. His credits have expanded to sound design, sound supervision, effects editor, and more besides. In conversation, it becomes apparent that perhaps this shift in emphasis is not so much to do with evolving ambition, but more to do with evolving creative centres.
In conversation it transpires that Becker's early experiences of Foley were more directly collaborative with the Director or at a least a senior creative on the project: 'When I started in Foley.. I used to spend maybe one or two weeks with the Director, in the Foley studio, so it was very interesting. Now when you're doing Foley if you meet the Director once, you're happy.'
As Becker saw Foley become more and more detached from the 'creative centre' he remained connected to that core by expanding his role. It was never a wholly deliberate strategy though – more a natural evolution – Becker's skill set has developed to keep pace with a creative imperative.
Process And Meaning
It's probably the same creative imperative that has found Becker more and more involved in the world of art installations. Over the last five years he has collaborated with some of the world's leading conceptual artists. He sees these projects as more like creating a 'concept car' – as opposed to production model. He also finds art's emphasis on both the result and the process to be particularly complimentary to his own outlook. 'A prototype involves a lot of different people, a lot of different technicians, and a lot of different way of working. The way you do it... You have to take a risk because the way you're working is related to the idea of the project.
'There is a lot of connection between the meaning of the movie and the way you're going to record things. Even if it seems risky, it's not so risky because what you're doing will create ideas. What you are doing will mean something.
People call me because they are looking for that. Some people like the idea. Recently a Director liked the idea that 'you are creative and take risks', but at that moment it was too risky for him... It cannot be just a fantasy. You have to do it.'
This post first appeared on The Audio Production Network, authored by Paul Mac.