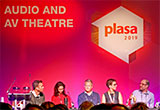 The recent Plasa Show in London provided the platform for mic manufacturer Shure and theatre professionals' association Curtain Call to assemble an industry panel to discuss the future of audio for theatre, and its role in theatre performance.
Hosted by John Schwab, the panel comprised actress Siubhan Harrison, sound designer Richard Brooker, engineer Zoe Milton, Autograph MD Scott Arnold, Wicked Deputy Head of Sound Janee Roninson, and Shure UK's Stuart Moots.
Held on the second day of Plasa and billed as Shure Presents the Future of Audio for Theatre Production, Curtain Call's John Schwab began the session by inviting Zoe Milton – a freelance sound engineer predominantly working in theatre and broadcast, and also administrator for the Association of Sound Designers – to offer a 'snapshot' of how theatre audio has involved over the past five-to-ten years.
Act One
'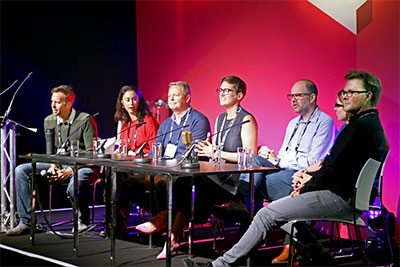 The major thing you notice is that the equipment used to exist for the industry,' she opened. 'For example, loudspeakers designed for rock 'n' roll were taken by theatre and used in a slightly different way. In the past five years, I have noticed that a lot more manufacturers are interested in what we are doing in theatre and providing solutions for us. There is a lot more technology that has clearly been thought about. There is a lot of interest in looking after our freelancers and professionals.'
Highlighting the change from theatre's use of large orchestras to a live band or track playout, Schwab invited Richard Brooker – a sound designer for large-scale musical theatre, with 30 years in sound and around 17 years in design – to respond.
'There are various forces that have made that happen, budget being one of them – it costs a lot to have 20 musicians in a pit. There's scenic design elements where it is more the norm to use more performance space and the genres of music we have seen over the past 15-20 years is more "jukebox musical", using an artist's music to put a musical together, which is normally a pop or rock artist, so we don't need an orchestra. The use of tracks to pad out the orchestra is a matter for debate; it works well for touring with a large band because the size of the pit varies dramatically. I still think it is lovely when you go and see a show with more than ten musicians in it.'
With site-specific considerations now a major part of theatre production, opening up design, mixing and performing issues, Schwab turned the floor over to the 22-year experience of Autograph MD, Scott Arnold.
'From our point of view, boundaries are constantly being pushed – everyone wants something different, every show has to be something different otherwise it doesn't last. When a sound designer goes into a show they must think outside the box; they must add something different. There are not enough theatres in London; they are all full up. Companies like Troubadour are building theatres to accommodate the amount of shows that are coming in. Trying to fit a full-scale musical into a 900-seat play house is another challenge.'
'With the advent of digital wireless and the Axient Digital system, we had to listen,' offers Shure UK Associate Director for Pro Audio, Stuart Moots. 'We had to go out and speak to people like our colleagues here to get where we needed to be today. The trade-off is it takes a lot of time to develop; we have to look into other things too, like it being very congested in London. When putting huge channel counts into that space, we need to know what is happening spectrum wise, not only locally but globally and then tie that understanding into a product that provides something for everybody.'
Act Two
Moving the discussion on to performing and mixing, Schwab wanted to know about the demands placed on technology by the requirements of production design.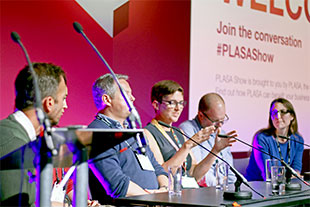 'I think that there has been a lot of pressure from suddenly having all frequencies reduced so everyone has to be extremely clever in developing technologies to fix that – which they have so we now have the same amount of radio mics we always did,' Brooker said.
'For me, on the principal character, I always like to place two mics because as we know, sweat can temporarily dull down a microphone and we have to switch over to "B packs" so we don't lose any quality and clarity in the sound.
'Mic packs used to be larger and we used to get a lot of hassle from wardrobe, costume designers, set designers and performers, so there has been a lot of pressures on this side of things and manufacturers have helped by reducing the size of the transmitters,' Brooker continued. 'In Shure's case, changing the shape of the pack as well so they are more ergonomically beautiful and easier to fit into the small of the back. That is helpful and has been a challenge for us. You can get an actor sounding absolutely beautiful when you cannot really see the mic, and then they go off stage and come back on wearing an enormous metre wide sombrero which completely changes the sound. Then the director asks why they sound funny and, obviously, we need to address that by doing something clever.'
'For me the main challenge is that we have always tried to make vocal mics as discreet as possible; the biggest change in the past few years is the advent of mixed media shows,' Milton says. 'You have people on stage but then you also have people on stage filming them, and so that's then in the auditorium - so you have these huge close-ups. We lose the couple of metres we had to play with and now you have cameras on stage, so we need equipment that can be hidden easily and is reliable enough that you don't have to get to it all the time. They need to be robust enough to deal with putting mics on a human, there are sweat issues and sometimes you may not be able to place them on humans but you need to be able to put them on the set somehow. That all takes time, and you need to build those challenges in so you can deal with them early enough.'
Act Three
Inviting Siubhan Harrison into the discussion, Schwab moved on to the developments of sound seen by performers.
'Size-wise certainly when I started they were bigger than cassettes and there was no way of hiding them, which on some shows is an issue. The best situation that I have had is when I have two in my wig, as they are so easily hidden that way and you barely notice it. Sometimes wearing them down your back means they get caught mid costume change and the last thing you want to be doing mid performance is changing a mic pack out.'
And on the complexities of mixing live performance, with former stage manager and now sound operator for 12 years, Janee Roninson.
'People don't want to hear something in theatre that they can hear on an iPod; they want to hear dynamics,' she shared. 'What we do is such a balancing act; mixing for the audience, mixing to the designer specifications, making sure the performers are happy while, at the same time, making sure the audience are getting the best show possible. This is why digital desks are so revolutionary, because we can pre-load different EQs for different performers and adjust things here and there to make everything easier when we are mixing line-by-line.'
'Asking about what the audience expects to hear is an interesting point – that has changed a lot over the past 15 years,' Brooker volunteered. 'When I started, the intent was to make it entirely unamplified with very light reinforcement. In the advent now of people having surround systems at home, and the way that cinemas are now with huge sub-bass, our public now expect something different to what they used to. So we now try and give them a live experience - still very focused, but they also want things spinning around behind them and to feel like they are shaking in their seats. We live in a multi-media platform society and theatre should come into that, but there is a misconception that if you turn it up, it's better. I think that's something we are battling with sometimes.'
Act Four
'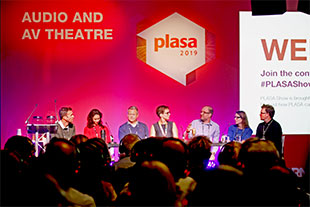 Shure launched the campaign This is the Moment, which celebrates the communication between all points of the process of putting on a production. At what point should the conversation start that "this is the idea of the show"?' Schwab challenged. 'These are the designers to talk to; what equipment do we bring in? When do we talk to performers about how sound will affect them? It takes hundreds of people to put on a show, so how crucial is communication and when should it start?'
'We are at the peril of the designer but Autograph has changed slightly,' Arnold revealed. 'Fifteen-to-thirty years ago, we may have been involved in that process, but the process has changed and there are a lot more external designers. We have become a company where the design is brought to us and every designer wants to put things together differently, which can be frustrating because then you cannot have a standard. So our input into the process is becoming less. It's a changing model for us.'
'From a design point of view, my communication starts with a meeting with the director and musical supervisor. Sometimes a choreographer comes along and that, for me, is to get an idea of the kind of show they are trying to create,' Brooker responded. 'How many in the cast, how many in the band – and then I will go to see the theatre and look at how I am going to cover the room, and how everyone will hear it. I then create a basic spec and try to make that happen.
'In rehearsals, we meet the company and musicians and then, for me, there is a fault in the process because it all stops until we get into theatre for maybe two weeks before the cast arrive. And we are straight into tech where there is a time pressure – so really, although we fizz out a lot of problems, we don't address them all properly because there isn't time. I think it would be nice to spend more time with the sound company and the band.'
'The designer is often there from the beginning, and the set and costume designer work closely with the cast, but it would be lovely to discuss the general sound of the show and what we are hoping for,' Harrison said. 'We would know what we are working with if there was more interworking with the designer, the cast and the band. Or the scope of how much movement is in things; what you can expect to hear, or what the audience hear, because we never know what they hear.'
'In my experience, when someone says there is a problem, it is finding out why today there's a problem,' Milton said. 'It's actually that if you have a good relationship with the crew, you can work it out a lot easier.'