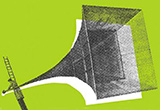 While Frankie Goes to Hollywood's Welcome to the Pleasuredome album is anticipating an extremely limited anniversary re-release, London's Science Museum is exhibiting a recreation of a pioneering 1929 loudspeaker design.
There is casual coincidence in the naming of the exponential horn and Pleasuredome producer Trevor Horn, but they also have a tangible connection in their pursuit of sound fidelity against a tide of lo-fi digital distribution.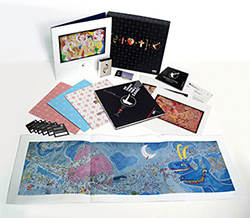 A 'pledge project' sitting at 102 per cent of its required target at the time of writing, Inside the Pleasuredome marks the 30th anniversary of the Pleasuredome's original release with – among other items – Horn's remastering of the original production pressed on 180g audiophile vinyl. It is being billed as 'the most detailed and ambitious release in the history of Zang Tuum Tumb' but should also lay claim to fighting the low sound expectations presently being instilled into new generations of music listeners.
With no such equivocation, Roderick (RPG) Denman designed this collossal exponential horn expressly in his pursuit of 'perfect' sound reproduction.
Sitting in its own hall around the corner from the Science Museum's Oramics to Electronica celebration of electronic music making, The Exponential Horn: In Search of Perfect Sound exhibit offers to revive our neglected passion for audio fidelity.
The original Denman Horn was the inspiration of the then curator of Electrical Communication, RPG Denman, whose interest in sound was obsessive, and who sought 'to provide a standard by which commercial apparatus could be judged'. The horn was a feature of the Science Museum's daily tours during the 1930s but was almost totally destroyed by an accident in 1949. The remnants of the 27ft-long horn, with its 11/16-inch entry and 7ft 1-inch mouth, and its Western Electric 555W driver languished in the museum's storage facility until spotted by the museum's first Sound Artist in Residence, Aleks Kolkowski.
The man with the horn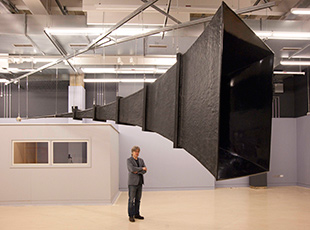 Adopting Denman's horn sits well with Kolkowski's arts agenda. Trained in violin under Clarence Myerscough at the Royal Academy of Music, he is a composer, solo performer and improviser who makes extensive use of pre-electronic sound reproduction technology in his work. He uses instruments such as horned violins along with gramophones and wax cylinder players in live mechanical-acoustic music. His works have also been toured in Europe and the US, and broadcast by the BBC, WDR and Deutschlandradio.
'My first attempts at making electronic music were back in 1979/80, using a VCS3 synthesiser, a crude analogue sequencer and tape machines,' he recalls. 'I was very interested in musique concrète around this time, although my interest shifted to making purely acoustic music, mainly as an improvising violinist, soon afterwards. Almost 20 years later, I began making contemporary music using gramophones and wax cylinder phonographs – initially as a riposte to the onslaught of digital technology and laptop performances. But I started to research the technology quite seriously as well as learning to make recordings on discs and cylinders to use in performance.
'What I find most appealing about mechanically reproduced music is the sound, the patina of surface noises and the possibility of being able to "age" sounds by recording on these antiquated formats but equally the kinaesthetic nature of working with such technology and media. There's not much sitting around staring at a screen moving a mouse or track-pad, it's cranking-up machines, cutting grooves and handling records. I suppose that being a violinist has something to do with all this, the importance of touch in making sound and the relationship you have to an acoustic musical instrument – when playing a violin you are almost conjoined to it.'
Kolkowski was appointed sound artist-in-residence at the Science Museum in 2012, as part of the Exhibition Road Supersonix programme – 'an international celebration of the art and science of sound in all its complexity'.
'This project represents the final outcome of that residency, but my interest in the Denman horn came about a couple of years earlier whilst researching in the Science Museum's storage facility at Blythe House in West London,' he explains. 'I was shown the surviving initial 9ft section and heard its story from the Museum's Curator of Communications, John Liffen. The project was initially inspired by John's research into the horn but the reconstruction came about largely through the efforts of the Museum's Workshops Team. Without their skills and commitment, it never would have happened – the budget I had barely covered the cost of materials.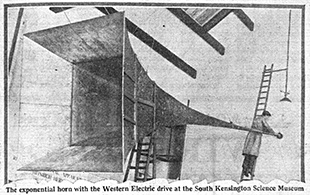 'It also follows on from other projects I'd done at the Museum, namely a concert with Charles Parson's air-powered Auxetophone-Gramophone of 1905, and a sound installation using technology and texts from early radio.
'I've been working with antique horns, to record as well as to reproduce sound and also in sound installations for a good number of years, so I guess you could see this as a natural development; all my previous tinkering has now been consolidated into one giant exponential horn!'
According to the museum's Rory Cook, the driver that is mated to the horn is a Western Electric 555W, similar to the one fitted to the original horn in 1929. 'We still have this, but on test it was found not to be performing as well as hoped,' he says. 'However, we also have another pair of 555W drivers, acquired in 1990 for the Sound Reproduction collection and we are using one of these. Our database entry is: Loudspeaker pressure drive units (two) (Serial Nos. 17933 & 29351) made by Western Electric, type 555W, designed by Wente, patented 1926 (Bell Telephone Laboratories), impedance 10Ω at 400Hz, used in sound-film units, 1927.'
The exhibition uses a wide-ranging programme of audio, including live broadcast, sound art and archive radio footage from contributors including the BBC History Department, Resonance 104.4FM, BBC Radio 3, and archives of the London College of Communication, Royal College of Music and Royal College of Art.
'It has to do with hearing music and sounds from today through the technology of the past, as much as recreating the experience of the 1930s through demonstrations or historical re-enactments,' Kolkowski says. 'So while I have programmed a lot of archive material, courtesy of the BBC History Department, and we do get to hear some of the music that would likely have been played through the horn during the 1930s, the sounds are mostly new or recent. We experience this historical artefact in new ways and we test its capabilities. It's a way of connecting with the past in a very direct way, but it can also make us think about our relationship to modern digital technology, which is locked in a constant cycle of innovation and obsolescence.
'Today we mainly listen to music through tiny portable devices, and such miniaturisation is made achievable through psychoacoustics and data compression as much as microelectronics. This horn may be considered an audio dinosaur, but the sound it reproduces has real depth and range, there is a real physical quality to the sound, there's nothing virtual about it whatsoever.'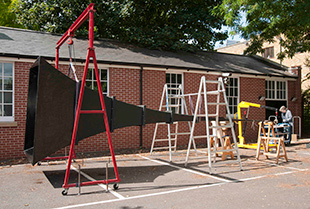 The original Denman Horn installation played radio broadcasts from the BBC's London Regional Programmes. 'The intention then was to demonstrate to the general public the highest quality broadcast sound that was obtainable, so it was basically a giant radio horn,' Kolkowski says. 'At the same time, Denman wanted his system to set a standard by which commercial apparatus could be judged.
'This current programme, if anything, recreates that shared experience of listening to radio broadcasts together with a large dollop of newly created radio art. It's also an opportunity to hear a type of audio reproduction that became obsolete because of the size of the horns needed for quality of reproduction and the limitations of using a single driver with a limited frequency range. However, the Denman horn is still one of the best sounding exponential horn loudspeakers ever made. Although not quite full range by today's standards, it produces a spectacular sound image, with clarity, real depth and presence. It still manages to thrill the listener.'
Sounding out the future
The recent Record Store Day and Apple's acquisition of Dr Dre's Beats streaming service, have put audio formats and delivery high on the news agenda – equally championing old-fashioned 'high fidelity' and modern convenience. We live in a world that would trouble RPG Denman.
Of the vinyl revival, Kolkowski says: 'If it helps the independent or specialist shops keep afloat, then I'm all for it. Regarding Apple's acquisition of Dr Dre's Beats streaming service, I'm against this type of monopolisation, and while I use iTunes, I don't particularly like being tied to it.
'I agree that there's been a downward slide in the quality of reproduced music in recent years and the loudness war and loss of dynamics is something I take seriously,' he continues. 'But I also remember listening to crappy cassette tapes and records played with worn styli, so high-quality MP3s sound pretty good in comparison.
'Loudness and compression are the result of demand as people want to hear music through headphones or earbuds on portable devices while on the move and in noisy environments. I don't think you'd be able to fully appreciate a [Neil Young] Pono device on the underground or a busy street or anywhere outside, you'd have to be in a very quiet place to do so. Perhaps its uses are therefore limited, you'd have to invest in sound insulation as well as high-quality headphones to go with it.'
For his own listening, Kolkowski is surprisingly pragmatic…
'This depends entirely on what I'm listening to,' he says. 'If the source is a CD or a digital file then, like most people these days, I'll mainly use headphones. I'd much rather hear live instruments or recordings through speakers, but for the sake of convenience, it's often the insular listening experience of headphones for referencing music and sounds.
'But if I'm mastering, it will have to be through speakers, and if it's on a format like a shellac 78 or a cylinder phonograph record, then I'll play it on a gramophone or a cylinder phonograph. I don't much like digital transfers of such recordings, except for reference purposes. I'm all for playing recordings on the reproduction devices they were intended for. There is a huge difference in the listening experience, it's so much more enjoyable.'
Just as not all change is progress, progress regularly follows a linear path. With this in mind, both the Science Museum exhibition and Kolkowski's other work provide an opportunity to review the achievements of the past and to gain new perspectives on the present. Anyone who uses horn loudspeakers or believes they know their potential capabilities would be well advised to stop by the Science Museum as a 'calibration' exercise. It's an opportunity that is unlikely to come around again in a hurry.

See also:
Loudness Wars: Level Up (Loudness and dynamic range)