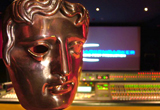 'I hate the term audio postproduction. I hate it!'
The head count at the table of the very agreeable Soho restaurant has temporarily been reduced to two, as the smokers take a break outside.
That leaves Hackenbacker head Nigel Heath making a confession he might have found less easy in front of studio staff and PR.
'I think sound is sound,' he says by way of explanation. 'I can walk out of a rap session – I have a reasonable track record in that kind of recording – and then mix in the orchestra for Downton Abbey. That is why, I think, the company is so healthy and vibrant. The crew are young and treat it all as the same stuff. Labelling is really unhealthy.'
We are a short walk from Heath's Hackenbacker complex, discussing sound and image. Hackenbacker's three studios, five edit suites and Foley stage give it claim to being one of best-equipped post facilities in Central London. Certainly, it's success in both film and TV make impressive reading.
Heath's own – extensive – credits betray the volume and breadth of his work, and support his present argument. In addition to movies such as Hot Fuzz, Children of Men, Batman Begins and Richard Ayoade's recent Submarine, work for cinema luminaries such as Ken Russell, Peter Greenaway, Kevin Spacey, Mike Figgis and Tim Burton, he has been involved in a long list of TV series including Spooks, Little Britain, Life on Mars and Garth Marenghi's Darkplace. He also counts work on music productions – Jean-Michel Jarre's Destination Docklands and La Defense – The Paris Concert, the ELO and The Moscow Symphony Orchestra and The 1000 Voice Festival – Royal Albert Hall – among his TV credits. Imaginary Landscapes, a film on Brian Eno where Heath is still proud of his credit simply as 'sound engineer' says a lot about the depth of his love for music.
Unsurprisingly, Heath is renowned for being a busy man…
The right stuff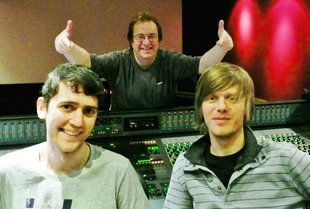 'On Saturday I was listening to Vaughan Williams, Thomas Tallis, Hildegard of Bingen and Michael Tretow's work on the Abba albums,' Heath continues. 'I have no snobbery that means I can't listen to Abba – Christ, that bloke knew what he was doing with those slightly detuned, double-tracked pianos. Absolute genius, just like Vaughan Williams building a stereo image to work in Worcester Cathedral. Michael Tretow, meet Vaughan Williams – you are doing the same thing. And I was listening to all of them in the same way; it's all the same stuff.'
It's clear Heath is uncompromisingly passionate about this. Along with his expertise and accomplishments, he is known for the time he devotes to ensuring the standard of Hackenbacker's work and the talent of its team.
'I get CVs from youngsters who say, "my passion is audio postproduction",' he says. 'I ring some of them and say, "do you really, really mean that?" Do they buy a CD and listen to their favourite track ten times, 20 times and too loud? And feel guilty? If you do that, you are just in love with sound. It puts some of them on the back foot but the brilliant ones say, "you're absolutely right…"
'And I encourage the young bands I work with to listen to some things they regard as stupid. But then they come back to you with notes and questions.'
Hackenbacker's work on film and TV projects has earned it an enviable reputation for quality and innovation, along with nominations for two BAFTA TV Craft Awards (Best Sound Fiction) and two Emmy Awards (Outstanding Sound Editing for a Miniseries, Movie or Special) for the television series Downton Abbey and Any Human Heart. The Downton Abbey nominations turned into a BAFTA win.
'We are one of the very few sound companies outside of America that have been nominated for an Emmy this year,' Heath adds. 'We are very proud of that.'
It's not undeserved. Heath has invested heavily on every front in sound. And he started early: 'I started mixing when I was 17 years old and started Hackenbacker when I was 21. I lied about my age when I was young because I was too young, and I lie about my age now because I'm too old. My CV has some amazing things on it. But it's always been about the same thing…'
If sound is the constant note in Heath's career, endless developments in equipment, formats and entertainment provide counterpoint, harmony and dissonance (which are discussed at greater length here):
In cinemas: 'I think there is pressure from the consumer because they are being let down by the way so many cinemas are being run.'
On TV: 'People are buying very expensive home cinema systems expecting them to sound brilliant and find that they're not enamoured with the sound – but it might have been mixed on 16mm 15 years ago. It has no right to be 5.1.'
In surround: 'We're really in danger if we get too involved in bigger formats. It's like inventing crisp flavours that nobody wants to buy.
'It's ridiculous to think about moving on when 5.1 can be so effective. It can sound so, so brilliant. The only reason people are dissatisfied is because it's not being done right. If you listen to a 5.1 mix in any of my [White Mark designed] rooms, or in Shepperton One, or any of the other great rooms around here, it can sound astonishing.'
'Pro Logic is sometimes treated like a dark art,' says Hackenbacker's co-owner Chris Sturmer, fresh from his cigarette break. 'When we talk about moving on to bigger standards, you have to think, hold on a minute, some of the West End screening venues still don't know what Pro Logic is.'
Kit chat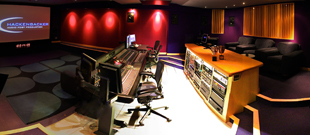 There are no dark arts in play at Hackenbacker. Heath's relationship with the equipment the facility uses is refreshing: 'We can have any kit we want,' he says without artifice. 'I have some very nice kit and I have some very cheap kit. I have an expensive console but I have a Behringer bass unit because it distorts in a way I really like. I was taught not to be afraid of cheap kit if it gives a sound you want.
'The desk is there to capture what we put into it. It's an AMS Neve digital console, so it's very vanilla. It has the ability to allow you to think of an idea and do that idea so quickly that the idea doesn't go away – it runs at the same speed as your head. That, for me, is the difference from using a mouse and plug-ins.'
However, the analogue outboard stuff that sits in the racks behind has 'some very nice sounds': 'I'm nervous of words like warm and smooth and analogue-y,' he says. 'Bad analogue is shit.
'On Hot Fuzz, I found I liked the way some of the loud moments sounded through the analogue monitor output, so we recorded that. When you see that movie in the cinema, you are hearing my replay chain in Studio 1. It was a loud-sounding film without having to be physically loud.
'It's a lot like cooking, like having a spice set,' he continues, with obvious relish. 'The Chiswick Reach compressor can add ten grand to the sound of a mix… I love the way that compressor can sound different when it's very hot from when it's very cold. I like variables. Variable is exciting… you can go to a cocktail bar and have an apple Martini and it's great. You go back a few days later and it's sensational. Why?
'We are blessed with an amazing crew who are very free-thinking, and you can hear it in their work,' he reflects. 'There's some pretty experimental work in Downton Abbey. It's pushing the boundaries and it's great to see in a homegrown period drama.'
It follows well in the tracks of earlier work on TV series like The Day Today and Spooks, which he regards as pioneering in their approach to sound. And something to be encouraged…
'A director I work with a lot rang me out of the blue the other day to discuss the sound Scott Walker achieved in his recordings, and I love that! I love that some of our clients care so much about sound, we're blessed by working with them.
'And I tell you what… I genuinely want to work with Scott Walker,' he adds. 'I really would have liked to have worked on the 2006 documentary Scott Walker: 30 Century Man – they built a Foley stage at Metropolis and he was banging around recording meat being kicked. Amazing…'
It is, then, just sound business and Heath is never off duty: 'The best waterfall I know is in Inverary in Argyllshire,' Heath muses. 'It bubbles and whistles and tweets, and boils, and you've got the perfect balance of sound – bottom, middle and top.'
With the meal done and interview over, the Hackenbacker team return to their work – but it's clear that it's no chore. I'm uncertain what their afternoon holds – perhaps director Vincent Morriset's concert film of Sigur Ros, which is forthcoming. Maybe some more television…
'Keeping one side of my life alive feeds the other side,' Heath says. 'You can learn lessons doing a pop track that can be used on the next period drama or movie. Sound is sound; music is music; painting is painting.'