Pro audio/film industry solution provider/recording engineer Aditya Modi is to represent the Walters-Storyk Design Group throughout India.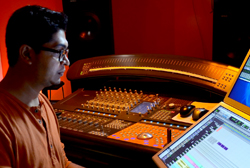 The announcement follows meetings and lectures on design and acoustics at Yash Raj Studios in Mumbai: 'Aditya Modi is a second generation audio/video/film industry professional,' says Sergio Molho, WSDG Director of New Business Development. 'Since 2007 he has managed Modi Digital, a successful technology sales/installation firm founded by his father, Vijay, 40 years ago.
'Our agreement will see him working with us to introduce WSDG's acoustic and architectural design capabilities to India's thriving production community. We are extremely fortunate to be working with him…'
'We were deeply impressed with Modi's artistic talents, his integrity and his social graces,' WSDG Rpincipal Beth Walters adds. 'He worked and studied in the US for a number of years, his knowledge of and connectivity with India's huge film and audio production community is unsurpassed. We have an abiding respect for Bollywood, and we are convinced that WSDG can be of great service this pivotal industry.'
After earning a Recording Arts Degree from Full Sail University in 2001, Modi moved to LA to work as a DJ. Returning to Mumbai after graduation, he became a recording engineer and businessman. In 2001, Bollywood composer AR Rahman (Slumdog Millionaire) enlisted Modi to manage his production/postproduction operations, and to serve as creative producer for his live and theatrical shows. Beyond his ongoing relationship with Rahman, Modi established two personal recording, mastering/mixing facilities in Mumbai. In addition to writing for technical publications, he also hosts seminars for music/audio educational institutions.
'I have been aware of the Walters-Storyk Design Group from the earliest days of my career,' Modi says. 'John Storyk's work is highlighted by credits that range from Electric Lady in 1968 to NY's newest super studio, Jungle City. I know WSDG's international team will make a huge impact on Bollywood's technical capabilities and, I am honoured to be representing such a distinguished firm.'
'We established an immediate rapport with Modi, and we relate to his entrepreneurial spirit,' John Storyk says. 'He is a true player in the Bollywood community. We are already beginning design work on our first project in India and we look forward to a long and warm working and personal relationship.'
More: www.wsdg.com