The Finger Lakes Community College in New York features in the résumés of some of the best-known commercial recording studios in the world. The campus is also home to the Constellation Brands-Marvin Sands Performing Arts Center (CMAC), an outdoor venue that seats 5,000, as well as a John Storyk-designed recording studio.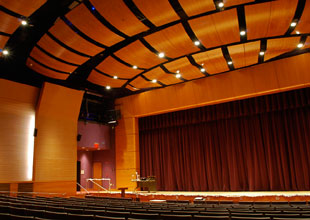 Recently, the school added a 410-seat Performing Arts Center and a smaller multipurpose room with flexible seating. The centre is designed to be acoustically- and technologically-flexible, and capable of delivering acoustic music, high-SPL rock and everything in between.
Both rooms rely on Danley Sound Labs loudspeakers and subwoofers. 'It was only after we had designed the room for acoustic music that the school added high-SPL amplified music to the list of requirements,' says Seth Waltz, principal of AVL Designs. 'It was originally designed as a classic recital hall, and we did all of the acoustic work with that in mind. Our initial plan called for a small central cluster of loudspeakers that would be used strictly for voice reinforcement. But then they changed things and wanted to be able to accommodate rock bands and dramatic theater. So we had to move backwards, working around the acoustics and the lighting positions that were already in place.'
JMZ Architects led the project, while AVL Designs designed the acoustics, rigging, lighting, video, and sound reinforcement for both rooms. Platinum Sound installed the audio and video systems, and BMI Supply installed the rigging and lighting.
'Given the new requirements, we had to find a very well-controlled loudspeaker that would keep energy off the walls and ceiling, yet deliver tremendous SPL with audiophile fidelity,' Waltz says. 'Because of sight lines, lighting positions and the geometry of the room, a line array was out of the question. Danley Sound Labs' Synergy Horn technology was the obvious, and perhaps only choice.'
AVL designed stereo clusters mounted at either edge of the proscenium, each composed of a Danley SH-64 with a Danley SH-95 for down fill. Four Danley TH-112 subwoofers support the low end from below the stage.
A Digidesign Venue SC48 sits at FOH and feeds an Ashly Audio ne24.24M modular I/O processor configured with four eight inputs and 16 outputs. 'In terms of sound quality for the dollar, I love the Ashly processors,' Waltz says. 'The Ashly ne24.24M is the perfect FOH processor.'
A pair of four-channel Lab.gruppen c48:4s power the Danley TH-112 subwoofers and the Danley SH-64 loudspeakers, and a c28:4 powers the SH-95s. Crestron control integrates all of the A/V system functionality and lights. A high-definition Christie Digital LX1500 projector and Da-Lite 270-inch screen provide cinema-quality video, along with and ETC lighting with 192 channels of dimming allow flexible and dramatic staging.
Technical goals
The aim of the acoustic/sound system design was not only to make the Performing Arts Center capable of hosting a wide range of music and performances, but to make it excel across that range. Low distortion independent of the output volume allows the Danley loudspeakers and subwoofers to contribute to that goal.
Going further, AVL Designs incorporated a Yamaha AFC electronic reverberation system for the room – 16 hidden microphones feed a processing engine that outputs to approximately forty hidden loudspeakers with small subwoofers built in. Using the Yamaha system, the room's reverb can be adjusted between 1s and 2.5s.
Although smaller in scope, the multipurpose room was the first space in which the college's faculty had an opportunity to hear Danley loudspeakers installed. A pair of Danley SH-100Bs provide stereo output with integrated subwoofer support.
'The faculty – and these are all veteran recording engineers – were blown away by the Danley SH-100Bs,' Waltz says. 'And when these people say that they like the way a loudspeaker sounds, it really means something,'
Here, a Yamaha 24-channel digital console feeds another Ashly ne24.24M, this time configured as 8x12, and a QSC PLX 3102 amplifier powers the system.
More: www.avldesign.com
More: www.danleysoundlabs.com
More: www.ashly.com
More: www.labgruppen.com
More: www.avid.com