The Voice of Jupiter – the Grand Organ at the Royal Albert Hall (RAH) – counts among of the world's most iconic instruments. And with the hall closed during the Covid-19 lockdown, the opportunity arose to create an official sample library for the organ, endorsed by the RAH itself.
The project was overseen by composer/producer James Everingham, alongside chief engineer Oli Jacobs and mobile recording engineer Chris Kalcov. 'I think I've always considered it the ultimate instrument in the ultimate room,' Everingham says. 'With the hall largely closed, I saw an opportunity that allowed unprecedented access and, most importantly, the silence needed to record a sample library.'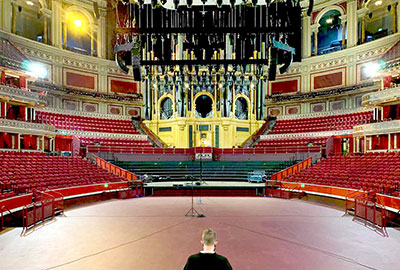 'To have the hall so quiet – and it was absolutely silent – was once in a lifetime,' Kalcov concurs. 'We knew we had to do it justice, as we'd likely never get this opportunity again.'
The organ infamously has 9,999 pipes of different sizes, along with 147 stops. The team were given the green light to fully explore inside the casing of the instrument. 'We climbed into the organ casing and – lo and behold – among all the intricate pipework, was all this incredible percussion,' Kalcov reports. 'A whole bunch of things that I never knew were there.
'There's a full-sized vibraphone for example, wired up to an entirely motorised set of mallets – a robot vibraphone. Then there are all these little bells that are triggered by the stops, and that you would never ordinarily hear from the hall's floor.'
'We had limited time in the hall,' Everingham continues. 'And with microphones up to 80m apart and raked seating to contend with, rigging the venue was no easy feat – though Chris and Oli made light work of it. With my own studio based around RME, RME's TotalMix FX was a welcome sight in what was one of the more unconventional recording environments I've experienced.
'Ultimately, anyone with a computer can now play one of the most exclusive instruments in the world, and it's been amazing to hear people using the instrument to open up new musical possibilities, from pipe organ metal to Interstellar-inspired film scores.'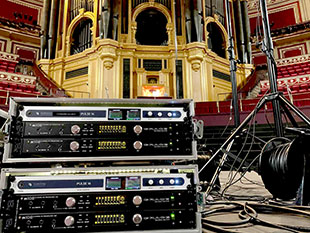 The Grand Organ was captured via Kalcov's main de-rig system, which he describes as 'very much RME-based', and also features Ferrofish AD/DA converters. 'Everything comes back into an RME Madi Router that feeds two recording machines, both hosting RME MADIface XTs' says Kalcov, 'At the front end, I have 32 channels of Grace Design mic preamps and another 16 channels of RME Micstasy. The Micstasy is a more iconic bit of hardware than most would know – I'd wager up to 50 per cent of all European classical recordings, made since the Micstacy's release, have involved one at some stage.
'RME equipment is just so reliable. And when you have professional musicians who are paid to the minute, you absolutely can't afford for something to let you down. It needs to work first time, and RME does. The same can be said for Ferrofish. They seem to have that same reliability to them that RME has, and don't impose their own sound. That's what makes them fantastic in my opinion, and great value for money.
'I've been seeing them more and more at big stadium event shows too – lots of engineers are now touring with Ferrofish in their racks.'