ACETA, the new industry body for the Australian commercial and entertainment technologies sector, was formally established at its first AGM on 6 June 2011.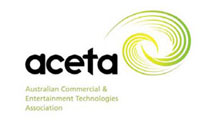 The election for the board was held and the following officers confirmed:
Leon Hart, Amber Technology
Frank Hinton, ATT Audio Controls
Paul Mulholland, Jands
Stephen Devine, Meyer Sound Australia
Tony Hambling, Murray Tregonning and Associates
Shane Bailey, National Audio Systems
Frank Andrewartha, Quest Engineering
Marc Allen, Roland Corporation Australia
Robert Sloss, Syntec International
The first Board meeting was held immediately after the AGM and the following office bearers were appointed: Frank Hinton (President), Steve Devine (Tresurer) and Frank Andrewartha (Secretary).
The AGM included an open forum for members to provide direction to the Board which was to establish sub committees to include:
• Trade shows: to address the value members receive from the many shows currently being held across the sector.
• Education & Training: to include strategies to address the skills shortage.
• Industry guidelines: to draft industry standards and guidelines to underpin the ACETA logo being developed as a trust mark for members.
• Statistics: to find a mechanism for the industry to confidentially and anonymously share market data in order to provide industry statistics for better business planning.
• Marketing & Membership: to include keeping the members informed.
• Government: to address such issues as digital spectrum, C Tick, A Tick, parallel importing, assistance with training (such as grants) and export programmes.
• Standards: to simply and clarify which standard applies in which circumstance where they are overlapping or seemingly overlapping standards.
• Manufacturers: to look at export programmes.
It was also discussed that there should be product sector representatives on the board to ensure the association's agenda doesn't narrow, and to act as the voice and contact point for the various segments within the industry.
'Clearly this is a big agenda for an association that is just starting out so we will need to prioritise and that will be the task of the first full board meeting to held in Sydney in July,' says Frank Hinton.
He pointed out the constitution was carefully drafted to ensure that members, whether they are on the board or not, can sit on subcommittees: 'After the next board meeting, we will be tapping people on the shoulder to ask them to join a committee. If anyone has a preference, then they should feel free to contact me to put their name down.
'Thanks must go to the founding 25 members who have put their hands up to join this fledgling association,' he adds. 'Since Monday I have taken calls from a number of other companies which are also now keen to come on board and we look forward to welcoming some new members shortly.'