Founded by lead pastor David Grobler, the Unite180 Church in Pretoria, South Africa, has chosen Waves' eMotion LV1 Live Mixer and plug-ins to support the broadcast services.
'We strive to deliver the most professional audio result for our online services,' says church audio engineer, Liezel Coetzer. 'During Covid-19, as Sunday services were halted by stringent lockdown regulations, the church decided to shift its focus toward creating a better online streaming experience for members. Unite180 purchased the 64 stereo channel version of the Waves eMotion LV1 mixer, specifically to assist with the online broadcast.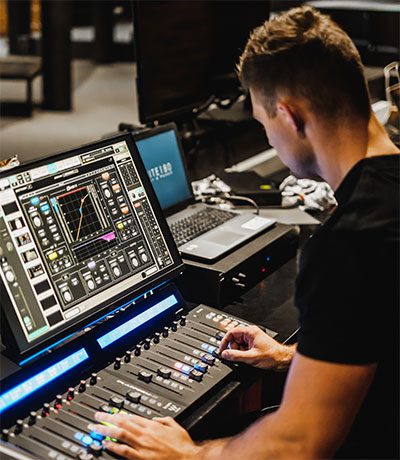 'eMotion LV1 offers exceedingly high audio quality, and allows our operators to control the sound with pinpoint precision by running diverse Waves plug-ins from within the mixer itself,' he continues. 'The LV1 is also very easy to use, which has been extremely helpful as we have been training new engineers on a weekly basis.'
'The LV1's set-up is quick and simple. Once installed and fired up, we found that the sound quality is amazing – we immediately noticed a difference in the quality of the live-streamed audio. The LV1's networking capability is also a huge asset. We connect a laptop that we use for click tracks, and an additional laptop for audio recording via the LV1's WavesSoundGrid network, and it works great.
'Also worth noting is the LV1's portability – it is compact and very easy to move around. SoundGrid networking makes it very simple to set up. This is an especially crucial element, since we are awaiting final construction of our new premises. Based on our experience so far, we are confident that setting up and re-networking our LV1 in the newly constructed facilities will be a no-brainer.'
Unite180's set-up comprises a DiGiCo SD12 console for live mixing, which is connected to a Waves eMotion LV1 mixer via Madi. The operators have two Icon Platform M controllers for the LV1, which they use in conjunction with a touchscreen for seamless page switching.
'The ability to integrate Waves plug-ins within the LV1 mixer allows us to solve a wide array of live broadcast issues,' notes fellow engineer, Anton Bezhuidenhout. 'The fact that everything is digital, and that we can save presets for the processing of entire individual channels, makes the system very simple to use and far superior to any analogue set-up. Also, the saturation from some of Waves' analogue-style plug-ins gives the mix a pleasant warmth and a great treatment of the low end. The ability to use studio-grade mastering techniques on a live mix definitely gives us an edge. As an engineer mixing in the moment, it's amazing to be able to focus on the smaller details, when the mix already sounds like a great studio-quality product.'
'We use a diverse line-up of plug-ins within the LV1,' says Joshua Oosthuizen, another of the church audio engineers. 'TheWaves eMo D5 Dynamics plug-in, which is part of the LV1's channel strip, is on almost all our channels. It's a super-versatile tool to start your initial processing with, and the way it enables us to trigger functions using specific frequencies is amazing. We use its gate on our drum kit and backing vocals.
'The eMo D5 is also our go-to de-esser, and we sometimes treat it more like a multiband compressor in functions such as dipping a frequency on a track to make space for the vocals. We also use the D5's compressor and limiter on our kick and snare to add punch and control transients. The H-Delay Hybrid Delayand H-Reverb Hybrid Reverb are an absolute must. For what we do in terms of praise and worship, everything is about creating an atmosphere. We have found these two plugins to be far superior to anything else on the market, and they add just the right texture and ambient sound for our purposes. The CLA-76 Compressor/Limiter is a classic, and we use it on everything from guitars and snares to vocals. It's great for controlling your signal and it adds just the right amount of analogue saturation to give your live mixes that studio edge.
'On the master bus, we always insert the SSL G-Master Buss Compressor, Oosthuizen continues. 'It colours the whole mix and pulls out all the reverbs and effects into the foreground, while controlling transients at the same time. This is a must for gluing a mix together. We run it with a quick attack and the release on auto, with the threshold on a very low setting. To add punch and midrange to the drum kit, we use the Waves API 2500 compressor on our drum bus, setting it with a slower attack and fast release to add to the kick and snare transients.'
'We chose the eMotion LV1 mixer as the best tool for assuring a high-quality broadcast,' Coetzer says. 'It has proved to be extremely user-friendly, which enabled our staff to respond very well to the changes we have made. Thanks to the LV1, we couldn't be happier with the high audio quality of our streams, and with how easy it is to achieve that result.'