The Take That Progress Live 2011 UK stadium tour is making extensive use of the large inventory of Martin Audio W8LC Compact Line Array enclosures held by Capital Sound in order to support 'a radical new delay sound concept', proposed by production manager Chris Vaughan and implemented by the rental company.
Known as the 'ring' system, the thinking behind the system comes from Vaughan's concern that the growing height (and bulk) of delay masts in front of the stands in arenas and stadia were restricting sightlines – and reducing the number of seats with uninterrupted vision.
Discussions intended to devise an alternative approach began in early 2010, when Chris Vaughan announced that he wanted to replace the towers and ground systems, and Capital Sound Account Manager, Martin Connolly, took up the challenge.
After winning the summer Take That stadium tour last December, the Capital Sound production team wasted no time in conducting a fast-track evaluation of the tour venues around the UK and Europe. As a result, Capital Sound's Ian Colville, in conjunction with Al Woods, came up with the 'ring' system. 'Varying quantities of W8LC will be hung on the roofs of most stadia, while at venues like Manchester there will be four ground-stacks of W8LC's mounted on 2.5m-high Steeldeck,' Connolly says. 'The W8LC is perfect, because you can create a lot of uptilt on it – in fact when we did A-ha it was evident that the W8LC had an advantage over even newer cabinets on the market.'
Typically eight hangs of between six and eight W8LC elements form the perimeter ring systems, flown from the stadium roof. In particular, the solution ensures that there is no physical sightline obstruction – primarily to the production's B stage – caused by the delay masts.
The ring is formed of a core system of 88 W8LC's (with additional W8LCD downfills), apart from at Wembley Stadium, where there will be 132 W8LCs and four W8LCDs. This will include four field delays – with 36 speakers spread across four 12m masts. 'But these will only support speakers,' insists Connolly.
In order to provide sufficient power, two identical amplifier/cable set-ups have been designed, each comprising ten six-way racks. These will be sited depending on venue access and occupy various locations – from the players' tunnel to being flown up on the roof.
The W8LCs complement the main W8L Longbow stage system, which will have a standard configuration, and comprise 12 flown W8L's and two W8LD down fills per side, and 12 flown W8LS subs per side. These are being boosted by side hangs of 16 W8Ls and two W8LD down fills per side, and 32 WS218X ground subs (16 per side). A further 16 Martin Audio W8LM Mini Line Arrays are being used for lip fill and out fill.
Paint it black
The tour opened at Sunderland's Stadium of Light on 27 May, putting the system – which has also been refinished in black, to create stage uniformity – in the public eye for the first time.
The new finish covers the complement of W8L Longbows (including complementary WS218X subs) held by Capital Sound – including eight further enclosures purchased for the tour – all of which received unconditional approval from the band's FOH sound engineer, Gary Bradshaw.
Two days into he show, the sound engineer reported: 'It is still early days, but I'm very pleased with the results we have been getting with the Martin Longbow system, which is very smooth but very powerful.'
Foregoing large delay towers in favour of smaller ground stacks at the rear of the field – and flown delays hung from the stadium roof – the PA now needs to cover a much larger area than usual, he said. 'But the Martin Audio Longbow system is able to project rich and clear sound at a greater distance than any other system I have used. It is very flat and there are no peaks for me to smooth out – this means that apart from high-pass filtering the vocal channels have remained virtually flat – even with five mics out in front of the PA on the B Stage.'
Of the new-look inventory, Martin Connolly, confirmed: 'All our W8L's have been stripped, sanded and refinished, with new grilles fitted and new rigging – so that it now travels on dollies. For an arena or stadium tour this places less wear and tear on the system.'
He added that the rental company's large inventory of W8LC Compact Line Arrays will remain in factory grey for the duration of this tour – which will see a core system of 88 enclosures used at each stadium for the 'ring' delay. However, by the end of the year, the entire W8LC fleet will likewise be finished in black.
Having serviced Take That from the beginning (and later Gary Barlow's solo Open Road tour) Capital Sound has extended its complement of amplifiers, including 12 Martin Audio MA4.2s (2 X 2.1kW/4Ω) among the latest purchases to help power that new delay system.
Capital Sound General Manager, Paul Timmins, says the decision to overhaul Longbow is part of a strategic move as the company ponders its next move in inventory development: 'Longbow and W8LC forms an irresistible package – a world-class system that still has plenty of life left in it – and we are happy to spend money on refurbishing the system. We are thinking of it more as a 200,000-mile service.'
He believes that the investment in the company's Longbow rig is justified: 'We have no intention of offloading it – in fact we have seen a significant resurgence in the desirability of Longbow in recent years, no doubt helped by its use on the main stage at Glastonbury for the last four years.
'We are, of course, evaluating the more recent entrants in the tour sound loudspeaker market [including Martin Audio's MLA] and we will invest in a new system when we find one that has significant benefits. But for the time being Longbow still has an unparalleled combination of power and dynamics.'
Optical allusion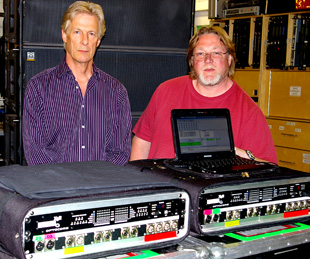 Also new for the Take That tour is the Optocore optical-fibre system being used to to maximise signal transport and flexibility. 'We considered a copper-based signal distribution system, perhaps using AES3, but because of the distances involved and the need for electrical isolation we soon realised that an optical system was the correct solution,' says Project Manager Martin Connolly. 'With a project of this magnitude we felt that we needed a premium product with excellent UK based support, so we contacted Optocore specialist Andy Huffer at HD Pro Audio to discuss the system.'
As a result, Capital purchased eight X6R-FX converters, while Optocore provided the hire company with the loan of four further systems. This will support distribution of the audio and control signals comprehensively to the processors and amp racks – which will be placed in different locations from show to show depending on stadium layout.
'Both Optocore and Andy Huffer have been brilliant,' says Technical Manager Colville. 'I had been looking for an opportunity to buy into this system as it's obviously the way that signal distribution will be going – we made a certain level of investment and Optocore kindly loaned us the rest. We also required a large quantity of fibre and Charlie Cook at Neutrik helped us out by providing about half of the total requirement.
'Optocore is an absolutely fantastic system and the software is very intuitive, easy to use and reconfigure – everyone has picked it up in a couple of minutes,' he adds. 'I'd like to thank Optocore, HD Pro Audio and Neutrik for the support they have given us during this project.'
More: www.capital-sound.co.uk
More: www.martin-audio.com
More: www.optocore.com