Once a boiler room beneath the Chelsea Market, Artechouse NYC is one of New York City's most innovative spaces for immersive and interactive art exhibitions. Among these, Geometric Properties, marries fractal visuals created by Dutch artist Julius Horsthuis, with original soundtracks by Michael Stearns and David Levy in a 30-minute experience that 'explores fundamental mathematical patterns to stimulate existential self-reflection and emphasise the pure wonderment of being'.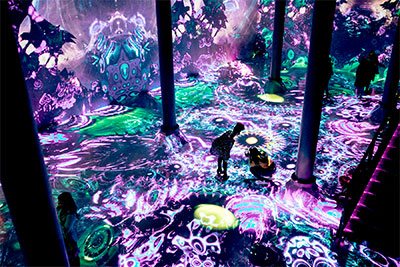 What enables Artechouse NYC artists to explore new levels of creativity is an L-Acoustics L-ISA Immersive Hyperreal Sound system. Designed and installed in the main gallery for the venue's opening in September 2019, L-ISA allows artists to expand their work from the purely visual and into the aural.
'This is Artechouse's third location, and we wanted it to push the benchmark of the experience,' says Artechouse Executive Creative Director, Riki Kim. 'When we were looking into the audio element, L-Acoustics and L-ISA stood out from the competition. The appeal was to have an immersive sound system with no hot spots in the room, plus a clear and transparent sound that could express the art's wide range of tone and emotion. It wasn't just the product, it was also the people at L-Acoustics and how they approach us as partners in artistry – the people and the products are a complete package.'
Queens-based See Factor supplied the 31-channel L-IAS installation, which comprises 20 L-Acoustics X8 loudspeakers used as perimeter/outer speakers, ten 5XT loudspeakers as overhead/inner speakers, and two SB15m subwoofers operating as a mono channel. The system is powered by six LA4X amplified controllers, with the immersive mix running through the L-ISA Processor. The sound technology is complemented by Barco-powered, 16K-resolution, 150-megapixel raster laser projection system.
Art-installation composers and sound designers – such as Berlin-based Kerim Karaoglu, who provided the sound design for Artechouse NYC's inaugural installation, Machine Hallucination by Refik Anadol – use the L-ISA Source Control plug-in in a Logic Pro session to adapt the installation's score to the immersive environment. Outputs from the processor are rendered to multitrack files that are played by the in-house media server for video and audio. Madi from the computer is converted via an RME M32 Pro to analogue, feeding the LA4X amplified controllers.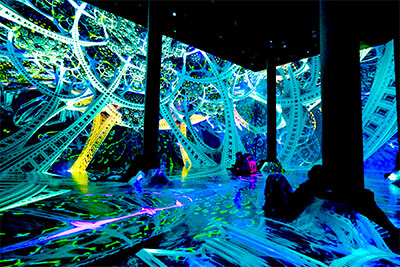 'Artechouse was a very fulfilling project to be involved with on many levels,' says sound designer Jesse Stevens, who is responsible for the installation. He worked in conjunction with Kim and the Artechouse team to develop a system that would work within design constraints, such as not putting speakers in the projection area.
'We were asked to think not only with our usual engineering eye but also from a creative point of view. It needed to adapt to any artistic idea, and even become an extension of the artists' work.'
Stevens went on to mix sound for Machine Hallucination, and he says that implementing the Keraoglu's score was a 'dream come true'. He also says that Geometric Properties was a unique installation, broken into two distinct halves, delineated by the contrasting music of its composers. 'They [Michael Stearns and David Levy] asked me to make the best use of the L-ISA and do the live mixes of both scores, as well as to add and augment sound effects to each piece,' he explains. 'So there was quite a bit of work to do from both a mixing standpoint, as well as adding some sound design and sound effects, which would all run as a continuous loop.'
Levy's score occurs first, which Stevens compares to an action movie trailer. 'It's very dynamic with a lot of very cinematic elements,' Stevens says. 'David comes from the video game composing world, so there are very intense hits, sounds, whooshes, crashes and a lot of dynamics. Literally, the only way to be doing the mix in this sort of space was with L-ISA because we were able to take this very complex score and all of these elements, separate them, and place them in different places around the room.
'We also had to develop an interaction between elements so the viewer could get a unique mix depending on where they're standing in the room.'
Furthermore, the mix had to be considered from all different angles because the audience is constantly walking around inside the space, experiencing the visuals and the sound from wherever their vantage point happens to be.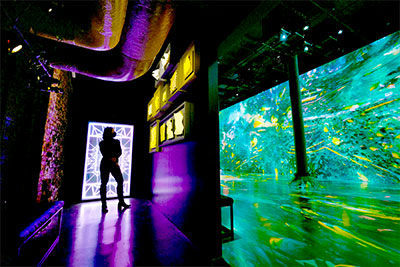 'There are a lot of very specific placements of objects that create this interaction between elements and work with the dynamics of the pieces,' Stevens says. 'But we also had to be able to step back to make sure that the perspectives of the audio matched the perspectives of the visuals in the space. Only with L-ISA technology could I have accomplished that.'
For Michael Stearns' score, which Stevens characterises as 'much more subdued, more ambient', he created a combination of sound effects and sound design. 'It was great for the audience to have a bit of a break after the adrenaline rush of the first half, but we still wanted to match the tone and energy. I was able to design and preview the sound effects and music mix in my home studio and then send it to Michael, Julius, and Riki, for input and collaboration. Michael's piece has a lot of sound effects, which required finely detailed editing to synchronise with the visuals. The movement of the effects adds dimensionality and excitement, and it was important for them to work in perfect tandem with the visuals. L-ISA gave me the ability to precisely place all of these elements.'
Stevens credits L-ISA with being a creative partner in the process. 'What's unique is that L-ISA technology itself is incredibly intuitive,' he says. 'For example, I played all the audio on a Pro Tools system, and we recorded automation for placement and movement in Pro Tools. I then controlled all that using the L-ISA Controller, listened to each single element, and then recorded its position or trajectory in real time. Being able to layer the elements while recording automation allowed total freedom for iteration, which was crucial because it was the only way to tackle this dense, large-scale mix. It's a one-of-a-kind process.'
Kim adds the impact of L-ISA technology is evident in the satisfaction of both artists and visitors to the installations: 'They can't always put it into words, but everyone experiences it viscerally,' she says. 'And the composers and sound designers are always excited to hear that we have L-ISA available. You can tell it makes a difference for everyone involved.'