A leading distributor of professional audio products in France and Maghreb regions, Solid State Logic has named Algam Entreprises as sole distributor for sales and support across all four of SSL's vertical markets – broadcast, live, studio and audio creation.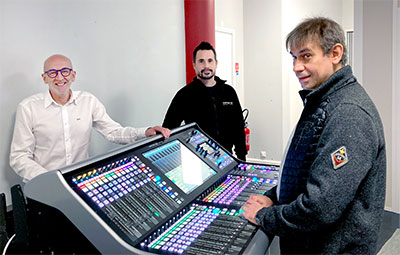 For more than 30 years, Solid State Logic has provided sales and support services via its own SSL France subsidiary under the leadership of Philippe Guerinet. SSL France has been responsible for the growth of SSL Live, System T broadcast and large-format studio consoles in the region and in recent years, the increasing range of 'ACP' audio creation products, including USB recording interfaces, high-performance small-scale mixers and hybrid production tools; Fusion and UF8.
'We were looking for a new structure capable of supporting further growth in ACP whilst continuing the success of SSL's large-format consoles,' says Director of International Sales, Philippe Guerinet. 'We had to find a solution where new and existing customers would get the best support possible, for all our verticals. Partnering with Algam, which has the Audia and Algam Entreprises arms of the business, is a fantastic opportunity.'
Headed by Didier Perez, Algam Entreprises has extensive experience in supporting professional audio products and, under the new agreement, will present customers with integrated solutions employing SSL's AoIP technologies and interoperability between live and broadcast platforms.
'Having SSL onboard fits ideally with our strategy to further establish Algam Entreprises in the sale and support of complex projects in broadcast, live and installs, as much as providing high0end solutions for music studios,' Perez says. 'SSL's network solutions based around Dante, AES67 and ST2110 offer innovative solutions that address the new challenges in broadcast and live sound.'
Algam's level of commitment is clear from already enhancing SSL's demonstration and support functions: 'As discussions with Algam progressed, it became clear they offer the knowledge and resources required to support both the pro audio and the ACP sectors of SSL's business,' says MD of Solid State Logic MD, Nigel Beaumont. 'The initial focus on demonstrating solutions and providing exemplary support functions already shows this. We look forward to a rewarding partnership that benefits everyone, but most importantly our-end users.'