Professional audiovisual solutions UK distributor Audiologic has announced a collaboration with networking specialist TP-Link over a turnkey network solution supportihg the deployment of business-class A/V systems, through a range of pre-configured PoE+ switches.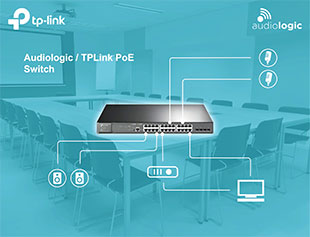 Audiologic identified a need among its customers for an accessible networking solution that could be implemented by A/V engineers with little prior technical knowledge of professional networking. The company's solution involves a selection of TP-Link UK's business-class PoE+ switches being used to power and support installations that typically include microphones, loudspeakers, processors, computers and cameras. A custom pre-configuration written for professional A/V installs was developed by Audiologic and integrated into TP-Link UK's TL-SG2210MP - JetStream 10-Port Gigabit Smart PoE Switch with 8-Port PoE+ and T2600G-28MPS - JetStream 24-Port Gigabit L2 Managed PoE+ Switch with 4 SFP Slots.
'We saw an opportunity to help our customers deploy more solutions, faster, creating an offering that saves A/V engineers both time and money,' says Ben Spurgeon, Senior Application Engineer at Audiologic. 'These fully configured switches act as the centre to any A/V solution, and continues to develop our portfolio of products.'
Equipped with IGMP Snooping and L2/L3/L4 Quality of Service (QoS), the T2600G-28MPS and TL-SG2210MP are both optimised for audio and video applications that are able to enhance A/V traffic management through fast transfers of important data – even under heavy network loads. With a total power supply of 150 W, the TL-SG2210MP offers eight Gigabit PoE+ ports and two Gigabit SFP Slots. For larger A/V installations, the T2600G-28MPS provides 24 Gigabit PoE+ ports, supplying up to 384W total power to 802.3at and 802.3af devices.
'By combining our business-class hardware with the A/V expertise and knowledge of Audiologic, we are able to provide a unique opportunity to push the boundaries of our technology and deliver custom switching to meet the demand for A/V solutions,' says TP-Link UK MD, Will Liu. 'This partnership will provide support and simplify installation experiences for engineers and integrators, as networking becomes increasingly at one with A/V systems both now and in the future.'