Over the past 25 years Music Bank has established itself as one of the premier rehearsal and backline hire facilities in Europe. In recent months, however, Director Jimmy Mac has been busy modifying the studios to create a live streaming space, allocating its DiGiCo SD12 to mix duties to ensure familiarity and flexibility for visiting engineers.
'We knew people would want to use Music Bank as a streaming location for the same reasons they use it for a rehearsal space,' says Charlie Bryson, monitor engineer for Rod Stewart's band and long-time DiGiCo user who started his career at Music Bank and has returned during the pandemic to look after all things audio for the live streams. 'The new studios offer huge, great sounding, well-serviced rehearsal rooms with a plethora of backline and instruments available to hire right across the hallway.'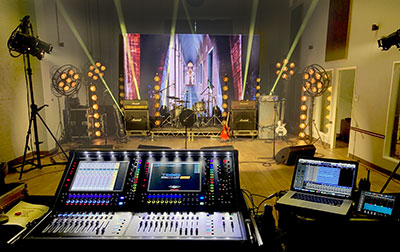 This, combined with a recently upgraded 1Gb symmetrical internet connection and its collaboration with neighbour, Colour Sound Experiment, to bring in modular/scalable LED walls and a lighting package for each room, makes Music Bank a tempting choice for a streaming space.
'After that, all that was left was to get a great camera and broadcast set-up together and we had an awesome streaming operation that artists could come in and design however they liked,' Bryson continues. 'Initially, I think a lot of artists saw an opportunity to do something different or something they hadn't done before with these live streamed / lockdown performances. Something new and exciting for the fans to make up for the lack of energy experienced at a live show. With that in mind, I needed a console that was very versatile and able to handle any new idea that might arise halfway through a rehearsal.'
Having worked almost entirely on DiGiCo consoles for the past five years, and as the SD12 was already part of Music Banks studio stock, it made sense to use it for these performances: 'You develop a way of working fast an efficiently with whatever console you spend most time with,' he says. 'But in my opinion, the DiGiCo operating system really is the most logical, intuitive and user-friendly option out there.'
'DiGiCo's Mark Saunders has been an integral part of the relationship between Music Bank and DiGiCo,' adds Mac. 'Before the pandemic we had so many artists in with DiGiCo packages, Mark basically had a second home here! It's been extremely productive to have developed such a close relationship between the two companies and I'm sure it will continue for long into the future.'
As soon as the initial period of lockdown ended, Music Bank was set up and ready to go and has been doing streams on a regular basis. All genres and scales have been catered for, from intimate Punk Rock shows with The Professionals [Steve Cook from The Sex Pistols], immersive DJ performances with the likes of Jonas Blue, to Melanie C's global album launch performance. More recently, Trevor Horn and his all-star session band recorded a Live Session Special with artists including Seal and Stewart Copeland dialling in via Live Link to perform with the musicians in the studio in London from their own studios in the US.
Artists have the option to bring in their own audio package or use Music Bank's in-house systems. So far, it has been a mix of both – The Professionals was a full Music Bank package, whilst the Trevor Horn performance was a mix with the SD12 for the FOH/broadcast mix, with audio partners SSE supplying an SD5 for monitors. If the house system is chosen, Bryson acts as a tech for audio, and mixes both broadcast and in-house monitors if required.
'Having been a freelance engineer and audio tech for the past ten years, it has been nice to see some familiar faces coming in and out,' he concludes. 'From an audio point of view everything has gone extremely smoothly so far! I think this is testament to the DiGiCo being so versatile. You can put it in the room with any kind of band, artist, performance or production and know that no matter how complicated the outputs get, or how many inputs you end up with, you'll be able to work through it quickly and efficiently. We also benefit from our SD-Rack being fully kitted out with the 32-bit cards in and out, so not only is it easy, it sounds exceptional too.'
See also:
Music Bank brings DiGiCo SD9 to rehearsal line-up