'The Audient ASP4816 console fitted our space and workflow perfectly,' says Anneliese Shaw, owner and co-founder of Grand Chapel Studios, a residential recording studio in a small village in the Bedfordshire countryside.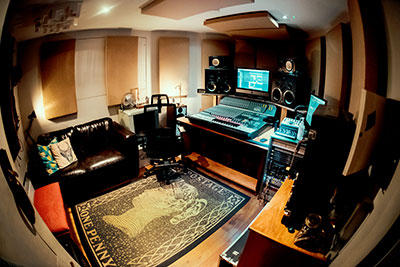 'I bought the building as an empty shell back in 2011,' Shaw explains, having outgrown her bedroom project studio, and now ready to create a dream studio together with best friend and co-writer Michael Pearce – 'the best sound engineer I've ever worked with' – in an old Methodist chapel.
'It was in a sorry state and had been structurally neglected in its latter years,' she continues. 'Built in 1842, there were many original features that retain their beauty today; the gorgeous organ and pulpit are part of its Grade ll listed status. A large, expansive main room (22ft ceilings) with a fantastic reverb hooked us in straight away,' she says. 'The chapel was obviously built with acoustics in mind – and boy is it beautiful. We are incredibly lucky to have stumbled upon it.'
Deconsecrated in 1990, the little chapel had been home to a double glazing firm in the interim – 'ironic really, seeing as the old 12ft windows had holes in them and the oak frames were all rotten' – but Shaw and Pearce could see its potential (as well as daylight through the porch roof) and have poured 'a lot of love, and all the money we had in the world' into its regeneration.
The pair worked hard over eight years, steadily reinvesting their earnings in the studio, with the aim to 'create an environment that wasn't like other studios'. The live room is testament to that, comprising an upper gallery, two iso booths and numerous gobos and acoustic room dividers built around the old organ and pulpit, which help maintain the ecclesiastical feel. It's also packed with an eclectic array of instruments, including two uprights and a grand piano, various drum kits, tubular bells, a Dulcitone and 'all sorts of antique and music shop finds that we use to achieve sounds that can't be found elsewhere', adding to the ambience.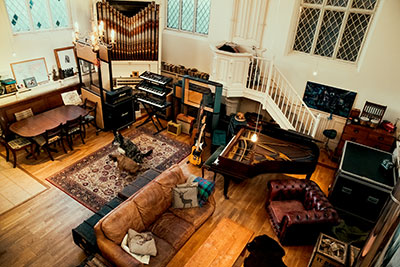 To ensure 'a solid, reliable studio experience, with all the capability of other mid/high-end residential recording studios', there is no shortage of high-end kit in the mix and control room, which is fully soundproofed, purpose built and integrated.
'The lovely ASP4816 was our last big purchase and just slots right in,' Shaw says. 'From the superb preamps, the switchable inline architecture, those gorgeous splittable EQs – thank you so much for the switchable Hi/Low shelves, 18kHz is just a joy – and the routing abilities of this desk, it simply lets us work how we want to. Obviously a lot of work is done in the box, but getting it there in fantastic condition is just a breeze and routing it all back out to the desk when needed is also a simple process.
'It's really become the centre point of our studio; there is so much control just sitting at your fingertips whether you're recording, mixing or mastering. It's so nice to be in front of a tactile surface and not be grabbing the mouse all of the time to access common functions – they're just there within arm's reach.'
Grand Chapel Studios attracts a diverse client base ranging from signed musicians to voiceover work for the computer gaming industry. The studio is also offered at no charge through the One Day a Month scheme, answering applications via its website. 'It's a chance for a band to work with us as a producer/engineer team, or to use the day for filming a live music video, taking advantage of our great live room sound,' explains Shaw.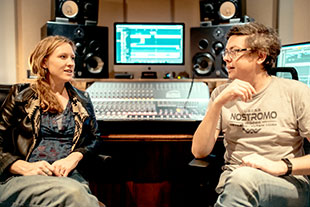 Despite Covid having slowed things, Shaw is happy that they are able to work at all: 'We can continue with projects with up to eight individuals at a time. Clients seem to be happy with all the hand sanitising stations and reminders to wear masks when needed. Working well as a team has never been so important.'
Chief engineer, Pearce spent the earlier lockdown working away from Shaw and the chapel, relying on an Audient iD14audio interface in his project studio. 'It's just a great little piece of equipment, sounds fabulous and the ADAT expansion just makes it a superb, flexible centrepiece. He wants an iD44 now…'
Looking towards the New Year, Shaw, anticipates new creative adventures that could help Pearce's wish become reality. 'Yes, some projects have been put on hold til the summer of '21 but the pipeline is looking good,' she says.
More: www.audient.com