The Heavyocity collective of composers and sound designers creates virtual instruments, most recently releasing the Damage 2 cinematic percussion virtual instrument. Also recent is the purchase and installation of an API 1608-II analogue console at the team's new facility in Yonkers, just north of New York City.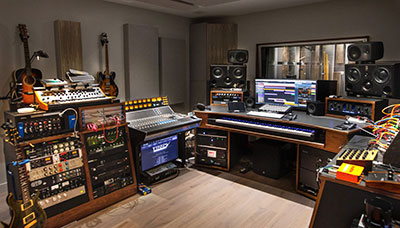 No strangers to API, the team behind Heavyocity has been working on three small-format API The Box consoles since 2014, using them to produce and release more than 30 virtual instruments, with hundreds of accompanying demo tracks that have amassed millions of plays and views.
'We've loved our Box consoles and wanted to stay with API – we love the sound and Neil [Goldberg, Heavyocity founder] couldn't take his eyes off of the 1608-II,' says co-founder Dave Fraser. 'Coming from a degree in Recording Engineering and as an engineer-turned-composer and sound designer, the 1608-II has been at the top of his list as a larger console with that classic API sound. We loved how the 1608-II allowed us to add more EQs and compressors in the master section; 24 in total.
'So far, with a couple of months of mixing and tracking, it's been an amazing addition to the facility. The headroom is pretty mind-blowing and the ability to have 16 mic inputs plus four stereo aux returns has been the perfect starting place for us to cut larger sessions in house. We also love that as time goes on, if we need more inputs, we can always upgrade by adding on another 16 mic inputs via a 1608 Expander unit.'
Heavyocity was started in 2003 after Fraser and Goldberg met at Berklee College of Music in 1989. Along with Ari Winters, a graduate from Carnegie Mellon's Master's programme in Music Technology, the team worked for clients including Paramount, Universal, Electronic Arts, the NFL, The Discovery Channel and Gillette. Out of this collaboration sprang the idea to produce modern virtual instruments.
After 17 years in Manhattan, Heavyocity and sister company, Heavy Melody Music, has moved into a new facility encompassing three custom-designed control rooms, a 600sq-ft live room, three edit suites and production offices. This provides space in which to record and manipulate samples for the creation of virtual instruments. A priority was the main control room, which needed to accommodate larger recording sessions. Once again, Heavyocity turned to API for the solution.
Vintage King, which facilitated the 1608-II sale, has an ongoing relationship with Heavyocity, having also supplied The Box consoles six years ago. 'It's been an amazing opportunity to work with Neil, Ari and Dave,' says Vintage King Senior Audio Consultant, Jacob Schneider. 'Watching the studio grow from three API Boxes into a much larger facility is the type of success that you hope for all of your clients.
More: www.heavyocity.com
More: www.apiaudio.com