A non-denominational church that partners with people and organizations both locally and worldwide, the 7 Mountains Church in Plano, Illinois, has its own take on the worship experience. Guided by Lead Pastor Josh Motley and Co-Pastor Chris Motley, keeping the congregation engaged recently led church officials to upgrade its sound reinforcement system.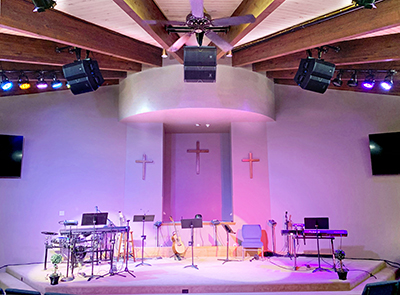 Design/build A/V integration firm KLA Productions handles audio, video, and lighting projects for the worship, education and commercial markets, and was contracted to design and deploy the new sound system. After a successful demonstration session for church management, the company opted for a combination of DAS Audio Vantec-20A two-way powered, curved source line array enclosures, supported by Vantec-118A powered subwoofers.
KLA President Kevin Brummel was assisted on the project by Installation Supervisor/Assistant System Designer Brad Smith: '7 Mountains Church offers a very contemporary worship experience – the atmosphere is casual, and music plays a vital role in services,' Brummel explains. 'Both a praise band and vocal team are integral parts of the worship experience. The sanctuary itself is roughly 50ft deep by 90ft wide, with the stage area facing into the width of the space. Seating is moveable and maximum congregation size is roughly 150 people.
'A high level of speech intelligibility and strong music reproduction characteristics were deemed essential,' Brummel adds. 'This led to the Vantec-20A and Vantec-118A enclosures. Their size and performance characteristics proved ideal for this space. Ultimately, we flew six Vantec-20A loudspeakers in a three-cluster LCR arrangement, with each loudspeaker cluster consisting of two loudspeakers. For low frequency support, we also deployed two Vantec-118A sub bass enclosures. These cabinets are located on the floor to the left and right sides of the stage.'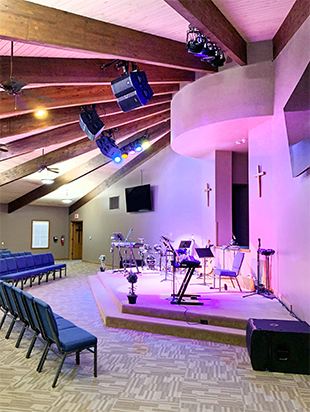 In addition to acoustic performance, Brummel notes further benefits of the Vantec Series loudspeakers: 'We were extremely impressed with the compact, lightweight and stylish appearance of the Vantec-20A loudspeakers,' he explains. 'Further, the fact that the DAS Audio flyware made mounting the enclosures quite easy was yet another important attribute. I should also point out that, since the Vantec Series is self-powered, we didn't have to concern ourselves with the headache of finding storage space for a rack of power amplifiers. The Vantec Series is a total package that creates a very compelling sound system.'
The new loudspeakers were installed at 7 Mountains Church during August 2020, and was immediately pressed into service. Since that time, Brummel reports the project has been a resounding success: 'The pastor and his people all had great things to say about the way the new system sounds and how clean-looking the job is. We also replaced all their lighting with LED fixtures, and everyone loves the options they have with the new lighting. Pastor Motley has been extremely pleased with the new sound system's performance. It's been a positive experience for all involved.'