French champagne maker the House of Krug is offering a novel tasting experience to its guests in a new Audio Tasting Room at the Krug Family House in Reims.
Created in collaboration with France's IRCAM Institute, loudspeaker specialist Amadeus, and international architecture and interior design agency AW2, the room uses sound to convey the profiles of the different base wines that compose Krug Grande Cuvée.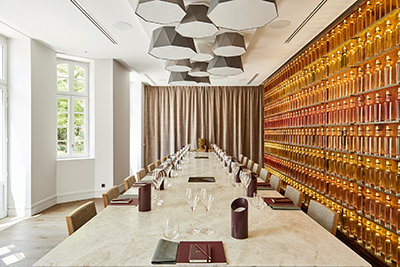 To envelop guests in the art of blending, the Krug team – including former Krug Cellar Master and Deputy Director Éric Lebel and Alice Tétienne, a member of the winemaking team – challenged IRCAM researchers to translate the base wine tasting experience into a universal language.
It is through daily tastings of these still wines that the Krug Tasting Committee can make decisions about the final blend, but this process does not lend itself to a tasting with guests as it can be quite technical.=
At the Sciences et Technologies de la Musique et du Son (STMS) laboratory at the IRCAM campus in Paris, the association of CNRS, Sorbonne Université, Ministère de la Culture, and Institut de Recherche et Coordination Acoustique/Musique (including teams from the Perception and Sound Design Department, as well as Acoustic and Cognitive Spaces Dept) worked on the project to bring sound into the process of tasting Krug's base wines.
After a brainstorming session between Krug's craftsmen and the sound experts, they suggested linking sound properties to correlating tasting notes. This approach allowed them to translate each unique wine into a unique soundscape based on its flavour profile.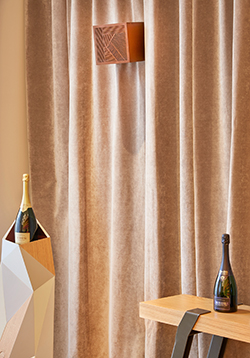 Composer Roque Rivas was approached to create the ten soundscapes, representing ten sub-regions within Champagne that are represented in the final blend of Krug Grande Cuvée. The soundscapes reveal the most striking attributes of the wines, enabling participants to 'taste' the sound.
A tailor-made immersive sound system was designed by IRCAM in collaboration with Amadeus to get the tasting and sound experiences to blend into a single experience. IRCAM also worked with international architecture and interior agency AW2. By joining forces, they were able to create a unique sound space.
A one-of-a-kind sound system was designed for the room, comprising two electroacoustic set-ups. The first is integrated into the Wall of 400 Wines that depicts the different wines auditioned each year to create a new Édition of Krug Grande Cuvée. It has 18 Amadeus PMX 4 coaxial speakers, spread regularly on three levels, along a 9m width. The second system, more immersive, composed of eight speakers integrated into the ceiling plus six speakers developed specifically for Krug and surface-mounted on the walls, supplemented with two low-frequency speakers, is situated above the guests. Each of the 34 speakers is individually amplified and can be controlled and processed separately.
Sound content for the system are created and played with SPAT, IRCAM's sound spatialisation software. The front matrix included in the 400 Wines front wall offers creators and sound designers new spatialisation possibilities vertically and allows them to create 'graphical' scenes. Associated with the immersive system, it gives the sound system a vocabulary to create a soundscape for the tasting experience.
Concurrently, an electro-acoustic development project was initiated, matching the technical needs of IRCAM and the aesthetic demands of the House of Krug. It resulted in a unique speaker system, produced in six pieces specifically designed by AW2 and engineered by Amadeus. These unique speakers are made of COR-TEN steel, cut and then laser welded. Their rust finish results from the rapid oxidation of the material, stopped by a chemical process, then 'fixed' with a transparent matt varnish.
As an aesthetic, technical and acoustical challenge, the development of these speakers was managed by designer Stéphanie Ledoux, associated with AW2 cabinet and Michel Deluc, Amadeus' R&D Manager. Each bespoke speaker hosts a long-excursion coaxial transducer with a frequency response down to 60Hz. Each transducer is hidden behind a laser-machined front panel with a 'K' logo, symbol of the Maison Krug.
Two dedicated LF speakers were developed as well, they are the Amadeus ML 12 K. They are equipped with a 12-inch (30cm) drivers hidden behind a 'grid' directly machined in wood, with vertical thin lines or 'blades', alternating matter and empty space.
More: http://amadeuslab.com