Germany's WDR broadcaster is modernising its regional studios to allow operation by presenters and editors, with Stage Tec supplying an On Air flex IP-based broadcast mixing console to make this possible.
The compact On Air flex console is equipped with a centre section and two four-fader modules. It also supports controlled from a Remote User Interface (RUI) in the form of a platform-independent browser application. This allows the console to be controlled from remote locations using a PC, iPad or any other network-compatible device.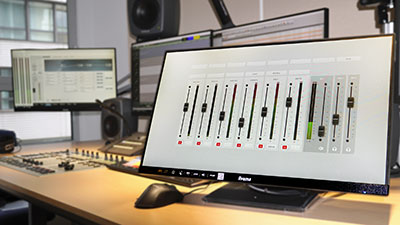 An On Air flex console has been installed in the cross-media editing rooms (CBR) at each of WDR's nine regional studios, where the self-op producers work. A prototype system has now been put into operation in the Duisburg regional studio.
The Nexus hardware required for On Air flex did not have to be supplied; the network already installed at WDR already supports their use, as all regional WDR studios were equipped with Auratus mixing consoles and Nexus networks in 2007; only the configuration of the existing Nexus router was required to be modified. In the course of the rebuild, these consoles will be revised and given the platinum layout.
The functions of the On Air flex hardware interface were specified for WDR broadcasting service, and to ensure that the self-op personnel can operate the console easily and safely, Stage Tec has provided a RUI moderator page tailored to the broadcaster's specific workflows.
WDR's regional studios produce reports for production of local news. The applications required for this were created using Nexus Logic Control, for example, control of the telephone hybrid using Auratus and On Air flex. The logic interface controls the XACI Nexus board and EmBER+ messages. Thus, both consoles can be used to answer, put on hold, switch through, and terminate telephone calls.
More: www.stagetec.com