Juventus' Allianz Stadium has installed a new sound system based on Bose Professional ArenaMatch loudspeakers and ControlSpace DSP. Opened in 2011, the 41,500-seat Allianz Stadium is home to Italian Serie A football club Juventus FC and recently upgraded its sound system to improve vocal intelligibility add better serve music and special effects.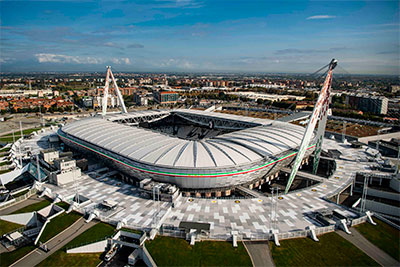 The new Bose system comprises ArenaMatch DeltaQ loudspeakers and PowerMatch amplifiers, with a ControlSpace EX digital signal processor, all running on a Dante audio network. The DeltaQ technology and the Bose Modeler software made it possible to accurately define the loudspeaker structure and quantity of the clusters needed to guarantee the best acoustic coverage and full-range sound uniformity.
'The Allianz Stadium is a year-round entertainment centre, committed to providing a memorable experience beyond a simple football match,' says stadium Manager, Francesco Gianello. 'As a world-class stadium we needed a system capable of providing consistent high performance for both vocal intelligibility and audio entertainment. We got that with Bose.'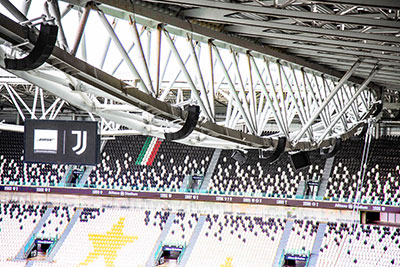 For system redundancy, the Dante network and its analogue back-up supports four separate clusters of four ArenaMatch loudspeakers and a PowerMatch amplifier – ensuring the system never experiences a loss in audio.
'Since the day of its inauguration, the Allianz Stadium has been distinguished for being a state-of-the-art facility, able to offer the public a unique show and over the years several upgrades have been made to make the fan experience even more special,' says Giorgio Ricci, Chief Revenue Officer at Juventus Football Club. 'Now, thanks to the partnership with Bose Professional – a global leader in the acoustics industry – a further step forward has been taken and Allianz Stadium now reaches a high level of quality in another fundamental component of entertainment with its audio system.'
'The football club's goal was to offer fans a truly unique experience – enhancing the visual effects with premium audio,' says Bose Professional EMEA Sales Manager, Hans Vereecken. 'DeltaQ ArenaMatch elevates the whole soccer experience by delivering consistent, powerful sound combined with clear voice intelligibility.'
'We understand the power of sound to motivate and inspire. And we know the Bose solution will provide the quality expected by players and fans alike, year after year,' adds Bose Pro General Manager, Akira Mochimaru.
The loudspeaker clusters were installed by system integrator Corsinotti, with audio DSP programming designed and implemented by Immagine del Suono, and system control and monitoring was designed by PBS.
More: https://pro.bose.com