Formerly DJ Dave Spoon, currently Shadow Child but always Simon Neale has been making pivotal electronic music for more than 15 years. After getting into analogue synths at school, he has recently brought the Super Analogue channels and G Bus compressor on his new SSL SiX mixer into play to fatten up his sound.
Neale's first break came in 2005 when, while teaching at a college, he acquired a record collection from someone at the Tall Room label when it was in its infancy. One week later, he was signed as Dave Spoon and getting played all over Radio One.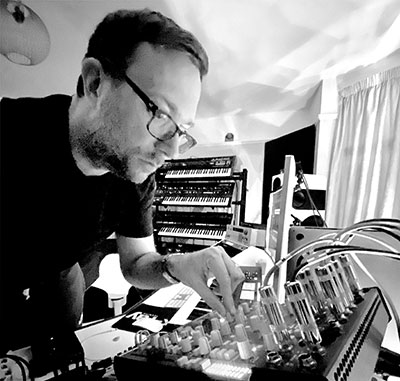 'The Dave Spoon project was very successful, and got some great traction – and some top 40 records,' Neale reflects. 'I wasn't really prepared for it at the time, but it went very well, and led to some great projects including [DJ] compilations for Ministry of Sound and Tall Room, and a residency at Cream which was at Amnesia in Ibiza.'
In 2012, Shadow Child was born – in Neale's opinion, the most satisfying part of his journey so far: 'Both times – with Spoon and Shadow Child – it was quite organic developing a new sound in house music, without realising it. So it's nice to have been part of those pivotal moments. Shadow Child came at a magic time for house music, where I was able to bring a lot of elements together.
'It was really about bringing together New York house and UK garage, plus capturing the vibe from drum and bass and early jungle, which was particularly important for me growing up. To be able to bring jungle into what I was doing musically was amazing – a complete guilty pleasure, really! And having young students asking where tunes and samples came from and be able to point them in the direction of that UK sound from the early 90s was great, as I was sharing part of the heritage of the music with people.'
Now in its eighth year, Shadow Child is going strong – and although Neale has remained dedicated to his core sound, he is still prone to 'genre-hopping' from time to time: 'I've got chained to that sound which everyone calls deep house,' he says. 'It didn't have a name on it at all at the time, it was just fresh, and we were following our noses – but I am thankful to be a part of it. My sound at the moment is that melodic techno sound that came out of Belgium, pre-trance. A lot of fans that come with me when I genre-hop, but a lot that love the early tracks.
Neale's love of analogue gear stems from his early teens and Roland's Juno 60, TB303 TR606.
'It's just mad that I was absorbing early house and dance music in that way – and to have those machines there, and to be encouraged by the music teacher, who also bought an Atari ST so we could get into the production side was just incredible,' he enthuses. 'I didn't know where samples came from, but it has always been in me to do the hardware thing, and I had the ambition to have kit wherever I could.'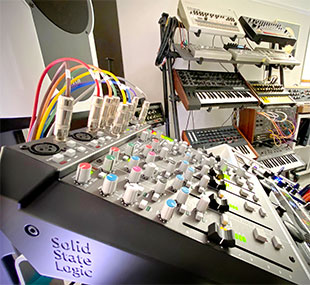 On Shadow Child's recent Apollo Series, almost all sound sources were outside the box. Neale isn't big on processing outside the box, but on the creative side he is all about getting hands-on – and most recently, that's meant bringing the SSL SiX into his workflow.
'I'd seen a lot of stuff online about SiX, and it looked very interesting – and this was in January when I had a bit of downtime, and was getting to know Ableton a bit better,' he explains. 'I had noticed that the tracks I'd made in Ableton had some kind of sound to them that I wasn't keen on, and it didn't feel natural to me. I realised I needed something that I could do analogue summing with, and SiX seemed a great option.
'I soon realised it's an amazing summing mixer – on top of all the other things it can do – and the Super Analogue channels are just brilliant. I'm coming out of Ableton out of my UAD Apollo into the SiX, then I come back in to the computer through the Apollo and into Luna, UAD's new DAW. Compared to the way I was working with the [Dangerous Music] D Box – my previous summing mixer - the SiX feels so much more natural: the route in, the sound, everything, basically.'
Neale has all his drums running through the Super Analogue channels as a stereo by default, and uses four stereo groups in total: drums, bass, instrument, and vocal/FX.
'I'll stick some G Bus on those as well from time to time, but most of the time I literally use it as a "flat" tool to glue the track together, which Ableton just doesn't do for me. I immediately noticed a different sonic quality – I noticed it on my pre-masters, and when tracks come back from mastering, too.
'So now I've got four groups out [of my Apollo] going into four stereos using eight channels on the SiX, and I then print a pre-master stereo mix into Luna, monitoring direct from the SiX. The difference is amazing – and if I want a more chunky version of a mix to have a bit of fun with, I play with the G Bus compressor. My studio is all routed in, so I don't patch anything; and now with SiX, that hands-on thing is part of the production experience.'
Neale's live synth jams are also running through SiX:
'The 808 into the Super Analogue channels sounds incredible; the low end out of the machine when it's pure anyway is amazing, but when it goes through the SiX and I can squash it some more, it really adds flavour to it,' he says. 'People making more urban music would appreciate that maybe even more than me, but it really is taking everything up another notch, like SSL gear always does. I've put the Jupiter 8 arpeggios through it, too. And my System 100M with 909s for a Beatport live jam, and everything sounds nice and fat - and for me, doesn't have that kind of 'in the box' sound that you can end up with in hardware. I am not getting any of that at all, which is perfect.'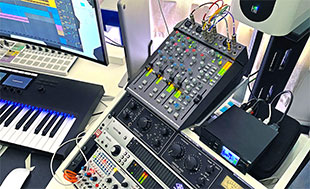 Neale is also interested in running vocals and samples through SiX and resampling some back in, as he thinks that will add yet another sonic colour.
'I have been working on some samples with [artist] Josh Butler, as we are both big house heads, but we also love jungle from the early 90s, and sampling and resampling, so I am hoping I will be able to emulate that authentic 90s sound, because if you sample drum breaks now, it's all super-clean as it's from the original source, whereas back then it had that 12- or 16-bit vibe to it: it was very crunchy normally, as it was going through some channels on a desk, so I am interested to try and push the low end and break beats through the SiX too. I can't wait to get some different music through it as well, as I think that'll be very interesting to listen to.'
He has become attached to the SSL Native plug-ins, too: 'I just can't find a reverb as good as this one,' he admits. 'Some reverbs are quite dramatic, and I need something that is more subtle and dynamic, which this really is. Also, the software version of the G Bus is really good to have.'
In terms of upcoming projects, there are plenty…
'I finished the Apollo series which was three EPs of music; that is sounding very "early 90s Belgium" and is turning heads in the right way. It's weird not having music breathing in clubs and festivals at this strange time, but I have loved doing these projects. Also, there's my other alias, Polymod – that's more of an underground side of what I like to do; and last, my music mentoring platform which I started late last year focusing on intermediate to advanced people, helping them get their tracks across the line in an A&R and guidance sense rather than in a technical sense. It's about helping people connect with labels and DJs with their music, if it's in the right shape. That's going really well, and I am brining other artists to be mentors into that as well.'
More: www.solidstatelogic.com