Located in the highest point of Lebanon's Zaarour mountains, Frozen Cherry and sister venue the Dublin Room have been equipped with BlacklineX loudspeakers from Martin Audio. Its name comes from the unique cherry shape that you see when you look at the venue from the top of the Zaarour peaks.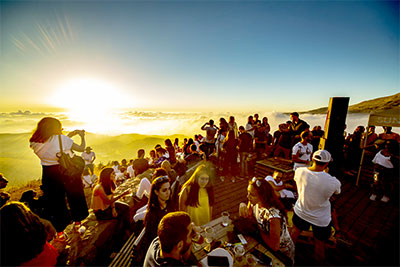 Founded in 2016, the nightclub complex is part of the ski Zaarour resort, offering a breathtaking view of Lebanon above the clouds. The high-altitude Frozen Cheery party lounge immediately is a popular year-round destination, equally busy in both the summer and winter seasons. Two years after Frozen Cherry, the Dublin Room club opened, specialising in house music and techno. An industrial venue with spectacular music line-up and extreme opening-hours, it hosts a mix of famous DJs and local heroes.
The brains behind project belong to Nasri and Maher Choueiry, owners of several F&B and design outlets, who come from a background in architecture and engineering. They are supported by Elie Zouein, who has wide experience in business development.
The new loudspeaker installation was the venue's first experience working with Technosound, Martin Audio's Lebanon distributor, after the company's Charbel Fahed had met with Nasri. 'I proposed that they install a Martin Audio system,' he says. 'Prior to that they had been renting in another brand. Since these are two of the most exciting venues in Lebanon, I had to choose a unique, powerful, and clear system. This is why I proposed the X15s after hearing them at ISE.'
Frozen Cherry needed to achieve top sound reinforcement for live bands, DJs, and background music, and having tested other premier sound systems, once they had heard BlacklineX it was quickly adopted in both Frozen Cherry and the Dublin Room, where high power and clarity for DJs was also required. The former was equipped with Blackline X15 and two X118 subs and the latter with X15, X12, and four X118.
Design support was provided by Martin Audio Product Engineer, Simon Purse, who was responsible for specifying both clubs.
More: www.techno-sound.org
More: www.martin-audio.com