In a move designed to 'further establish the company's presence in the UK and wider EMEA region', Shure Inc's new London Experience Centre provides corporate, government and corporate customers an opportunity to add in product demonstrations when looking for audio solutions for their facilities.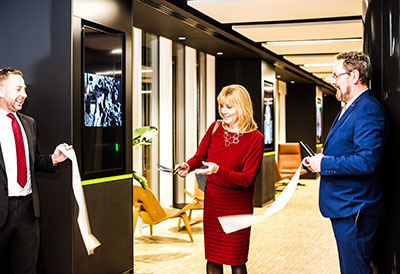 This Rose Shure Experience Centre is named after Rose Shure. She and her husband, Sydney Shure, founded the company in 1925. Rose Shure was involved with the company from 1949 until her passing in 2016.
The Rose Shure Experience Centre is named after former company chairman, Rose L Shure. Mrs. Shure's husband, Sidney N Shure, founded the business in 1925, and Rose remained closely involved with the company for more than 60 years, until her passing in 2016.
Shure executives, including CEO Christine Schyvinck, participated in the VIP opening of the facility, which also includes new office space: 'I think Rose would be honoured by having such an amazing complex named after her, especially given the short amount of time it has taken to complete such an ambitious project,' Schyvinck said at the event.
The Rose Shure Experience Centre comprises meeting rooms that represent typical workplace environments, as well as a training space with voice-lift camera tracking functionalities. It also features a selection of products that reflect modern offices and educational facilities, offering clients the best possible environment to demonstrate and understand performance and potential of various A/V systems.
'As a global leader in manufacturing audio technology, we had a very clear vision as to how we wanted the space to function as an Experience Centre,' says Shure Senior Applications Engineer, Andrew Francis. 'The completion of the project is a great success and will also allow us to move forward and continue to build on the systems in place as our technology advances.'
Specialist A/V solutions provider proAV handled systems integration on time and on budget, meeting the expectations of a personal environment for Shure sales and marketing staff.
'From the onset, we knew that the Rose Shure Customer Experience Centre was going to be a fantastic project to work on,' says Damien Massarella from proAV. 'Time was of the essence in completing the project. We had four months from appointment to opening day, but working with the teams at Shure, MiX, Overbury & Turner & Townsend, we managed to complete the project on time and to a very high specification. We look forward to introducing our customers to the full Shure Experience.'
Front and centre are Shure's audio products, including Microflex Advance array mics and the IntelliMix P300 audio conferencing processor. Conference and discussion applications are met by Shure's Microflex Complete and Microflex Complete Wireless solutions. Wireless presentation requirements are addressed by products such as the ULX-D. Shure's products are complemented by the availability of a range of hardware- and software-based A/V conferencing options enabling clients to pair Shure systems with their preferred vendors' solutions.
'The Rose Shure Customer Experience Centre has been the accumulation of many, many months of work by Shure employees from all areas of the business,' says Shure UK Director of Integrated Systems Sales, James Hill. 'We look forward to welcoming all our existing and new customers to the Rose Centre, and understanding their A/V needs and requirements in the best possible environment.
'Shure is now welcoming all customers to the London Experience Centre to understand and appreciate the collaborative solutions available to them within the conference, meeting and education sector.'
More: www.shure.com