In the northwest suburbs of Nashville, Tennessee, is a striking, angular building where music features heavily in worship services that involve a gospel choir, full band, soloists and enthusiastic participation from the congregation. Temple Church not only needed a high-quality sound reinforcement system, but one that could cover the large fan-shaped nave of this modern church.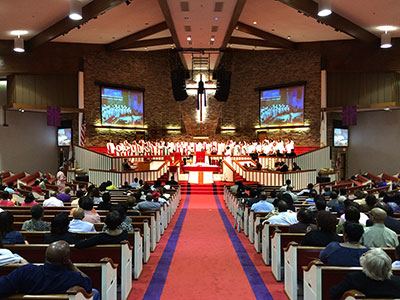 Eddy Hobby of Nashville-based Prosonic AVL maintains the church A/V systems and was looking for a high-quality, powerful system, which could be precisely aligned but which was also visually discreet. 'Being in Nashville, the church has a lot of talented musicians and singers. The musical director has very high standards and quality bass was also really important,' he says. 'They wanted great sound, but it was also important that there were no sightline issues between the congregation and the video screens.'
Hobby was introduced to Alcons Audio systems by company representative Scott Hough of Griffith Sales, and was sufficiently impressed to ask the company's North America Sales Manager David Rahn to demonstrate an Alcons system.
As the church's band and choir do a full rehearsal on Thursday evenings, Rahn chose this opportunity to demonstrate a rig based on two arrays of the LR16 compact line array module, which not only showcased the audio quality of the system, but also how it could be aligned to seamlessly cover the large, triangular space.
'The room is around 160º wide, so getting the coverage right was crucial. At the same time, they still wanted a really big, immersive sound,' he says. 'Due to architectural and rigging challenges, the left and right arrays had to be flown close together, almost as a dual central cluster. Mitigating the interference between the two line arrays was also challenging. However, due to the precise accuracy of the cylindrical wavefront along, with a centrally deployed RR12 point source array module, the transitions were incredibly smooth, and the achieved coverage was optimal and precise.'
The demo was a complete success, with the church so impressed that it chose a system that was almost identical to the rig that Rahn had presented.
The installed system comprises six LR16 compact line-array modules and one LR16B compact line-array bass module per side, flown close to each other above the front centre of the stage, but angled outwards to cover the whole congregation. A single RR12 point-source array module is flown between them, angled down for front fill, with a BQ211 compact high-output subwoofer floor-mounted each side of the stage. The whole system is powered and controlled by three Sentinel10 amplified loudspeaker controllers.
'We were all floored by the demo,' says Temple Church Chief Sound Engineer, Carlos Jarrett. 'We had never experienced anything like that quality and coverage before. When the band and choir are in full voice there is a lot of sound coming from the stage, but the gain before feedback of the Alcons system was exceptional. We had no hesitation in specifying it for the church.'
The out-of-the-box usability of Alcons systems meant that, once the system was set up, it was straightforward to tune, meaning the church could quickly start to enjoy its benefits. 'Our services call on a range of music styles; some are full-on, while others are more subtle,' Jarrett says. 'Of course, speech is incredibly important for worship and the Alcons systems copes equally well with absolutely everything we do. It has been a fantastic addition.'
'I was very impressed by the musical talent and energy in Temple Church and their enthusiasm for high-quality sound,' Rahn adds. 'I am really pleased that they chose Alcons to be a part of their worship. They really appreciate the quality of what our pro-ribbon technology delivers.'
More: www.alconsaudio.com