A new distribution arrangement with Dubai-based distributor Provision AVL sees JoeCo growing its reach across the GCC region, and follows a similar deal with Boujikian Bros in Lebanon. The new relationships mean that the manufacturer has direct representatives in every territory across the Middle East.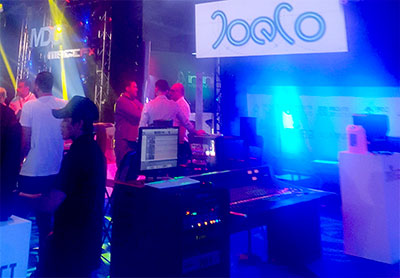 'We had been looking for some time to find the right partners for JoeCo in Middle Eastern territories,' explains JoeCo Business Development, Graham Murray. 'We feel it is important to have strong partners and a local presence to promote and backup JoeCo equipment sales. Provision AVL can provide the facility to support local customers and effectively promote JoeCo solutions to the Middle Eastern markets. After spending a few days with Kevin and seeing him and his team in action, it became clear that Provision AVL would be the perfect partner for JoeCo's business for the GCC.'
JoeCo joins SSL, the Prolyte Group, Chauvet Lighting, Clair Brothers, Admiral Staging and Le Maitre Effects among others in the Provision stable..
'JoeCo is one of the leading multitrack recorder and player manufacturers in the world, and with its award-winning BlackBox range, we felt that it would complement the audio brands that we already represent,' offers Kevin Boujikian, General Manager at Provision AVL. 'The brand deserves further growth in the region, and that happens with more exposure, demos and end-user training.'
The initial stages of the relationship saw JoeCo equipment displayed by Provision AVL at ProLight & Sound Middle East in Dubai: 'The support we received at the show, at such an early stage of the relationship, was some of the best I have seen,' reflects JoeCo MD, Joe Bull. 'I believe this new partnership will mean a much wider audience will experience the benefits of BlackBox, BlueBox and Cello. I'm looking forward to a long relationship with Kevin and the team.'
'Having Provision AVL onboard will expand and strengthen our presence throughout the GCC region,' agrees Murray. 'They will provide greater exposure of the solutions JoeCo can offer to GCC customers, in addition to proactively targeting some of our key market sectors. All of which will help JoeCo's business in the GCC markets.'
More: http://provisionavl.com
More: www.joeco.co.uk