Home to the French Open tennis tournament, Paris' Roland Garros Stadium comprises three main courts with a total capacity of more than 30,000 spectators. The largest of the courts, Court Philippe-Chatrier, was rebuilt between the 2018 and 2019 tournaments to accommodate upwards of 15,000 spectators. For the 2019 tournament, two Danley J3-94 Jericho Horn and four THmini15 subwoofers served the court with unprecedented intelligibility.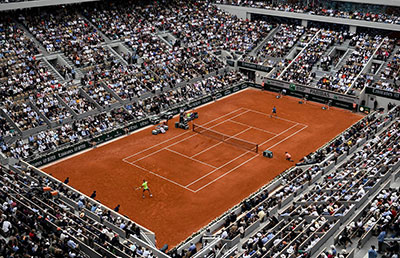 'The sound reinforcement system at Roland Garros is used mainly for speech reinforcement for the referee, players and organiser, as well as for advertising and the national anthem,' explains Etienne Bérard, Director of French A/V distribution company Demoa.
A/V consultant on the project, CREAPRAG, had commissioned Demoa to find an efficient, high-intelligibility sound reinforcement system for the rebuilt stadium. In response, Bérard modeled a Danley point-source system.
'The client wanted a system that could fit into the relatively small niche that had been given for loudspeaker placement,' Bérard says. 'In addition, it had to be highly directional so as not to disturb the press room just below the loudspeaker niche. I used Bose modeling software to propose a system using a Danley J3-94 Jericho Horn, and we offered proof-of-concept with a demo up against a high-end line array.
'The J3-94 horn showed vastly better intelligibility across its output pattern and 15dB greater rejection at the back of the speaker at 500Hz. The CREAPRAG consultant expressed to the tournament officials that he had never experienced such phenomenal intelligibility at such distances and in such an environment (0.75 STI at 60m).'
Demoa rented the system from A/V integration and live sound company Neuron Pro Audio of Manchester, UK, who installed, operated, and removed the temporary system. The four THmini15 subwoofers were placed left and right of the main LED screen, two each. Three Powersoft X4 amplifiers with integrated DSP powered and conditioned the J3-94 Jericho Horn and subwoofers.
'We received a lot of enthusiastic comments about the sound quality and power from such a modest-looking system,' Bérard reports. 'The subwoofers also made a good impression. They combined to deliver a surprising amount of bass for such a large venue.'
More: www.danleysoundlabs.com